November 14, 2016
Expanding horizons: How macro social work can transform communities on a large scale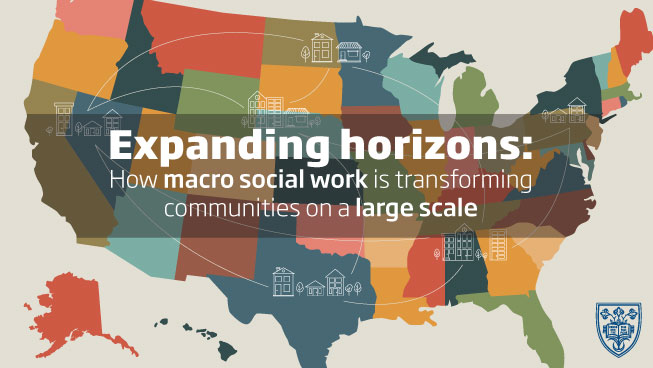 When most people think of a social worker, they likely picture a passionate person with a pile of case files, working one-on-one with clients who need assistance. While this picture is certainly plentiful in the field, it is far from a comprehensive view of all the opportunities that await social work hopefuls.
Much of social work practice is centered around micro-practice, which addresses the individual. But it can at times also be about addressing the structures within which the individuals operate in hopes of alleviating community-wide burdens. This is known as macro-practice.
"I wanted to find ways to speak back to the scars and suffering of humanity," says Chad Dion Lassiter, professor, social worker and president of Black Men at Penn. "How could I find a way to speak truth to power, affirm the people's worth, and use my life as a vehicle to alleviate the suffering of others?"
Many social workers see the rippling chain of effects that damage individual lives and attempt to address the problem higher up the funnel. This is what's referred to as macro social work. If you are curious about the field of social work and specifically drawn to the type of work that engages whole communities, policy-making levels and systemic problems, look no further. Macro social work might be just the focus you are looking for.
What is macro social work, exactly?
The International Federation of Social Workers (IFSW) defines social work as a field that promotes social change and development, social cohesion and the empowerment and liberation of people. The organization maintains that social work engages people and structures to address life challenges and enhance wellbeing.
Macro social work isn't, by any means, disconnected from the rest of the field. Social work as a whole is concerned with people and the structures influencing them. One of the many functions of macro social work is that it seeks to change policy.
If you think of clinical practice as social work that aims to work within systems to protect and heal the individual, you can think of macro social work as work that aims to change and heal the systems.
"I knew I wanted to focus on advocacy, grant and policy writing, program development and community outreach," wrote macro social worker Stacy Brice in The New Social Worker. "I did not want to sit in an office. I wanted to work in the community, making changes."
Brice went on to write that macro social work meant advocating change and raising awareness about community problems. "If I advocated for a bill to pass and the bill was passed, then my goal was accomplished. If I wanted to find resources to assist a low-income school and I was able to obtain these resources, then I completed my task," she explained.
Why go into macro social work?
Working in macro social work offers you the opportunity to make an impact on the high-level issues that can lead to problems at the personal, family and community levels. This means you could be helping large numbers of individuals avoid the aftermath of larger, community-wide issues altogether.
"Macro-level social work has the ability to change the narrative through social policy and social justice and push the conversation forward," Lassiter says. He points to issues like racism, economic injustice, mass incarceration and educational apartheid to illustrate the kinds of problems a macro social worker might work to change.
With the focused awareness on injustices in our society today, many wonder how things could ever change — and who's actually working to change them.
An April 2016 issue of  Social Work Today noted that new students in social work are aiming higher in the chain of influence than clinical practice usually allows. "Macro social work is poised for resurgence, as evidenced on college campuses," the article read. "An increasing number of students are choosing the macro concentration."
This is in keeping with the overall renewed interest in areas of social, economic and environmental justice, activism and equality seen in today's generation of young people — and, in hopes of meeting the needs and interests of incoming students, higher education institutions have been taking note! As evidenced, more and more students who maintain these interests and concerns are turning toward social work as a possible career avenue through which they can implement real change, and many colleges are adapting their curricula to reflect this.
"Macro social work has the ability to hold those in power accountable to act on behalf of the people and not themselves," Lassiter explains. "Macro level social workers can write strong op-eds, reports and briefings, as well as appear in public spaces to voice their concerns against the structural inequalities that pervade the democracy." Social workers practicing in this sector maintain an understanding that every person — regardless of their position in society — has fundamental human rights such as freedom, safety, privacy, an adequate standard of living, health care and education.
What job titles do macro social workers have?
In a sense, there's no limit to your imagination here. But Lassiter says macro social workers often wind up with job titles like: executive director, chief of staff, CEO, policy analyst and researcher.
Common fields and industries include the following: Anti-Defamation League (ADL) posts, American Civil Liberties Union (ACLU) posts and jobs within city, state and federal government, academia and non-governmental organizations (NGOs) like the American Red Cross.
Are you suited for macro social work?
Some aspiring social workers certainly find work at the macro level more compelling than others. Lassiter says people who want to work in this area should have a passion for policy, procedures and research, because those are big parts of the job. And as with most of social work, a passion for mediation and justice is also vital.
Lassiter adds that listening and writing skills as well as critical thinking abilities are a must in this field. "Macro level social work is rewarding as policies, procedures, bills and legislation have the ability to address many societal ills but also improve upon existing structures," he says.
He also advises students to get some experience doing micro-level social work as well, claiming "it will provide an even greater lens for the narratives that one will come across in macro."
Can you find your future in the broad world of social work?
As you can see, working as a social worker can mean much more than working one-on-one with clients in a clinical practice setting. There is so much work to be done across society, and social workers are needed in every aspect.
No matter where you wind up, the goals of social work still apply — hope for change is still as pertinent as ever.
If you're ready to impact change at the macro level, look into the wide variety of options for social work degree holders. This option has become much more versatile than you might realize. Learn more about the ways social workers can lead the charge regarding issues of social justice and activism in our article: Is a Masters in Social Work the New Law Degree?
Receive Program Info and Financial Aid Options
Detailed program overview
Personalized financial aid
Individual admissions support