January 9, 2017
Do I need to take the GRE? 8 common graduate school admissions questions answered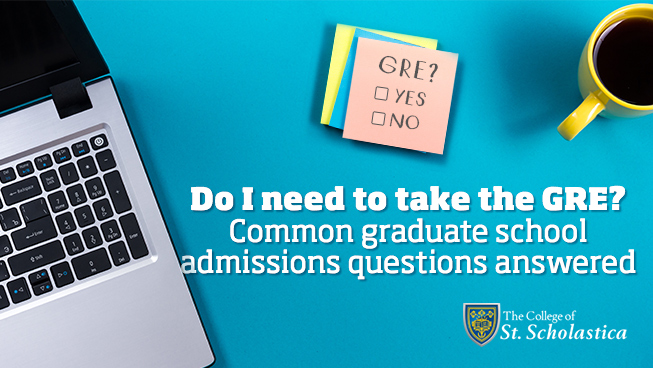 You likely remember your college search as an undergraduate student. At that level, school admissions and resources tend to be on their "A" game. It was probably pretty easy to get your questions answered, or to at least find someone who could point you in the right direction. You may have walked away from a college visit (or your mailbox) with enough pamphlets and instructions to wallpaper your room — but at the graduate school level, it can be a different story.
In part, this could be due to the fact that fewer people choose to attend graduate school. According to the US Census Bureau, about 32 percent of Americans over age 25 held a bachelor's degree in 2015, while only 12 percent of the population held advanced degrees.
If you are hoping to become part of that smaller percentage, it may feel as though there are fewer people to help you navigate the process. Yet, with graduate school increasingly on the minds of young adults and seasoned career professionals alike, there are resources out there to help you.
"Many adults are returning to school to brush up on skills," says career strategist, Elizabeth Venturini of College Career Results. She sees this especially in the cases of practicing professionals whose undergraduate degrees are now 15 to 20 years old.
While many graduate school questions might center on the program of study, there are several more general questions graduate school hopefuls are asking. We've canvassed a host of academic professionals to uncover answers to some of those commonly asked questions.
8 Commonly asked graduate school admissions questions
1. Do I need to take the GRE?
The Graduate Record Examination, or GRE, is a comprehensive national examination that some graduate programs require. It's a standardized test similar to the ACT or SAT you most likely took before applying for college. But unlike the ACT or SAT, it's not necessarily a requirement for entry into all graduate degree programs.
"I have heard that GRE and GMAT (Graduate Management Admission Test) scores are not sought after for as many programs as they used to be," says Breanne Tepler, admissions counselor at The College of St. Scholastica (CSS). "They are not always the best indicator of readiness for grad school. More and more institutions are looking at undergraduate GPA and essays for eligibility."
For example, of the multitude of post-graduate programs offered at CSS, just three of them require the GRE: Doctor of Physical Therapy, Occupational Therapy and Physician Assistant. Do note that if you select a program that does require the GRE, we've written a helpful article chock full of tips and advice to help you put your best foot forward: "How to prepare for the GRE: 9 tips you can't afford to miss."
2. Does my undergraduate GPA matter?
"Yes and no," Tepler says. "Each program will have a GPA requirement, but some are flexible if you fall below that requirement." She explains that programs may offer a probationary acceptance where students will need to achieve a certain grade in their first course before gaining full acceptance into a program.
"Admissions committees don't just look at grades," writes admissions expert Dr. Don Martin in U.S. News & World Report. "They look at everything in your application including letters of recommendation, essays, the courses you took, internships, and work and life experience."
Martin also points out that the further you are from your college days, the less weight your GPA will carry. "Admissions directors are looking for reasons to get you in, not reasons to keep you out," he offers.
Still a bit nervous about your ability to keep up? Consider taking a supplementary course somewhere before applying for grad school to prove your effort and intellect are in a good place.
3. Does my undergraduate degree matter?
While your undergraduate degree does not necessarily have to be in the same department or field as your graduate studies, you may have some prerequisite experience and/or course work to make up for before entering grad school, according to Idealist. Experience in the field or passing a course exam in the subject you want to study could be accepted in lieu of an undergraduate degree, depending on your school and program choice.
Some institutions allow students to take required courses during the first year of grad school, while others require students to have all prerequisite courses completed prior to enrolling in their programs. For a more specific answer to this question, it's best to check in with a representative from the school you have your sights set on.
4. Does the prestige of my graduate school matter?
Graduating from a big name school like Harvard or Yale can often add an extra "wow factor" to your resume. But in most cases, according to Martin, the ranking of a school shouldn't be your primary consideration.
It can even be detrimental for students to select their school based on a ranking system over other factors like the fit of the environment, location of the school or local connection.
"Choosing a program primarily because of its ranking is one of the biggest mistakes grad school applicants can make," Martin writes, adding that employers have learned that applicants from fancy schools can still be a disappointment on the job. "When it comes right down to it, they value who you are, what you can bring to the table and the degree itself — not where you attended school."
5. Will I have an academic adviser?
"For the programs I'm recruiting, yes," Tepler says. "In grad school, classes are usually laid out in a course schema and students do not need much, if any, advisement on what to take. There are very few electives in grad school."
Tepler says advisors can be an extra resource in case of trouble but are not typically needed to get you into the right classes.
6. What is a teaching or research assistantship?
Teaching assistantships are arrangements in which a graduate student assists professors with their workload — sometimes even teaching classes — in exchange for a stipend or tuition reduction, according to the Princeton Review.
A research assistantship is basically the same arrangement, only instead of assisting with a professor's classes, you would assist with his or her scholarly and clinical research (gathering data, crunching numbers, performing lab work, etc.).
These arrangements depend entirely on the schools and programs you apply to. Some may offer assistantships to most of the students in a given program, some may boast limited spots and some may not offer any at all.
7. What are my funding options?
There are more options to look for funding or tuition discounts in graduate school than most people realize. While you might not see the athletic or GPA scholarships that undergraduates shoot for, there are still a few ways to help minimize the cost of your tuition.
First of all, Martin suggests checking with your current employer. Some companies will chip in to help you advance your education or offer some other benefit to encourage your professional development in this way.
Secondly, consider working for the university you want to attend. "We're not talking about minimum wage or work-study jobs," Martin writes. "Get a job in admissions, development, human resources or other institutional offices." Most schools offer free tuition or tuition discounts for employees (though you may have to work for a certain time period until those kick in). Many institution also offer tuition benefits to family members of employees!
Finally, you can apply for scholarships and funding. You should always check with your prospective programs to see what they have available. Even if the school doesn't have funding available, the financial aid office will at least be able to give you some insight into what most of their graduate students do.
As with undergraduates, graduate students are encouraged to complete the FAFSA (Free Application for Federal Student Aid), as this could present you with opportunities to receive state and federal grants or lower-interest loans. It is also worth it to check in with the U.S. Department of Education, civic organizations (such as your local Chamber of Commerce, Lions Club, Elks Club, etc.) and religious organizations to see if your education might match funding opportunities there.
8. Will a graduate degree help me get a job?
This question about graduate school is arguably the most important one a student can ask. It is also the least straightforward to answer. Venturini says that plunging into school (at any level) without a clear idea of why you are enrolling is a bad idea.
Venturini goes on to explain that graduate school should not be treated as a default choice to delay hitting the job market, or an extra credential you assume will help you advance in your field. It isn't a move to take lightly. She says students need to fully research the job prospects for graduate students in the fields they are exploring, as well as the general return on investment.
Will the expense of tuition deliver a strong return on your investment? The answer to this question doesn't have to be purely financial. Factors like your own passion, development and scholarly pursuit can still factor in. But thinking through all the desired results of your decision to go to grad school will help you avoid accumulating more debt than will be worth it to you in the end.
Get your additional questions answered
This article has provided some foundational answers to many of the most commonly asked, non-program-specific graduate school questions. If, upon learning their answers, you still have your sights set on graduate school, it's time to dig in a little deeper!
Head over to The College of St. Scholastica's Graduate Admissions page to meet the team and learn how to connect with them directly for more specific answers to your questions. For an overview of the master's, doctoral and professional programs offered at CSS, visit the information page.
Receive Program Info and Financial Aid Options
Detailed program overview
Personalized financial aid
Individual admissions support