April 11, 2019
Discover a rewarding career as a special education teacher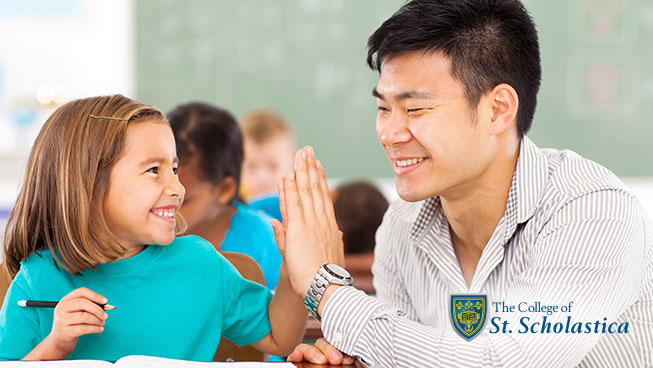 Are you a Minnesota teacher in search of the next step up in your career? Are you looking for something more fulfilling and meaningful in your classroom work? Would you like to make a difference in the lives of the students who need your help the most, while filling a critical need in your community?
Consider pursuing the rewarding field of special education!
In-demand field
Special education teachers are highly in demand in our state and across the country. This is no secret. Districts are scrambling to fill vacancies with qualified teachers. Those of you currently working on a variance are experiencing this shortage firsthand. A variance is a special permission granted to educators that allows them to teach in areas where they aren't licensed. This helps meet the high demand in fields like special education.
Playing a vital role in the classroom
What is special education? According to the Bureau of Labor Statistics, special education teachers work with students who have a wide range of disabilities. These can include learning disabilities or mental, physical, or emotional disabilities. According to the BLS, the average special education teacher salary in Minnesota is near the top of the national average for the profession, at $63,330. Special education teachers are a vital resource in the classroom, ensuring that all students have the same opportunities to learn and grow.
Special education teachers can customize general lesson plans or specific subjects to fit the needs of their students. They often teach basic skills, such as literacy and communication, to students with severe disabilities.
The BLS reports that this high-demand area is projected to grow by about 8 percent by 2026.
"There is a critical shortage of special education teachers nationwide," said Amy Murzyn, Ed.D., assistant professor of Education at The College of St. Scholastica. "Many districts in the state and region are unable to fill vacancies with licensed special education teachers, or any teacher."
A rewarding career
Murzyn didn't plan on getting into the field herself, but she loved it immediately.
"My first full-time teaching job was in a high school special education classroom in Minneapolis," she said. "This was not what I had originally envisioned, or trained for when pursuing my K-6 license. I was not fully prepared to work with students with exceptionalities, or those that were taller than me! But I was hooked in a matter of days. I spent my entire K-12 career working in high schools, and working with students with exceptionalities. I pursued my master's degree in special education while working as a full-time classroom teacher on a variance."
Murzyn remains passionate about special education teaching, and in her current role at St. Scholastica, she is now helping to train the next generation.
Education opportunities
The College is offering a new option for current teachers who are interested in branching into special education.
It recently launched an online Graduate Special Education Licensure Program. This pathway allows working teachers to earn their Minnesota Academic and Behavioral Strategist (K-12) license while working toward a master of science degree. Program participants have the option to take additional credits to earn a Master of Science in Teaching.
Join the graduate Online Special Education Licensure program at the College of St. Scholastica. This program is now accepting applications. For more information, visit css.edu/sped.
Receive Program Info and Financial Aid Options
Detailed program overview
Personalized financial aid
Individual admissions support