February 12, 2018
Could the key to effective change leadership be an MBA? The answer you might not expect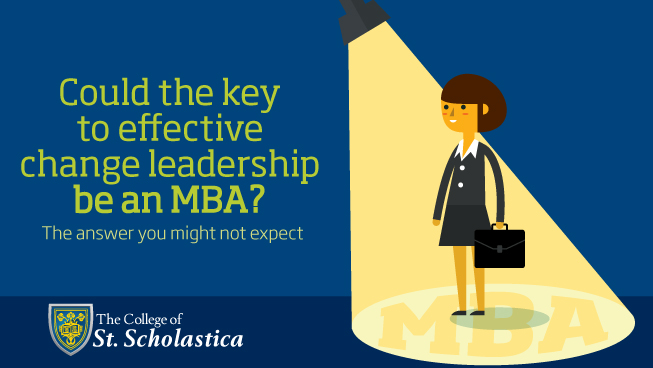 Today's business landscape is different than we've ever seen it. The rapid progression and expansion of the digital age has thrust organizations of all kinds into an era of heightened global competition. This has left many leadership teams to ruminate on the questions, "How can we set ourselves apart? How can we stand out amidst the 'sea of sameness'?"
What is the answer? Put simply: Change.
But if one thing is certain about change, it's that while it can at times enhance a company's bottom line, it can also disrupt the internal climate of an organization if it's not handled properly. With that in mind, today's businesses are recognizing an emerging need for leading change professionals.
In fact, you may begin noticing a shift in the job descriptions you come across as you embark upon your search. Where traditional business skills like finance and strategic thinking once topped hiring managers' lists of requirements, you'll now see skills like change leadership and organization development filling those slots.
Whether you're just gearing up to launch your career or you've been in the game for a while and are looking for ways to enhance your skill set to explore bigger and better opportunities, it could serve you well to polish your change leadership abilities. Join us as we uncover the important role leading change professionals can play in today's business landscape and learn how you can work toward filling that need for a variety of organizations.
Why is change leadership important for organization development?
Many carry the notion that to propel an organization forward and position it as a leader in its industry, that organization must change the antiquated or commonplace way of doing things. In other words, stability and 'business as usual' are no longer adequate goals of a successful business. Rather, to stand out, the business must consistently move forward, progressing and building upon its expertise.
But it doesn't take much for efforts toward organization development to crash and burn if a company's infrastructure has not been adequately prepared to absorb and adapt to the changes before efforts are put into motion. In fact, it's been reported that two-thirds of large-scale business transformation efforts fail.
There are many factors to take into account before launching any efforts toward organizational change. Elements like time and scope may seem like obvious considerations, but it's been posed that the internal impact on a business' personnel should be a primary focus when transformations are on the horizon.
This, in tandem with the hard truth that companies that refuse to embrace change will likely be unsuccessful in the long-run, means that organizations of all kinds are on the lookout for leading change professionals who are especially skilled in the areas of organization development and change leadership. Candidates who know how to assist an organization in overcoming skepticism to embrace new ideas, modifying certain behaviors when such pivots are necessary and altering structures and processes as needed are now viewed as invaluable assets in all industries.
When businesses are not staffed with professionals who know how to usher in change in the aforementioned ways, not only are their transformation efforts destined to fail, but the overall company may also take a massive hit. This could potentially lead to decreased rates of employee retention, or even to employees who seek to sabotage any change efforts they view as antithetical to their own professional interests.
While resistance may be expected for any large-scale transformation efforts, leadership teams are on the hunt for professionals who know how to minimize such reactions by involving employees in the change initiative, thereby winning support throughout the organization.
Is an MBA the key for effectively leading change?
With all of this information in mind, you may already be on board with taking the steps needed to develop an understanding of organization development to position yourself for success in your industry. But what are those steps?
Many argue that the days of a Master of Business Administration (MBA) propelling young business professionals forward in their careers are over. In general, applications to MBA programs have experienced steady, year-over-year declines. But it's still true that many business professionals remain steadfast in their belief that MBA programs have proven invaluable in helping them boost their careers.
Even still, you may be wondering what any of this has to do with enhancing your repertoire as it relates to change leadership. While most traditional MBA programs focus on foundational business knowledge, there are some that boast specialized concentrations, such as finance, marketing or human resource management.
One such program seems to be bucking the national trends of declining enrollment. While application numbers for traditional part- and full-time MBA programs dropped at more than 50 percent of U.S. schools in 2016, the MBA in Leadership and Change at The College of St. Scholastica (CSS) saw record enrollment that same year, increasing by more than 28 percent.
The innovative curriculum of this specialized program meets today's need for business leaders to develop a deep understanding of organization development principles and the social impact of the decisions they made. Students in this program focus on understanding leadership, organizational change and strategic management.
When you also consider the program's pointed focus on diversity and cultural competence, it's clear to see why an MBA design like this one is gaining steam. Its comprehensive approach is properly preparing professionals for today's evolving, global business environment.
Could an MBA bring your career to the next level?
Today's businesses are recognizing an emerging need for highly skilled change professionals who can help their organizations ride the waves of a rapidly evolving era of sophisticated global competition. If you're hoping to position yourself as the professional they're seeking, it may be time to consider an MBA — but not just any MBA.
Our MBA in Leadership and Change takes a unique approach in preparing today's up-and-coming business leaders to bring maximum success to their organizations. To learn more about the details of this innovative program, visit our article, "5 things you need to know about St. Scholastica's MBA in Leadership & Change."
Receive Program Info and Financial Aid Options
Detailed program overview
Personalized financial aid
Individual admissions support