May 18, 2015
College after the military: How your service has prepared you for success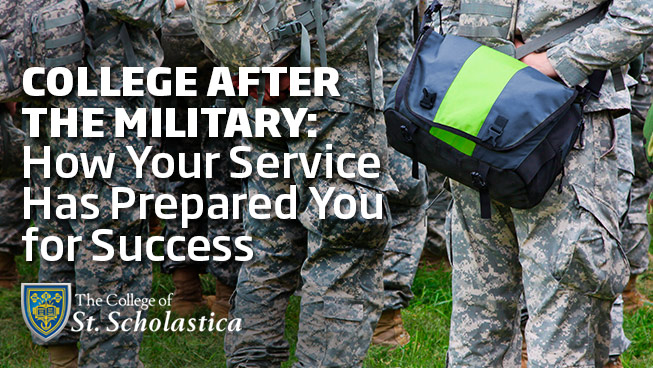 The Post-9/11 GI Bill®® has resulted in a surge of military servicemen and women going to college after a stretch (or several) of active duty—a surge much like the one experienced when the GI Bill®® was first introduced after World War II. A multitude of veterans even said they joined the military with the ultimate goal of receiving a college education.
Many military veterans feel insecure about being older and having such drastically different life experiences than most current college students. But what if we told you it's possible to transition smoothly into college after military service? What if we said your service has actually prepared you for success?
We spoke with a group of seasoned experts to help us tell you why.
4 Ways your military service has prepared you for college
1. You have excellent time management skills
"Success in college is most influenced by the extreme form of time management and prioritization that military experience teaches," says Sean Pritchard, who served five years in the U.S. Army and is now co-founder and partner at MilitaryHire.com.
A key facet of military training includes learning to assess the tasks that need completing, mentally prioritizing them and evaluating the necessary amount of effort to expend for each one.
"In order to survive and thrive in their environments, service members quickly learn that 'perfect is the enemy of the good'," Pritchard adds, explaining that his time in active duty taught him that it is better to do a good job at most tasks than a perfect job at just a few things.
Jumping into college will bring with it a variety of different assignments, papers, projects and tests. Your strict time management capabilities will come in handy when budgeting the time you have to spend on each individual task to assure that necessary deadlines are met.
2. You are adaptable
Anyone who has served in the military knows that things don't always go according to plan—you have to be ready for anything. "It is important that military students demonstrate their ability to quickly handle new experiences such as academics, social situations and different living conditions," says Elizabeth Venturini, a college career strategist who has experience working with student veterans.
It can be difficult coming back to the U.S. after deployment and be surrounded by people who have experienced nothing like what you just lived through—let alone a classroom filled with them. Many student veterans find themselves feeling alienated because of their life experiences.
It is important to remember that you can draw on your proficiency and adaptability to make the transition less daunting.
"[Veterans'] unique life experiences and ability to interact with many different people, cope with uncertainty and stressful situations and think for themselves can help them handle a rigorous college curriculum and new surroundings," Venturini says.
3. You have no shortage of motivation
Carol Gee was a technical sergeant on active duty for nearly eight years before spending an additional 14 years in the Air Force Reserves. "I was 27 years old when I entered college for the first time," she says. "While I felt that I was way behind at that age, I was ready to pursue my education unlike when I was much younger."
Military service is grounded in a core motivation—to protect the security of our country. Service members are both goal-oriented and determined.
"The military promotes the idea that there isn't anything you can't do," Gee adds.
Earning a college education is more of a marathon than a sprint. While many institutions offer online and accelerated programs, it still takes time to receive the degree you're seeking. The determination and motivation learned in the military will translate seamlessly as the driving force you need to finish college.
4. You are detail-oriented
Most with military experience will agree that establishing a detail-oriented routine is one of the first things you learn in basic training. In carrying out missions, individuals work as a part of a greater whole—everyone depends on each other to be sure that each element, big or small, gets completed so that they can all be successful.
"Military training leads to the development of many good qualities such as attention to detail," says Pritchard. This is also an attribute shared by great college students.
Whether you're working on a group project that requires each student do his or her part, you're memorizing a spreadsheet of facts for an upcoming exam or you're conducting the research for and proofreading your final paper, the details matter. You can channel the skills you gained during your time in service to make sure that no detail slips through the cracks on your watch.
Use your military experience to propel you to collegiate success
Many colleges are embarking on initiatives to meet the needs of student veterans. Most have veteran resource centers and on-campus counseling available—and some even offer customizable programs that can transfer some of your military experience into college credit!
College after military service may present its challenges—but don't worry, you are prepared to take those hurdles head-on. If you're considering jumping back into the life of a student, take a look at 5 ways you can ace going back to college.
Receive Program Info and Financial Aid Options
Detailed program overview
Personalized financial aid
Individual admissions support