March 21, 2021
Celebrating HERstory:
5 women who are shaping our community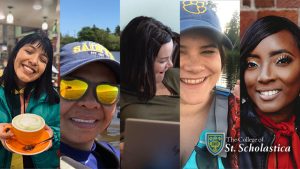 Women's History Month is a time for us to reflect and celebrate women's many achievements throughout American history. Here at The College of St. Scholastica, our very existence is the result of a vision brought to life by passionate, persevering Sisters. Women have always been at the heart of the St. Scholastica story.
As we close out this special month, we invite you to celebrate with us by learning about five women from the St. Scholastica community who inspire us: undergraduate student Chanty Armijo-Cruz, faculty members Dr. Gina Diaz and Dr. Melissa Goodson, alumna and staff member Michelle Ruszat Klee, and alumna Nicoshia Wynn.
Chanty Armijo-Cruz '21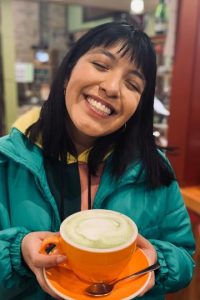 As a child, Chanty Armijo-Cruz knew she enjoyed helping people, but she didn't realize how those small acts of service could become a vocation.
"I loved doing things like helping my mom fill out a document or read her a letter that she got in the mail," she shared. "I didn't know that these things tied into social work; I just knew that they made me happy."
This happiness led her to St. Scholastica, a school that was far enough from her hometown of Richfield, but close enough for weekend visits. She soon discovered social work, a major that "made her heart glow." She also gravitated toward the Student Government Association (SGA), which represented another opportunity to give back and make a difference.
Armijo-Cruz was elected vice-president in 2019 and president in 2020. Her proudest achievement as student body president occurred at the start of the pandemic when she advocated for $50,000 in SGA funds to provide students financial support.
After graduation, Armijo-Cruz looks forward to returning to the Twin Cities and finding a path that will allow her to continue bringing help and happiness to those she serves. She also is eager to be closer to family, especially her sister and three young nieces.
For her, Women's History Month is a celebration of influential women in her life, including her sister and mom.
"They nourished me," she said. "And molded me into the woman I am today."
Gina Diaz (MA '07, DNP '15)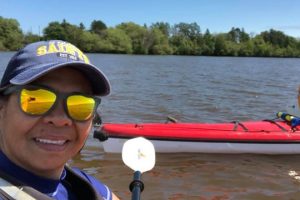 Gina Diaz was encouraged to become a teacher.
"My mom wanted to be a nurse," she recalled. "But she realized if she went into nursing, her siblings wouldn't be able to go to school." Years later, she would recommend her daughter pursue a different path: education.
Diaz found her way to both.
She joined the St. Scholastica community in 2004 as an adjunct faculty member in the School of Nursing. Two years prior, her husband was offered a position at Essentia/St. Mary's and the family relocated to Duluth from Chicago.
Soon after, the department asked if she would be interested in pursuing an advanced degree, an opportunity she seized. She earned her master's degree in 2007 and found her heart was in the classroom, not the clinic.
"Initially, I thought I'd like to go into practice," she shared. "But I liked the outcome of seeing students be successful, so I dedicated myself to teaching full-time."
Diaz praises the school's nursing program because of the tight-knitted relationships faculty build with their students, an experience she gained first-hand knowledge of as a graduate student. The values are also uniquely-Scholastica.
"What sets us apart is the Benedictine values," she said. Values that are especially evident during her annual study abroad trip to the Philippines. For the last seven years, Diaz has been bringing a group of students to her home country for an immersive, clinical experience. The trip was her brainchild, brought to life with the support of the program's chair Paula Byrne.
Diaz considers Women's History Month as a time to honor the women in our lives, and especially look back at the women who inspired and guided; women like her mother, who encouraged her to become a teacher all those years ago.
"As I get older, I see what a trailblazer my mother was, how futuristic she was," she said.
Dr. Melissa Goodson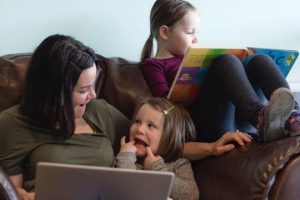 Melissa Goodson is passionate about building and bringing community into her teaching.
Since joining the Stender School of Business and Technology faculty in 2015, her favorite moments happen in the classroom when students begin to consider the impact of their work in the northland. She describes this alignment of real-life projects, gained skills, and community impact as an "aha moment."
"That is when their passions begin to come through," she said.
Goodson teaches courses in marketing and business management, and was recently appointed Director of the Sandbulte Center for Ethical Leadership. She integrates experiential learning into all her courses, connecting students with entrepreneurs in the community, including DLH Clothing and Yellow Bike Coffee.
"Many of my students want to be entrepreneurs or solopreneurs," she shared. "This access allows them to talk to industry players and begin thinking about the skills needed for their first job."
Outside the classroom, Goodson enjoys yoga, biking, hiking, and supporting local businesses. Her two little girls love to ski, and although she is not a skier, she considers herself an excellent cheerleader.
Her daughters come to mind when reflecting on Women's History Month. "Women's History Month is a celebration of important figures in the U.S. and beyond," she shared. "It also represents hope for the future. My hope for the girls is they can go wherever they want to go and do whatever they want to do."
Michelle Ruszat Klee '14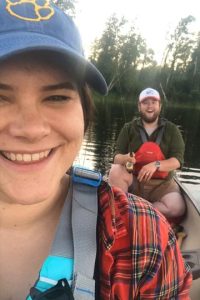 Michelle Ruszat Klee grew up hearing stories about her great-grandma attending The College of St. Scholastica. Francis Sheridan, an alumna from the class of 1942, served as class vice president, studied social work, and according to family lore, would often commute to campus on foot, a walk that spanned several miles.
"She was a stay-at-home mom and a farm wife," Ruszat Klee recalled. "But she also had a college degree, which was such a rare thing for a woman in the '40s."
These stories, coupled with Ruszat Klee's connection to Duluth, inspired her to write her own St. Scholastica story. She earned a double major in communications and Spanish, and especially enjoyed her study abroad experiences in Ecuador and the Galapagos Islands. After graduation, she stayed in the Duluth community and eventually found her way back to campus in 2017 when she accepted the Violence Intervention and Prevention Coordinator position.
Fittingly enough, she considers her grandma Marty, her great-grandma Francis' daughter, as one of the most inspiring women in her life.
"She paved her way and did whatever she wanted," she described. "She lived such a cool and interesting life; I didn't learn about it until after she had passed and I read her journals."
For Ruszat Klee, Women's History Month is about bringing these stories, those that might be lost in history, to the forefront.
Nicoshia Wynn (MA '05)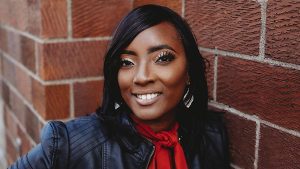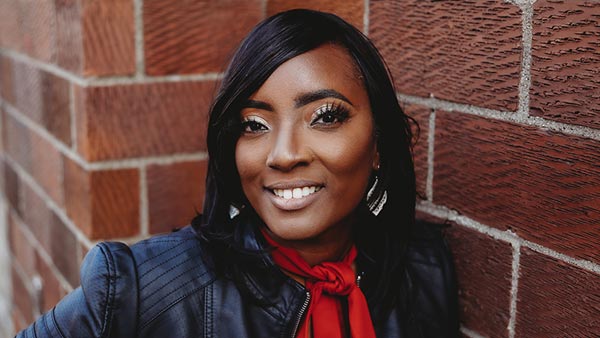 Nicoshia Wynn is relentless.
She is a partner, a mom of three, a woman of faith, a full-time human resources consultant, and a passionate advocate for education and accessibility. These identities have recently led her to a new adventure as founder and executive director of the nonprofit Relentless Academy.
Wynn was inspired to create this summer program to address Minnesota's achievement gap for students of color. To her, this work was deeply personal. "Minnesota has some of the lowest graduation rates for Black students in the country," she shared. "If our kids don't have access to summer camps and programs that could impact their future success, we'll continue to see this achievement gap, and wealth gap, in communities of color over and over again."
When she struggled to find these types of opportunities for her own kids, Wynn set out to create her own. Relentless Academy will officially launch in 2021, emphasizing science, math, art, reading and technology (SMART) curricula.
She hopes the program will empower underserved youth and eventually prepare them to be the next generation of smart and fiscally responsible leaders that the world needs.
The work is constant, but so is she.
Wynn sees Women's History Month as an opportunity to acknowledge the bold women who came before her while also striving to be that woman for someone else. "At the end of the day, I want to be able to leave a legacy," she said. "I want people to talk about me and say, I made an impact."
Receive Program Info and Financial Aid Options
Detailed program overview
Personalized financial aid
Individual admissions support