March 12, 2018
Breaking down business management: A look at one of the most popular majors in the U.S.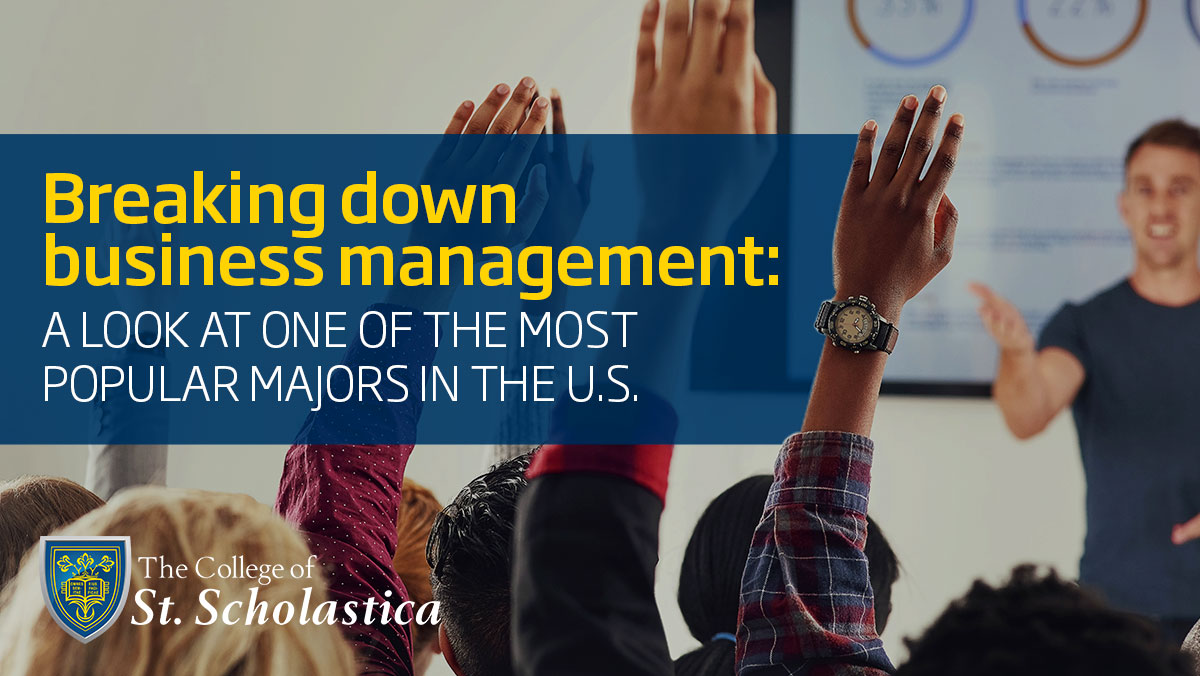 Business remains the most popular major in the U.S. year after year. It has long been considered a wise financial move, boasting a stronger than average return-on-investment. Its academic offshoots — such as finance, accounting, marketing, management and general business administration — account for one out of every five degrees awarded each year, according to The Washington Post.
But where does business management fit into it all? With distinctions that set it apart from its business administration or marketing counterparts, a business management degree can equip graduates with an incredibly broad and versatile skillset that's sought after in nearly every industry.
Join us as we break down the unique attributes of business management programs, dig into the potential career paths that await business management graduates and uncover the features of The College of St. Scholastica's new business management degree path.
What sets a business management degree apart?
Business management degree programs are rising in popularity because it's such a versatile major that provides outcomes needed in every setting and every organization, explains Kathy Modin, assistant professor and Interim Chair for the management department at The College of St. Scholastica (CSS).
So, what sets business management apart from other business degree paths? Overall, business management students are considered more as generalists than other specialized sectors of undergraduate business study. The goal is less to master a specific field and more to prepare students with the general skills needed for managing people and projects.
Business administrators, for example, center their work on keeping the business running from day to day. Business marketers address a company's promotion tactics. Conversely, business management professionals work at a much higher level, often dealing with bigger issues, such as setting goals and benchmarks for departments or projects and ensuring that company operations are running smoothly and efficiently. That is to say, business management will generally focus more on people than processes, which calls for strong leadership skills, ability to oversee staff, proficient understanding of ethical decision making and capabilities relating to organizational change and strategic management.
At its core, effective management is essential to any organization's overall success.
Business management students can still expect to take foundational business courses, courses relating to financial accounting, economic courses and other courses required of most business majors. Yet they can generally also expect a more comprehensive education that encompasses all areas and aspects of business, rather than focusing on a single facet of the field.
What can you do with a business management degree?
With such an in-demand skillset, business management degree holders can find work in a number of different industries and under a litany of varying job titles. While it's true that highly skilled graduates can eventually work their way up to chief executive positions later in their careers, consider the following four job titles you may be more likely to encounter as you get started.
Human resources manager
These business management professionals are responsible for planning, directing and coordinating many of the administrative functions of an organization. This can include overseeing the recruiting, interviewing and hiring of new staff, consulting with top executives on strategic planning and serving as an integral link between an organization's management and its personnel.
Production manager
Candidates seeking a position as a production manager can expect their job duties to revolve around ensuring that overall product manufacturing processes are running both reliably and efficiently. Typical duties include planning and organizing production schedules, assessing personnel and resource requirements, determining quality control standards and acting as a necessary liaison between production management and strategic management teams.
Administrative services manager
Professionals serving in an administrative services manager role plan, direct and coordinate supportive services of an organization. This means they're responsible for everything from maintaining facilities and supervising administrative activities to setting department goals and recommending changes to policies or procedures as needed.
Development manager
Training and development managers specialize in overseeing the staff of an organization. They plan, direct and coordinate programs designed to enhance the knowledge and skills of employees across multiple departments. This can include creating or selecting course content and materials for training programs. In some cases, these individuals supervise a team of training and development specialists who, in turn, instruct the organization's employees.
Business management at The College of St. Scholastica
While many management degree programs focus largely on organizational behavior, the Business Management program at The College of St. Scholastica (CSS) combines a general business focus with facets of human resources and even legal aspects of management. This results in a more encompassing degree path that produces highly skilled graduates who are more than prepared to make their mark in their industries.
Modin explains that business management students at CSS can expect to develop top-notch skills in the following areas:
| | |
| --- | --- |
| • Critical thinking and reasoning | • Ethical decision making |
| • Written and oral communication | • Creative problem solving |
| • Conflict resolution | • Career planning |
| • Interviewing — both as interviewer and interviewee | • Presenting different types of research |
| • Innovative thinking | |
Students also gain the ability to easily tie all of the above skills back to their job duties after graduation, effectively applying what they've learned. In fact, the business management program at CSS places great emphasis on experiential learning through internships, study abroad programs, international research opportunities, connecting to local businesses, industry-related field trips and guest speakers.
"We're all about applying what you learn in the classroom to real-world experiences," Modin iterates. CSS students have participated in internships with respected corporations that often turn into full-time job opportunities. Some of the most notable organizations include Securian, Target Corporate, Microsoft and Ecolab.
"Businesses are asking for CSS graduates," Modin says, explaining that they know they'll receive dependable, highly qualified employees.
Break through barriers with a business management degree
If you're looking to leverage the most popular college major in the U.S. in a way that can qualify you to buck overarching trends and land the jobs you're after, you'd be wise to consider a degree in business management.   The recently re-vamped program at The College of St. Scholastica knows how to prepare graduates to exemplify what organizations from industries of all kinds are looking for. Learn more about your options by visiting the BA in Business Management program page.
Receive Program Info and Financial Aid Options
Detailed program overview
Personalized financial aid
Individual admissions support