March 4, 2019
Applying to college? 5 tips for a stress-free college application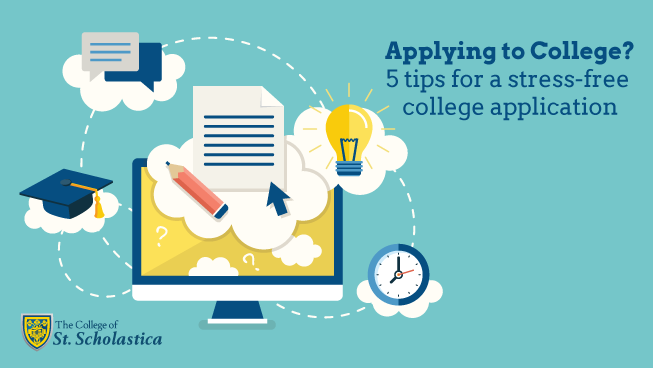 You should be proud of your achievements because you've come so far — from excelling in high school to building your activities portfolio to researching which colleges you would like to attend. Next stop: your college journey!
Filling out college applications can be intimidating. There's a lot of information out there, but don't worry. Take a look at the five steps below for a simple guide on how to successfully complete your college application.
You may find it easier than you first thought.
1. Which application should I complete?
Most colleges give you more than one option to complete your application. The choice is up to you. The college's own application platform and Common App are the most widely offered. Understanding the difference between them could save you a lot of time.
Common App is one of the most popular undergraduate admission applications used by students. This platform allows you to complete one application and apply to multiple colleges at the same time.
Most colleges partner with Common App. However, if you're only interested in applying to your top one or two schools, or your college of choice is not on Common App's list, then filling out the College's application may be the best option for you.
2. ACT/SAT vs. Test-Optional Admission
Did you know there are colleges that offer Test-Optional Admission? This means you may choose to write an additional essay instead of submitting your ACT/SAT scores. Learn why more and more colleges like The College of St. Scholastica are moving to this option and how it may benefit you.
3. Crafting your essay
Writing a college essay can cause anxiety for many applicants — but don't worry! This is your time to shine; don't be shy. Be yourself and be bold. Your life experience makes you unique. Share your story!
Admissions counselors want to know about you, what you've done, who you are, and your personality.
Here are some tips to make your essay stand out.
Brainstorm ideas before you begin writing
Create an outline to organize your thoughts
Be authentic, real and honest
Find ways to showcase yourself without bragging
Be specific — provide examples to support your points
Find creative ways to show your experiences
Be concise and succinct when writing your essay
Get feedback from a skilled individual who has editing experience
Proofread to ensure a high-quality finish
4. College application deadlines
Keep track of your deadline dates and manage your time well, because submitting your application is the most important step. Most colleges don't require you to have all of your documents submitted at once. Reviewing the requirements and deadlines before starting the application process will help you stay organized and on time.
When in doubt, don't hesitate to use your resources! Throughout this process, feel free to contact your college admissions counselor or recruiter for any help. They are there to assist you in filling out your application successfully.
5. Decision timeline
It generally takes about 2-4 weeks for colleges to process applications and make a decision. If you haven't already, now is a good time to schedule a visit to your top choices. There's no better way to make your decision on where to attend college than to visit. Visiting allows you to get a feel for life on campus, meet with faculty and current students and explore the surrounding area.
If you have additional questions about the admissions process, contact a St. Scholastica  admissions counselor.
Receive Program Info and Financial Aid Options
Detailed program overview
Personalized financial aid
Individual admissions support