September 22, 2020
9 Physical therapy specialties to pursue in your career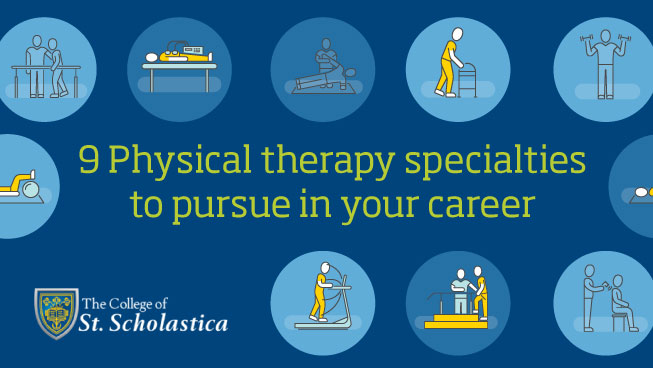 Physical therapists are an integral part of the healthcare team, restoring or optimizing movement and function after injury or disease. These hands-on healthcare professionals evaluate movement dysfunction, develop care plans, use therapeutic exercises, facilitate neuromuscular control of movement and manage pain as part of treatment for their patients. Physical therapists use these skills across a wide range of patients and all practice settings.
What you may not know, however, is that a physical therapist can go beyond these basic skills and become specialized in a specific type of practice. Specialization can be achieved by practicing physical therapists after meeting requirements set by the American Board of Physical Therapy Specialties. There are many physical therapy specialties to consider, and each one has its own unique purpose and set of responsibilities.
If you're considering a career in physical therapy, read on to learn about the nine specialties certified by the American Board of Physical Therapy Specialties — you may find your future fit!
9 types of physical therapy specialties career hopefuls can consider
1. Pediatrics
If you love working with children, pediatric physical therapy may be the specialty for you. Physical therapists in this field work with a range of children, from newborns to teenagers. They work to treat a variety of disorders and conditions that inhibit children from functioning or growing as they should. Commonly seen are developmental delays, cerebral palsy, cystic fibrosis, scoliosis and brain injuries.
Pediatric physical therapists can work in environments outside of a hospital. They are also found in schools, outpatient centers, rehabilitation facilities and, at times, in the patient's home. In addition to treating children, physical therapists may work with family members to educate them on caring for and assisting their child.
2. Sports
Athletes who have sustained an injury may be very familiar with this physical therapy specialty. Physical therapists who specialize in sports medicine work to alleviate and heal injuries caused while engaging in an athletic activity.
Common sports injuries include ACL tears, concussions, tennis elbow, hip flexor strains and shoulder injuries such as dislocation of the joint or tearing in the rotator cuff. Physical therapists use strengthening, stretching, manual therapy, hydrotherapy and heat or cold application to restore function and movement to patient's affected areas. For sports therapy, patients are likely athletes who want to return to peak performance, so restoring muscle strength, improving speed, quickening reaction time and improving agility are often areas of focus.
3. Women's health
Physical therapists can specialize in women's health, which refers to both specific conditions women face as well as the treatment of women at different stages of their life. Physical therapists in this specialty can work to treat conditions such as pelvic pain, osteoporosis and lymphedema, while also providing prenatal and postnatal care.
Women's health can also include working with women of all ages and lifestyles — from female athletes to older women, physical therapists understand female musculoskeletal systems and how common conditions can affect women differently than men. Their main goal is to help maintain and promote health throughout a woman's lifespan.
4. Geriatrics
Geriatric physical therapy is a growing field, as the baby boomer generation ages and begins to experience more age-related conditions. Physical therapists in this area work with elderly patients to alleviate pain from arthritis, osteoporosis and general joint stiffness and soreness. The goal is to help these patients remain as physically healthy and active as possible.
Some geriatric patients may have progressive diseases such as Parkinson's or Alzheimer's that have no cure and impact everyday activities. Physical therapists work with these patients to help them build muscle strength, improve their balance and help prevent falls. They will also work to educate family members and caregivers on how to take care of and assist the patient once they're home.
5. Clinical electrophysiology
Clinical electrophysiology encompasses two distinct forms of treatment: electrotherapy and wound management. Electrotherapy involves the use of electromyography (EMG). EMG is a procedure used to determine the health of muscles and nerve cells; using electrodes, the EMG can measure the electrical activity in a muscle. With this information, physical therapists can help to treat disorders in a patient's muscles or nerves.
Physical therapists practicing within this specialty may employ electrotherapy to help treat their patients. Electrotherapy — or the use of electrical simulation — can help to prevent blood clots, facilitate wound healing, relax muscle spasms, improve blood circulation and alleviate pain. It has also been shown to accelerate wound healing. Common wounds treated by electrotherapy include abrasions, post-surgical incisions, diabetic ulcers and lacerations.
6. Cardiovascular and pulmonary
For those interested in heart health, cardiovascular physical therapy is worth considering. Physical therapists in this specialty provide cardiac rehabilitation for patients who have suffered heart attacks, have heart disease or are simply looking to improve overall cardiac health. In cardiac rehabilitation, physical therapists help patients build their endurance through exercise, while also teaching patients how to reduce stress and manage their conditions. Cardiac physical therapy can be performed at a hospital or in an outpatient center.
The other half of this specialty is pulmonary rehabilitation. Physical therapists who provide this care work with patients who have pulmonary conditions such as chronic obstructive pulmonary disease (COPD), cystic fibrosis or sarcoidosis. Physical therapists teach these patients breathing exercises, work to strengthen muscles and endurance, and provide education on long-term management of the condition or disease.
7. Neurology
Neurological physical therapists work to treat conditions of the nervous and spinal systems. Patients may have a range of afflictions, including brain or spinal cord injuries, multiple sclerosis, sciatica, neuropathy, fibromyalgia and cerebral palsy. These conditions may inhibit patients' balance, coordination, sensations and overall movement. Physical therapists then work with these patients to reduce motor defects and help regain or improve function.
Physical therapists can specialize in neurology in a variety of settings. They may work in hospitals to support patients who have had recent brain or spinal cord injuries, they could work in acute care and rehabilitation centers for long-term therapy or they may work in assisted living facilities assisting elderly patients.
8. Orthopedics
The most popular physical therapy specialty is orthopedic physical therapy, which involves treating conditions of the bones, muscles, ligaments, tendons and joints. Physical therapists in this specialty may see a range of patients, such as those who suffer from arthritis, have broken bones, have had joint replacement surgery or who have recently strained or sprained any muscle or ligament.
While there is overlap with orthopedics and sports medicine, orthopedic physical therapists treat anyone, not just athletes or those who have sports-related injuries. Those who see an orthopedic physical therapist may be treated using methods such as stretching, exercise, strength training, hot and cold applications and electrical muscle stimulation.
9. Oncology
Oncology refers to the study and treatment of different types of cancer. Physical therapists within this specialty work with patients who have either been diagnosed with or who are recovering from cancer. Cancer can cause many symptoms or conditions that require physical therapy; pain, muscle weakness, joint stiffness, loss of endurance, difficulty walking, numbness in feet and hands and loss of bone density can all occur as a result of treatment.
Physical therapists work with cancer patients to help them feel more comfortable, increase their aerobic capacity, lose weight, improve memory and strengthen any weakened muscles. They accomplish this by developing treatment plans using exercise, massage, electrical stimulation, compression garments and stretching to help patients both in the clinic and at home.
Which physical therapy specialty is right for you?
Physical therapy is a large field, and demand for qualified professionals within this career path continues to grow. In fact, the Bureau of Labor Statistics projects that physical therapy jobs will grow 18 percent by 2029.
We've covered the nine specialties within physical therapy. Can you see your future career veering toward any of those paths? The only way to truly know which physical therapy specialty best fits your career goals is to dive into the field and see for yourself. Visit The College of St. Scholastica's entry-level Doctor of Physical Therapy program page to learn more about how you can begin your journey.
Receive Program Info and Financial Aid Options
Detailed program overview
Personalized financial aid
Individual admissions support