February 8, 2016
8 life-changing scholarship websites every college hopeful should bookmark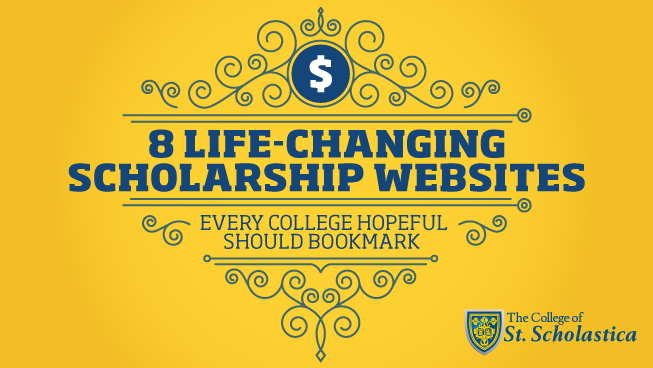 Did you know you can get a college scholarship for making the most creative sandwich, being a proficient bowler or even crafting the most impressive zombie apocalypse survival plan for your high school or college?
The scholarship search can feel both overwhelming and stressful, but the biggest hurdle is simply learning what's out there and available to you. There are a number of websites designed to make the scholarship hunt easier on college hopefuls.
As long as you stay on top of application deadlines, you can let these eight scholarship websites do the searching for you!
An important note: Don't forget to be cautious of scholarship scams. It is important to use the resources available to you to make sure the scholarships you find will check out. You can consult the information and tools provided by the Federal Trade Commission and the Better Business Bureau to double check. When in doubt, consult your parents or your admissions representative with any questions!
Now, onto the websites! Take a look at what we found …
8 scholarship websites you can't afford to miss
How it works: Fast Web was the first scholarship matching tool of its kind when it was founded nearly 20 years ago. It asks you for your basic information, as well as your GPA, intended major, colleges you're interested in and more. All of this information informs the scholarship opportunities it matches you with, eliminating those for which you won't qualify. Once you find one that catches your eye, just follow the link to apply and you'll be contacted if you're selected.
How it works: This scholarship database — which was founded in 1999 — boasts nearly three million scholarship opportunities. After a quick registration process, you can cater your results by choosing the type of scholarships that are most relevant to you. But they don't stop there! The site also has tools in place to help you narrow down your college search. If you're looking for scholarship dollars and are still unsure where you'll be pursuing your education, this site could be the right fit for you.
How it works: This education-based organization has been around since 1900. What started as a book of scholarships, has now transitioned to become a huge online database. College Board is unique in that it eliminates institution-specific scholarships. This means all the scholarships you are matched with can be used at any college of your choosing, and you can be sure they come from well-established, credible sponsors.
How it works: FinAid differs from many of the other sites on our list in that it doesn't conduct a live search to match you with specific scholarship opportunities. Rather, this website offers a host of content to help you learn about the authenticity and credibility of the scholarships you find. It provides resources to help you navigate the entire process of applying for financial aid, military aid, etc. This site is a great tool to use in tandem with another scholarship search engine on our list.
How it works: Cappex has long been a tool used by many to help narrow down options in the college search, but it has also become a valuable database for finding the necessary funding. In addition to matching you with external scholarships like many of the search engines on our list, Cappex also provides more than $30,000 in their own unique scholarships. It awards internal scholarships to users with the most well-rounded profiles, so be sure to spend a few extra minutes when creating your account!
How it works: This scholarship database prides itself on not only matching students with relevant scholarships, but also doing so as speedily as possible. Student Scholarship Search operates to help students find ways to invest more wisely in school. The site even includes student-curated lists for specific needs, such as international scholarships or scholarships for single mothers.
How it works: This scholarship search engine comes straight from the U.S. Department of Labor. The Career One Stop tool not only provides services within the job search, but it also helps you canvas more than 7,000 available scholarships, fellowships, loans, internships and other financial aid opportunities. It is designed to be a one-stop shop for all your higher education and career needs.
How it works: Scholarship America has been around for more than half a century, founded on the mission of mobilizing the country to make postsecondary success possible through all students by facilitating scholarships and educational support. Like many of these scholarship websites, users are prompted to create a free profile before being matched with relevant scholarships.
What makes this provider different is that it is a largely donation-based organization that has branched off into many affiliate programs, including Dollars for Scholars, Dreamkeepers and Scholarship Management Services. Scholarship America's goal is to help 750,000 students complete their education beyond high school with manageable debt by 2025. Could you be one of those students?
Ready to snag some scholarship dollars?
With big college decisions looming, tracking down scholarships shouldn't be an added source of stress. Try any of these scholarship websites to do the groundwork for you — all you need to do is select a handful of scholarships and apply!
But don't limit yourself to the external scholarships you find on these search engines! Once you choose the college you'll attend, be sure to canvas its internal array of scholarship opportunities. The College of St. Scholastica (CSS), for example, has more than 25 unique scholarship offerings available to first-year students. Take a look at six CSS scholarship opportunities you could apply for today!
Receive Program Info and Financial Aid Options
Detailed program overview
Personalized financial aid
Individual admissions support