November 28, 2016
6 unexpected jobs for creative people to keep the inspiration flowing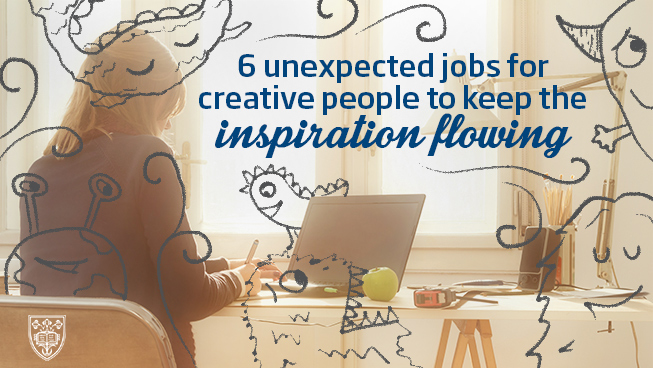 If you're a creative person, you've likely struggled to determine which career path you'd like to pursue. Let's face it: Not all creatives have the proper skills to be an actor, musician or artist.
But there are still careers that can benefit from your creative capacity even if they're not directly related to the arts. If you're looking for something that will stimulate your mind, value your innovation and allow you to work outside of the box, you've come to the right place! Join us as we explore some of the more unexpected careers fit for creatives like you.
6 stimulating jobs for creative people
1. Small business owner
What's more creative than starting from scratch? No matter what industry your desired business venture lives in, getting off the ground requires a healthy amount of creativity. Small business owners are tasked with making their business stand out amidst more established competitors.
"This one isn't for the faint of heart," urges Brad Nierenberg, founder and CEO of RedPeg Marketing. "Entrepreneurship requires creativity in many forms, from how you approach an industry and solve problems to the way you look at the status quo and seek to answer questions that no one thought to ask. You have to be a risk-taker."
A great way to establish the acumen you'll need to start a successful small business is to pursue a degree in marketing, management or organizational behavior. If you've already earned an undergraduate degree, an MBA could take you to the next level!
2. Teacher
As a teacher, your primary goal is to help your students learn. This can take a number of different forms, so it's up to the teacher to determine the way to best reach his or her students. The truth is, simplified math worksheets and questions scribbled on the whiteboard are no longer the most effective means of reaching 21st Century learners.
This is where educators need to get creative. "Reading a book out loud won't reach the students," explains Rik Brouwer, online marketing associate at SIRE Life Sciences. "You need to prepare your lessons and bring the subjects out in a creative way. Nearly everything you tell your students must be [delivered] in your own way." He adds that the better teachers are at drawing students in creatively, the more the students will listen and retain the lessons being taught.
The great news about a career in teaching? The path to get there is about as straightforward as it gets. You'll need to enroll in an undergraduate education program, obtain licensure and in the future, you may even consider pursuing a Master of Education (M.Ed) degree. If you've already completed an undergraduate degree in a different field, don't worry — you won't need to go through the undergraduate process again! Look for graduate teaching licensure programs like the one at The College of St. Scholastica that can qualify you to teach in fewer than two years.
3. Copywriter
"Many writers who dream of becoming journalists and novelists are finding themselves more and more disappointed in the 21st Century," suggests James Nuttall, copywriter at Roman Blinds Direct. "In a digital age, traditional journalism is becoming obsolete. However, this decline is creating more opportunities for people to become even better-paid writers, particularly in the world of creative marketing."
"Marketing is about creating solutions to get businesses in front of customers in a way that will create opportunities," explains Matt Brooks, co-founder of SEOteric. "When creative people are a part of that process, the results tend to be better."
Brooks goes on to explain that creativity in marketing isn't just about eye-catching graphics and design acumen. It's also about the message, about finding new ways to connect with potential customers. Copywriters often serve as the catalysts for those captivating messages.
Another title for writers operating in the marketing sphere is content marketing writers or specialists. "Copywriting or content writing jobs can be highly lucrative and require every bit as much creativity as a novelist or journalist — in many ways, even more creativity," Nuttall explains, offering that these roles involve creating content strategies and innovative articles for many different clients. "This job is designed for the most creative people out there."
To acquire the foundational knowledge needed to become a copywriter or content marketing writer, you might consider majoring in English, marketing or communications.
4. Translator
Working as a translator may sound pretty straight forward – whether you're translating orally or translating written word, you're just saying the same thing in a different language, right?
The truth is, as all professional translators will tell you, the best in this field inject a healthy dose of creativity into their work process. Rather than remaining literal, translators are tasked with conveying the full meaning of an original text. And some languages have words, idioms or colloquialisms that don't exist in other languages. Translators must come up with innovative and figurative ways to overcome these hurdles.
Consider, for example, when multiple sources translate the same poem — you'll almost always wind up with as many versions of that translated poems as you have translators examining it.
If you have a deep love of language and a knack for creative writing, this could be a surprisingly perfect creative profession for you. The best way to get your start is to study as much as you can of your chosen language in college. Whether you're drawn to French, Spanish, German, Latin, Russian or even Ojibwe, explore the various language offerings available to you at the school of your choice.
5. Computer & information research scientist
You may be surprised to see such a technical title included in our list of creative jobs, but computer and information research scientists thrive off their ability to implement creative solutions. These tech experts invent and design new approaches to computing technology while also discovering innovative uses for technology that already exists. Their work is done through studying and solving complex technological issues in the fields of business, medicine, science and others.
In addition to strong critical thinking and systems analysis and evaluation skills, the most successful computer and information research scientists also possess a strong creative outlook, enabling the innovation needed to design and implement inventive solutions to complex problems.
If you can envision yourself enjoying the relationship between technology and creativity that exists while working as a computer and information research scientist, the most clear path would be to major in computer information systems (CIS).
6. Any title within a nonprofit organization
Anyone who has ever worked for a nonprofit organization will tell you that creativity is a must. Most nonprofits must figure out how to do a lot of big things with a very small pool of resources.
Melissa James is currently the marketing director for The Curtis Group — nonprofit fundraising consultants — and the owner of Creative Copy & Design, but she worked for many years as a public relations and marketing coordinator for a nonprofit organization. She references nonprofit work as a chance to wear many different hats and to think bigger — and all for a good cause!
Working at a nonprofit, you'll have an opportunity to respond to the challenge of fulfilling your mission faster, better and for less money with both innovation and passion. Professionals in this sphere rely on their creativity to help them come up with effective ideas for the greater good.
If this interests you, the best plan would be to major in a subject that can really tap into your pre-existing skills and interests. You might consider social work, psychology, management or peace and justice — or you can take it a step further and pursue an MBA with a focus on leadership and change.
It's time to flex those creative muscles!
Just because you may not be equipped for a career as a designer or illustrator, that doesn't mean you need to shut the door on your dreams of finding a career that allows you to flourish in your creativity! As you can see, there are plenty of other jobs for creative people that are both unexpected and stimulating.
If you're still having trouble narrowing down the field of study you'd like to pursue, check out the infographic we made with readers like you in mind: "How to choose a major: Using your superpowers for good."
Receive Program Info and Financial Aid Options
Detailed program overview
Personalized financial aid
Individual admissions support