February 27, 2015
6 Things you didn't know about St. Scholastica's HIM Degree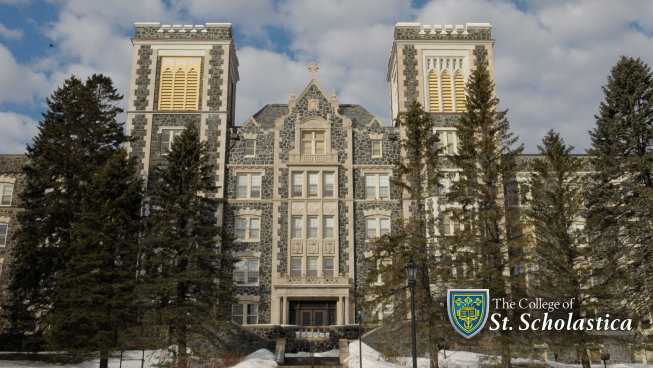 Every single patient who steps foot inside a healthcare facility brings with them a wealth of important information. Personal information forms, insurance details, treatment authorization, lab reports, X-ray results, prescriptions and everything in between. Someone has to keep that vital information orderly and accessible.
That's where health information management (HIM) professionals come in.
They spend their time behind the scenes at hospitals and clinics, but their role is integral in protecting patient confidentiality and tracking patient outcomes. Put simply, HIM professionals manage all the information that ensures patients get the care they need. And their role is becoming increasingly more important as the population ages.
Advancing technology in health-related industries has created a growing need for tech-savvy healthcare professionals. In fact, these positions are expected to grow by 22 percent through 2022, according to the U.S. Bureau of Labor Statistics.
As you narrow the list of colleges you're considering, look for the one or two elements that differentiate one school from the next. Search for the school that will help you become the best community member you can be.
Here are six reasons to consider St. Scholastica's HIM degree program:
1. St. Scholastica offers an exclusive array of HIM program options
The College of St. Scholastica (CSS) understands HIM professionals are the caretakers and guardians of vital patient information. The school also understands the value of education and its never-ending evolution. That is why it offers not one, but three different degree programs for HIM hopefuls.
Earning a bachelor's degree can help you land entry-level HIM positions including health information supervisor, clinical data analyst or compliance manager. The master's program is designed to provide advanced knowledge of HIM principles to new and practicing professionals, allowing them to advance even further in their careers, and qualifying them to hold administrative positions. And even better … both programs are offered online!
In addition to the traditional bachelor's and master's tracks at CSS, you also have the opportunity to earn a joint master's degree in HIM and information technology (IT) leadership. The college also proudly offers a graduate-level certificate program.   
2. St. Scholastica faculty wrote the book on health information management
CSS faculty members Pam Oachs, Kathy LaTour and Shirley Eichenwald Maki co-authored and edited the book Health Information Management: Concepts, Principles and Practice, one of the most widely-used textbooks in HIM programs across the country.
"It has become the industry standard because it is the most comprehensive text on HIM practice, it is well written and the text's authors are widely respected as subject matter experts," says Ryan Sandefer, department chair and assistant professor of CSS' Health Informatics and Information Management (HIIM) department.
And there are even more projects in the works! Oachs and HIM master's program director Amy Watters are working on the next edition of the text. Meanwhile, Sandefer and fellow CSS professor David Marc are currently engaged in an additional textbook project with AHIMA Press.
The best part is you would be given the opportunity to learn directly from these experts, as they all maintain regular commitments to teaching at CSS.   
3. St. Scholastica's bachelor's degree program was the first in the country
The Sisters of the St. Scholastica monastery created Duluth's first hospital, St. Mary's Hospital—now called Essentia Health-St. Mary's Medical Center—which stands as one of Minnesota's largest and most highly specialized medical centers.
"St. Scholastica was critical for training the professionals who would staff the organization," Sandefer says. "As the hospital grew and the emphasis on clinical documentation increased … the role of HIM emerged."
Sister M. Patricia Thibadeau responded by creating the nation's first HIM bachelor's degree program in 1935. The program has remained at the forefront of the field ever since, adapting to new technological advances both in teaching methods and curriculum as well as offering online classes so students can learn from a distance.   
4. St. Scholastica's master's degree program was the first to be approved and accredited by renowned health information management associations
St. Scholastica proved to be healthcare trailblazers once again in creating the first master's degree program in HIM in 1997. "Advanced degrees related to the discipline were needed to address the changing industry landscape," explains Sandefer.
Like the bachelor's degree program, this advanced degree program was quickly recognized nationally. St. Scholastica's program became the first of its kind to be approved by the American Health Information Management Association (AHIMA) for successfully meeting the rigorous AHIMA curriculum standards. The master's degree program has also become officially accredited by the Commission on Accreditation for Health Informatics and Information Management Education (CAHIIM).   
5. St. Scholastica has stood at the forefront of the online education revolution
St. Scholastica has always been sure to include a distance learning component in both the bachelor's and the master's degree programs. "There was a real need for education options for working HIM professionals," says Sandefer. "St. Scholastica has been creative and innovative in finding approaches to provide educational pathways for these individuals."
Pursuing a degree online has a variety of advantages. Maybe you're working in a role or organization that is too good to let go of right now. Maybe you've planted roots outside of Duluth and relocation is not an option. Perhaps you're an early-adopter of technology and you just love the flexibility of an online degree.
Regardless of your motivation, CSS' online HIM degrees allow you to build your own course load to fit your schedule. They also offer access to a team of dedicated online faculty and an active student community.   
6. St. Scholastica faculty understand the shifting landscape of the health information management field
The smooth transitioning of the program's curriculum to meet industry needs is example enough, but CSS HIM faculty don't stop there. In fact, several faculty members spoke recently at AHIMA's Assembly on Education Symposium.
Watters spoke about the importance of authentic leadership in education and the impact of establishing strong online communities while Oachs discussed innovative HIM curriculum strategies.
Sandefer and Marc addressed the transforming landscape of HIM in relation to "big data" and analytics. They agreed in their presentation that many current graduates take on analyst positions that rely heavily on understanding datasets, and that this trend will continue to grow with future generations of grads.
All of the HIM faculty embody the St. Scholastica commitment to recognizing industry-changing developments in the field and building coursework that prepares students to address them.    
The bottom line…
What began as a woman sitting at a desk with a typewriter has since transformed into a nationally-recognized health informatics and information management program that keeps up with the ever-changing trends of technology with ease.
You have the opportunity to enroll in the program that started it all, following in the footsteps of hundreds of students who have benefited from the St. Scholastica commitment to excellence.
For more information on St. Scholastica's HIM programs, check out the bachelor's degree and master's degree pages.
Receive Program Info and Financial Aid Options
Detailed program overview
Personalized financial aid
Individual admissions support