May 30, 2016
6 crucial considerations students forget when transferring colleges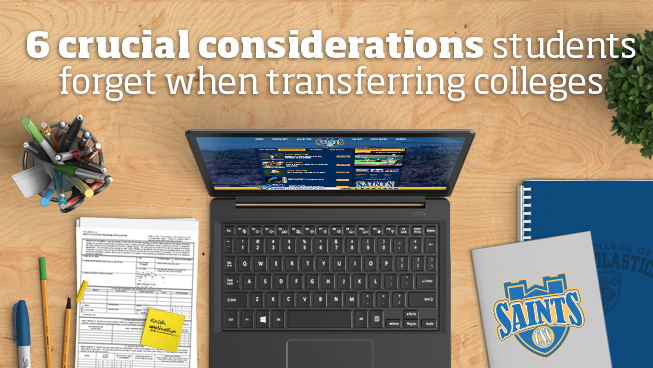 Maybe you moved a little too far away from home and realized you want to be closer to your family. Or it's possible you had a change of heart as to which degree program you'd like to pursue. Or you may have realized you need a school that can better accommodate your work schedule.
Whatever your case may be, there are plenty of good reasons students decide to transfer colleges.
Transferring colleges, however, is not just a matter of packing up your dorm or preparing to leave home, waving goodbye to your current surroundings and driving off toward the greener pastures just over the horizon. There are several important things transfer students need to consider before making the change.
We've enlisted some undergraduate transfer experts to weigh in on the most important considerations to keep in mind when thinking about transferring colleges.
6 questions to ask before transferring colleges
1. Am I transferring for the right reasons?
It takes a fair amount of effort to transfer to another school, so it is a good idea to take a step back and ask yourself if your reason for transferring is worth it. While the concept "worth it" is a subjective one, it can be important to remember that emotional decisions pair best with some reflection.
There's no reason to feel guilty if you're considering a transfer, but keep in mind that a bad break-up or something similar might not be that big of a deal in the long run. That said, the decision is still yours. The key to managing a potentially emotional transfer is attitude, according to Brenda Panger, associate director of transfer admissions at The College of St. Scholastica.
"Life decisions create our path," she says. "As long as students stay dedicated to their studies during an emotional time, they can make the transfer a positive move."
2. Will my credits transfer?
One of the biggest potential sources of frustration for students looking to change colleges is the credit transfer process between institutions. It's important to understand that not all college credits are considered equal — factors like accreditation play a huge role in whether or not the credits you've earned at one school will transfer to another.
"When transferring to a new college, credits should be the student's top priority," says Sandra Gray, program manager at Get Paid for Grades. "Students should not overlook how credit [transfers] will affect their graduation date."
It will depend on the institution, but many regionally accredited schools won't accept transfer credits from nationally accredited institutions. Even if both schools are regionally accredited, there is a potential for non-transferrable credits. Additionally, upper-level courses from specialized degree programs tend to be harder to transfer, as there isn't always a direct counterpart for the course to fulfill in the transfer school's course catalog.
"It is important to note that while there are some hard rules in determining if credits will be accepted, there is also a bit of gray area that is left up to human interpretation," Gray says.
Obviously a significant amount of non-transferrable credits can cause delays and extra expenses, so it's very important to do your due diligence and contact the admissions department of the school you plan to transfer to in order to get a better understanding of what will make the cut and how this might impact your potential graduation date.
3.  What will happen to my financial aid / grants / scholarships?
If you are receiving financial aid, grant money or scholarships, you'll want to look into the fine print of terms and conditions for each. Scholarships, in particular, tend to have stipulations about the degree being pursued, enrollment status and the institution you're attending.
If it turns out you'll be losing out on scholarship money, it's worth the time to contact your target school's financial aid office to see if you're eligible for other scholarship opportunities. Many private schools, for example, might have higher initial pricing but may offer substantial scholarships to reduce the overall cost.
It's also helpful to note that many four-year institutions offer scholarships specifically for transfer students. Be sure to ask about this when you speak with the financial aid representative at the school you're interested in.
If you're looking into multiple target schools, it's best to complete the entire application process — including the financial aid award letter — so you'll have an apples-to-apples comparison of overall cost.
4. Does the new school offer the degree or program I'd like to pursue?
The importance of this consideration will depend on your academic progress and how strongly you feel about your current major. If you're dead set on pursuing a highly-specialized career — like physical therapy, for example — be sure to research the programs offered at your target schools because your options may be limited.
Panger says it's also important to know that your GPA from both high school and college courses will be under consideration for your acceptance to a new school. You may be able to gain admittance into a university, but their business school, for example, might have a higher academic bar to reach.
She recommends taking the extra step of checking for any requirements regarding the specific major you'd like to pursue.
5. Will this school be able to accommodate my schedule?
There's no use in transferring to another school if you can't make your school schedule work with your life. If you know you'll have significant limitations on the hours you're available due to work or family obligations, check ahead of time to see if your target school offers online, night or weekend classes for the major you plan to pursue.
6. What can I do to get myself settled into a new school?
Perhaps the hardest part of transferring colleges is starting fresh with new social groups. If you have friends or family at your target school, they can certainly help you get acclimated to your new surroundings. But if you don't have that luxury, it'd be a good idea to arrange a campus tour and spend a little time exploring the surrounding area.
Getting involved with groups on campus is another excellent way to break the ice and meet like-minded people. Many schools will also have some sort of student activities directory where you may be able to find on-campus clubs and student groups.
Are you ready for a change?
As you can see, transferring colleges is a process that should be done deliberately. This list should provide a variety of questions to consider and research before making the leap to a new school.
If you have lingering questions about transferring colleges that have gone unanswered, don't hesitate to reach out to get the answers you're seeking! Head over to St. Scholastica's undergraduate transfer page to learn more.
Receive Program Info and Financial Aid Options
Detailed program overview
Personalized financial aid
Individual admissions support