March 30, 2015
5 ways to ace going back to college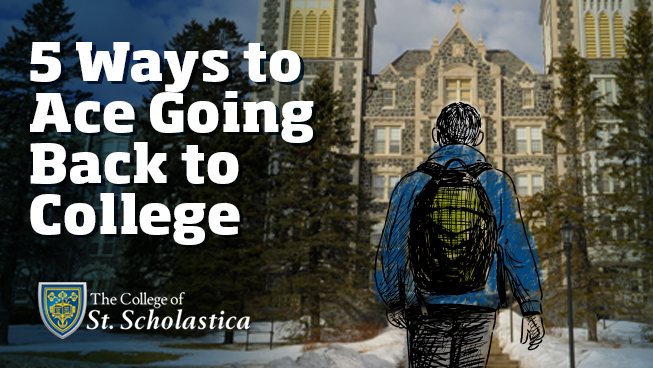 "I went back to university at age 36 with three kids!" exclaims Dr. Ruth Nemzoff, who holds a PhD in Education and is a renowned author and speaker. "Education adds richness to our lives, and we [become] great models for our kids."
The higher education experience usually evokes images of young adults bidding farewell to Mom and Dad to venture out on their own for the first time—tiny dorm rooms, Ramen noodles, frat parties and brightly-painted faces for Saturday afternoon football games.
But, as was the case with Nemzoff, the college experience doesn't always look like that. Whether you took some time off after high school, took a break from college to raise a family or pursue a promising job offer, had an opportunity to travel or have spent some time in the professional world before deciding to pursue a higher degree, you're not alone!
In fact, 44 percent of undergraduate students in the United States are over the age of 24.
We spoke with a handful of working professionals who know the experience of the nontraditional student firsthand. Take a look at their five tips for assuring that your transition back to college is as seamless as possible.
5 Ways to conquer going back to college
 1. Let people help you
"Discuss the process with your friends and family so that you don't feel like you're going it alone," says Robert Kohen, founder and director of Kohen Educational Services, an academic services firm that offers consulting and tutoring for college hopefuls.
Most students who make the decision to go back to school have a multitude of external responsibilities. That's why it's important to have a support team to rally behind you as you venture toward your degree.
"Tell everyone you know that you're going back to school, and let them know you may need help," Nemzoff suggests. "Think of all the trade-offs you can do, and then barter your time for theirs."  For example, she recommends arranging carpooling with other parents to work around your class schedule.
2. Don't compare yourself to others
Whether you're in an alternate place academically, have widely varying commitments or are in a different phase of life than your classmates, it is important to avoid making overarching comparisons.
"They may have something of an immediate advantage understanding the material because they've been in school more recently," says Kohen. "But that doesn't mean they're better students."
Focusing on your own academic needs before worrying about others can provide the time you need to catch up, Kohen says.
Yolonda Spinks learned this firsthand. After getting laid off from her job in 2005, she went back to school after nearly 10 years. She knew she could not let herself be intimidated by the youthfulness of her younger classmates. "I got in with the youngsters, and they helped me. I went to study groups and they didn't judge me because of my age. We were all there to learn."
3. Make a plan
Budgeting your time wisely is important for students of all ages and phases of life, but it can be especially crucial when your life is riddled with additional responsibilities like full-time work or raising a family.
Our sources all agree on the importance of planning ahead. Kohen suggests scheduling a little bit of the assigned work for each day, rather than saving it all for the last minute.
"If you wait until the last minute, it is guaranteed that one of your children will get sick," Nemzoff teases.
Drawing from her own experiences, Spinks offers that if you have the ability to attend evening and weekend classes, take advantage. "I found that many of the professors were more understanding because the classes were usually filled with non-traditional students with full-time jobs," she says.
4. Be patient with yourself
Jumping back into the life of a student often comes with a few growing pains. It takes time to re-adjust to the timelines, assignments and even the general culture of college. It's easy to become overwhelmed.
It can be tempting to dive in headfirst with the excitement of getting back into the swing of things, but this can quickly become stressful and overwhelming. "Adults sometimes underestimate how much time coursework can really take—especially when they may need to refresh more basic academic skills because they've been away from school," Kohen explains.
Try not to let yourself get deterred by the timeline of earning your degree. "Employers won't ask you how long it took you to get your degree; they just ask if you have one," Spinks says.
5. Remember why you started
Maybe you're going back to college because your kids are old enough to be in school and your days have freed up significantly. Or maybe you're pursuing a higher degree so that you can progress in your career. You might even be looking to change careers completely with a brand new degree path.
Regardless of your reason, never lose sight of that end goal. Stressful exams and endless term papers can cloud your motivation and lead you to question your decision.
But when your motivation does falter, be sure to take advantage of the resources around you. Academic counselors, financial aid teams and even your professors can give you that extra push when you need it. "You will find that they will become your biggest advocates and will look out for you," Spinks says.
Continue what you started
Going back to college after time off is no easy feat. But remember, you started this, and you can finish it!
Use your professional experience to catapult your capabilities as a student. Get your loved ones involved. Don't be too shy to ask for help. You have everything you need to make your dream of walking across that graduation stage a reality.
"Going to college as an adult with worldly experience is an entirely different experience than going as a child," says Nemzoff. "We know why we're in school."
Like Nemzoff, Spinks knew she wanted to continue her learning experience. And although she now has loans to pay off, she has a degree to show for it. "I know that it will pay off in the long run because I'm working toward my passion," she says.
The College of St. Scholastica is committed to helping you on your journey to career success.  One of the initiatives on the forefront of this mission is CSS Complete. Visit the CSS Complete information page to learn more about this flexible and affordable pathway to finishing a college degree.
Receive Program Info and Financial Aid Options
Detailed program overview
Personalized financial aid
Individual admissions support