September 18, 2017
5 surprising insights about men in nursing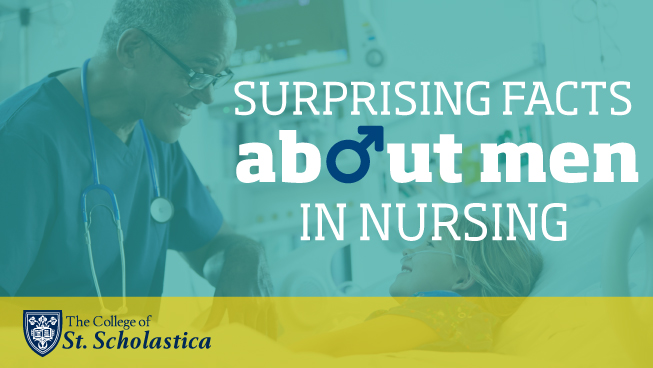 Nursing is a booming profession, with nearly 3 million registered nurses in the United States and an expected shortage of almost 1.1 million by 2025. With a profession this vast and a demand so high, it seems like a worthwhile option to consider for any career seeker.
But nursing is a female profession, right? That's where you're wrong!
While it is true that the majority of nurses are women, there is and has been a proven place for men in the field throughout history. In fact, today the number of male nurses is only growing. Still not convinced? We compiled five fascinating facts that will help shatter the stereotypes about men in nursing. You'll walk away with a whole new perspective on the topic — and perhaps a new desired career path!
1. The first nurses in history were men
Historically, women were typically not allowed to work or hold the same professions men did. This is true with the nursing profession as well. When the first nursing school opened in India around 250 B.C., women were not considered suitable enough to be nurses, so only men were educated and qualified to work.
Men have entered the nursing field ever since, making huge impacts on not only the people they cared for, but also on the field in general. In the Middle Ages, a Christian brotherhood opened one of the first hospitals to care for those affected by the plague. Religious orders contributed to a large rise in male nurses during history as well too; St. Benedict founded the Benedictine nursing order and the Alexian Brothers provided nursing care to the poor.
However, men in nursing faced a significant obstacle in the 19th Century, when the US Army created the Nursing Corps and only allowed females to serve. It wasn't until after the Korean War that men were allowed to serve in the Army as nurses. The next historical feat for men in nursing was in 1981, when the United States Supreme Court made it illegal to ban men from nursing school. Since then, the number of male nurses has been steadily growing.
2. More men than ever are entering the nursing workforce today
The nursing profession is growing rapidly, and more men than ever are joining in. According to the U.S. Census Bureau, in 1970 only 2.7 percent of all registered nurses (RNs) were male. Fast forward to 2011 and 9.6 percent of RNs were male. The growth is similar for licensed practical nurses (LPNs). In 1970, 3.9 percent of LPNs were male, whereas in 2011 that number hit 8.1 percent.
This growth is due to the increasing shortage of nurses, as well as hospitals' desire to have a diverse pool of healthcare workers. Another factor is the changing societal norms regarding men as nurses. As more men become nurses, the stigma of nursing as a female-only profession wears away. For instance, there used to be no male nurses in the U.S. Nursing Corps. Today, 35 percent of army nurses are men.
3. Male nurses can specialize
Male nurses are afforded all the same routes and specializations as female nurses. They can become certified nursing assistants, licensed practical nurses, registered nurses, nurse anesthetists, nurse practitioners and more.
Popular specialties for men in the profession are critical care nursing, emergency nursing and medical/surgical nursing. Male nurses are also have prominent roles in hospital and clinic leadership positions, as professors in higher education, and in advanced practice positions. So whether you dream of working in a fast-paced, unpredictable environment or in a more relaxed, clinical or classroom setting, male nurses have and will continue to work in all kinds of healthcare settings.
4. Male nurses have support
While many might think of men in nursing as taboo, organizations are actually encouraging men to pursue careers in this field. The American Association for Men in Nursing (AAMN) was created in 1971 to help unite men in nursing. Their goals today include advocating, educating and supporting men of all ages on and in the nursing profession.
In recent news, the AAMN launched a campaign in 2011 called 20 x 20: Choose Nursing. The goal of this campaign is to increase the percent of male nurses to 20 percent by 2020. The campaign hopes to do this by spreading awareness to high school guidance counselors, creating male-targeted advertising and hosting speaker panels at schools to discuss nursing as a profession for men.
5. Men enjoy being nurses
Aside from job stability and support, there is another reason men choose become nurses: because they enjoy helping others. Many men truly enjoy their nursing careers and even knew from the beginning that it was their calling.
Take for example, the case of Anthony Sartor, a registered nurse who works in an emergency department. He explains that when he first went into nursing, he didn't want to tell people because he was unsure what they would think. He thought people would judge him for choosing a career that wasn't "manly."   However, that all changed when he got out onto the floor and began interacting with patients. He'll always remember caring for a long-term care patient near the end of life, and the patient requested that Sartor simply sit and talk with him. "I made a special connection simply by being there for him," he recalls. "After that experience I told myself, 'that was the most rewarding thing I've ever done' and I didn't care about being 'manly' anymore."
To any men who are considering becoming a nurse because they genuinely want to help people, Sartor says "Go for it and don't dare listen to what anyone else has to say!"
Answer the calling
As you can see, men in nursing are out there and they're making a significant difference each and every day. While stereotypes may lead some people to believe that nursing remains a female-only field, this is far from the truth. Males are needed in the nursing profession. They are valued members of the healthcare team and make a significant impact on patients' lives.
And with the healthcare field growing, it's more important than ever to have a diverse workforce. If you're ready to look past the stereotypes and answer the calling to become a nurse, there's no better time than now. Learn more about why the profession is so rewarding in our article, "Why do you want to become a nurse? Students share their sentiments."
Receive Program Info and Financial Aid Options
Detailed program overview
Personalized financial aid
Individual admissions support