July 6, 2015
5 Online teaching certifications that can catapult your education career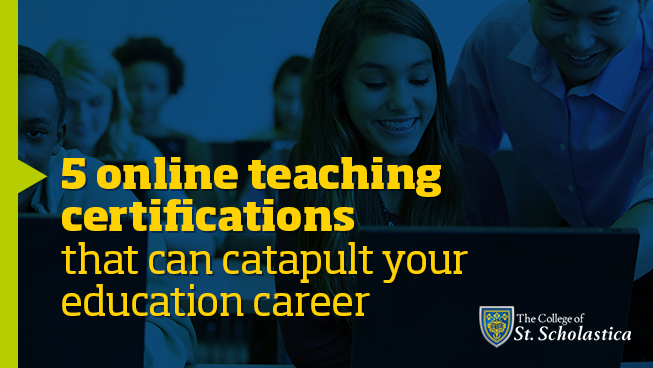 We can all look back on our educational journeys and pinpoint one or two teachers who made a profound impact. Becoming an effective educator is something that can take years of schooling and personal preparation.
Some critics argue that general education courses can better prepare teachers to be effective in the classroom. But studies show teachers who pursue supplemental education opportunities in specific subjects tend to see better student performance.
That's where the value of online teaching certifications comes into play.
The most effective way to adapt to the changing landscape of education is to address those changes at their roots. The College of St. Scholastica (CSS) has identified five graduate-level focus areas that can help teachers cultivate classroom environments equipped to address the learning needs of today's students.
5 online graduate certificates that can transform your teaching career
1. Online instruction
From massive open online courses (MOOCs) to fully online degree programs, the presence of web-based learning opportunities has long been predicted to skyrocket. Early indications suggest that online learning will continue to see historic growth for the foreseeable future.
The value of teachers maintaining proficiency in online instruction in the midst of our rapidly evolving technological landscape cannot be overstated. That is why CSS offers a four-course graduate certificate program in online instruction.
Candidates will learn how to design, implement and teach online courses through a streamlined use of modern technology, customized online teaching methods and innovative cultivation of an online classroom community. The certificate in online instruction admits students for the summer and spring semesters.
2. Educational technology
Introducing emerging technology into our classrooms positively impacts the student learning experience. In fact, the number of classrooms adopting iPads as the new, innovative learning tool for 21st Century learners has risen in recent years.
The educational technology graduate certificate is designed to help teachers fill the technology gap in schools. Today's teachers must not only be able to adapt to the increased use of technology in the classroom, but also use it as an invaluable tool to unlock the full potential of their students.
This four-course certification track focuses on helping practicing teachers and curriculum directors do exactly that. Candidates will learn up-and-coming educational theories, review research conducted on technology in the classroom and gain in-demand skills and knowledge in the use of technology to develop effective strategies for high-impact learning.
3. Culturally responsive pedagogy
The demographic of the country's K-12 student body is shifting rapidly. With that shift comes a host of student needs that may be new to even the most seasoned educators.
This certificate program is designed for educators who are interested in developing strategies that enhance their instruction and improve academic achievement for students of varying backgrounds. The certification's four courses cover everything from demographic trends to achievement disparities to practical, hands-on pedagogy for fostering an inclusive, culturally competent classroom. Educators not only teach, but they have the opportunity to act as leaders for social change.
Candidates who enroll in one course per semester can complete this 12-credit certificate program within one year.
4. Computer science education
Computer science jobs are in high demand and, as a result, most college campuses have seen a drastic increase in young people looking to pursue careers in the field. The surge has left many people wondering: Can American teachers keep up?
The certificate in computer science education is designed for educators who operate both inside and outside the classroom. Candidates will gain valuable skill sets that will prepare them to teach computer science concepts, including advanced placement coursework. The curriculum covers basic computer science principles, programming methodology, computational thinking strategies and more.
Students can enroll for both the spring and summer terms, and if part-time student status is maintained, you could have your certificate in hand within 18 months.
5. Literacy instruction
Studies show Americans spend an average of 17.1 years in school but, despite that number, the U.S. ranks ninth among the 13 most literate industrialized countries. Many schools and communities are making great strides to improve these numbers, but the literacy rate in the country has remained stagnant for more than 10 years.
What can we do to help? St. Scholastica's certificate in literacy instruction aims to provide educators with the tools, skills and knowledge needed to help boost literacy rates among young people.
This online program provides relevant research, learning experiences and hands-on opportunities to help candidates gain a greater understanding of how to teach reading skills, strategies and comprehension to K-12 students.
Students can start at any term, and will navigate through courses that tackle the foundations of literacy, effective instruction tactics, assessment strategies and more.
Become a master in your field
Critics charge that U.S. schools aren't allowing students to reach their fullest potential, an issue that can likely be resolved if classrooms are led by well-rounded teachers who are ready to adapt to their students' evolving needs.
The opportunity to see your students thrive in their educational environments begins with you.
Does one or more of these graduate certificate programs offer the instruction you've been looking for to transform your teaching craft? If you'd like to learn more about how online teaching certifications can propel you to rock star status in the classroom, visit the Master of Education page for more information.