March 15, 2019
5 fascinating jobs you could find with a degree in exercise physiology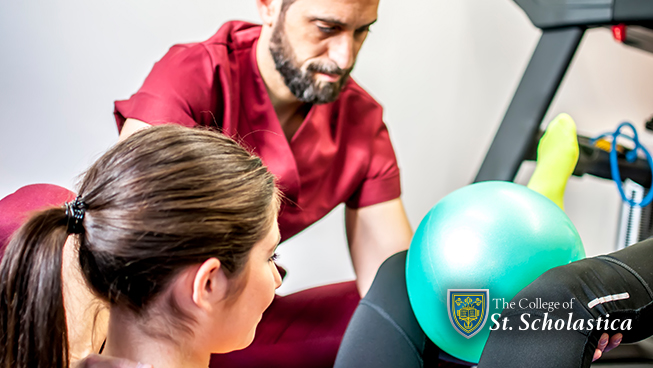 Are you a desk jockey who, on most days, is counting down the hours until you can go outside and be active? Or maybe you're a weekend warrior who is training for marathons or hooked on hitting the weights to get bigger, faster and stronger.
If you have a passion for pushing yourself and imagine working with others to motivate and inspire them to gain optimum health, then a degree in exercise physiology could be a great way for you to launch a truly fulfilling career. Building upon a bachelor's degree, in just one year you can be working in a variety of fields helping others achieve their fitness and health goals.
What sorts of exercise physiologist jobs are out there?
We compiled a list of some of the most common roles you'll find for exercise physiology degree holders, as identified by The American Kinesiology Association. While an exercise physiology degree may not be required for all of these jobs, it can help you build a strong foundation of knowledge in the field of sports medicine and can help you get your foot in the door for many in-demand job opportunities — read on, and you just may find your dream career!
Five jobs related to exercise physiology:
What they do: Clinical exercise physiologists often work with people who are dealing with chronic health issues that can be improved through medically supervised physical activity. Many of these clients have cardiovascular and pulmonary issues, so these physical regimens require great care in their design to avoid overstressing and worsening their existing health issues. Clinical exercise physiologists are also responsible for the baseline testing, tracking and analysis of participant data.
Where they work: Clinical exercise physiologists often work for healthcare providers in specialized facilities. The work environment and the hours kept for this role are fairly steady, meaning there's not much need for travel or unconventional schedules. The work is typically a mix of desk work and hands-on testing and instruction.
2. Help your clients achieve their goals as a personal trainer
What they do: Personal trainers work with individual clients to help them achieve their fitness goals. They develop individualized workout routines depending on client needs and help prevent injury by teaching and coaching proper form. Personal trainers may also provide guidance on clients' nutritional plans.
Where they work: Many personal trainers spend their time working in commercial gyms, either directly for the gym owner or as independent contractors. Some personal trainers may also work in smaller, specialized boutique gyms or within the homes of their clients.
3. Improve the health of an entire company as a wellness coordinator
What they do: Wellness coordinators are responsible for designing and implementing programs focused on improving employee wellbeing. These professionals benefit businesses by promoting healthy eating and lifestyles that can lead to happier, more productive employees. The duties of a wellness coordinator will vary depending on the employer, but many will spend their time organizing group fitness activities and nutritional information sessions and working with employees to help them reach their health goals.
Where they work: Wellness coordinators typically work for institutions such as government agencies or large corporations. This is in part because their value is maximized by improving the health of larger groups of people. Their work primarily takes place in an office setting, so keep that in mind if you're set on avoiding a corporate environment.
What they do: Strength and conditioning coaches are the professionals responsible for motivating competitive athletes to push the boundaries of their physical abilities on and off the playing field. They develop weightlifting and cardiovascular fitness routines that best prepare athletes for the rigors of competition. They also work closely with athletic trainers and physical therapists to ensure their plans are compatible with athletes who may be recovering from significant injuries. Like personal trainers, these coaches also ensure athletes are maintaining proper form and avoiding injury.
Where they work: Strength and conditioning coaches are primarily employed by universities and professional sports teams, though some may find employment working with youth sports. This role is fairly hands-on. You'll spend a large portion of your time working with athletes in the gym or at other training facilities. That said, you can still expect to spend some time keeping office hours for maintaining the administrative side of the job.
What they do: In the world of healthcare, research is always an ongoing process. Clinical trials are research studies that explore whether a specific medical strategy, treatment or device is safe and effective for humans. Clinical research assistants aid in these scientific studies by finding subjects for trials, collecting data and analyzing the results. They are required to maintain a working knowledge of the subject being researched, as well as the technology that will be used in the trial. If you have a hunger to learn and a dedication to pursue answers to looming health-related questions, this could be the career path for you!
Where they work: Clinical research assistants work under supervising physicians and scientists in hospitals, laboratories and other institutions that conduct ongoing scientific studies. For that reason, be on the lookout for undergraduate programs that will afford you access to state-of-the-art laboratories while you earn your degree.
Now that you have a better idea of the opportunities that await you with an exercise physiology degree, check out The College of St. Scholastica's exercise physiology degree page to learn more about how we can help prepare you for success in these positions.
Receive Program Info and Financial Aid Options
Detailed program overview
Personalized financial aid
Individual admissions support