October 16, 2017
5 Different post-graduate education options to help you become the best educator possible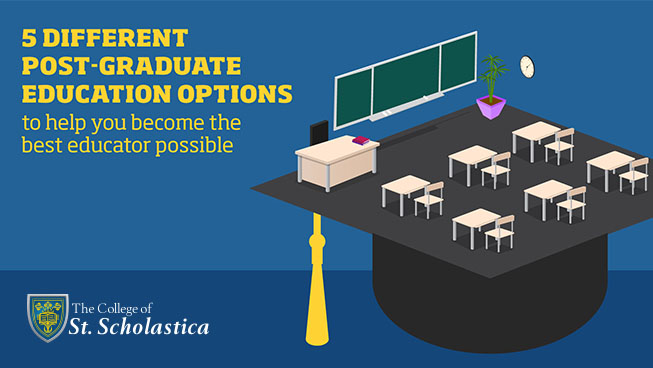 Teaching is a vital aspect of any community. Teachers mentor and educate our up-and-coming generations, making a lasting impact on young minds. Without them, our community would be uneducated and unable to fulfill the jobs and tasks required to sustain our economy.
Because you understand the importance of education, you've pursued this passion as your career and you strive to be the best educator possible day in and day out. You want to do right by your students while also standing out within your industry and moving forward in your career. There is so much more for you to accomplish professionally, changing the lives of those around you as you go.
As someone with a background in teaching, having earned a bachelor's degree and likely garnered ample classroom experience, you have the foundational knowledge and skills required to fulfill your current job duties. But if you're eager to reach your full potential, there are opportunities for advancement you have yet to explore, such as obtaining a post-graduate degree or certificate.
One of the most effective first steps to truly helping your students achieve their educational goals is to venture forward and achieve your own. Consider these five post-graduate opportunities that can help you advance your professional teaching career.
5 post-graduate education tracks for teachers
Graduate Teaching Licensure
For those who do not yet have a teaching license but are interested in teaching elementary or secondary education, this is a viable option. If you've been working in a different field and have thought about making a career change to become a teacher, obtaining a teaching license is the first step you'll need to take. To qualify for licensure programs, you'll need to have earned a bachelor's degree, but you are not required to have studied education.
These programs can take about two years to complete, and students can select specializations such as elementary education, secondary education (with focuses on chemistry, communication arts and literature, life science, math or social studies) and Spanish, allowing you to pursue whatever avenue of teaching you're passionate about.
Certificates
If you already have a teaching license and you're more interested in professional development than in obtaining an advanced degree, a certificate could be the perfect medium. Teaching certificates showcase your competency and expertise in set subareas of education.
Educators can earn certifications in a litany of subjects and specialties, allowing you to truly customize and cater your career to your interests, to the specific needs of your school or to the requirements of a different position you've had your eye on. Whether you are interested in educational technology, online instruction, computer science or literacy education, for example, a certificate is the perfect way to complement your existing undergraduate or graduate degree.
Master of Teaching
The Master of Teaching (MAT) post-graduate path is perfect for the teacher who would like to hone his or her classroom skills. These programs are centered on specific disciplines and exist to equip teachers with skills needed to succeed in their current positions.
This is the ideal option for teachers who want to advance their careers in the classroom. This is not a good option, however, if you are looking to advance to a position outside of teaching but still within the educational realm; an MAT is best suited for those serious about improving their direct teaching skills.
Master of Education
A Master of Education is suitable for those who seek to delve into research or other areas of the educational world outside of teaching. There are three types of master's degrees in education that you can attain: Master of Education (M.Ed.), Master of Arts in Education (M.A. Ed.) and Master of Science in Education (MS Ed.).
The Master of Education is a broader study of the education field that even non-teachers can obtain. Within this graduate track, you can concentrate on areas of study such as computer science education, educational technology, culturally responsive pedagogy, literacy instruction, online instruction and more. Some M.Ed programs are fully online and can be completed in as little as two years.
Master of Arts and Master of Science programs vary from school to school. Generally, the M.A. focuses on knowledge and expertise in a specific subject, while the MS focuses on theory and research. All Master of Education degrees can open doors to careers as school counselors, educational administrators, curriculum developers and more. If you're looking to broaden your horizon in the education industry, this advanced degree path could be the right fit.
Educational specialist
The educational specialist (Ed.S.) degree goes beyond the master's level, but it is not a doctorate. This path is ideal for those wishing to pursue advanced careers without spending as much time obtaining a doctorate's degree. Those with an educational specialist degree can go on to become principals, superintendents and other leaders in the education field.
It's time to move your teaching career forward
When you explore all the post-graduate possibilities within the teaching field, your options become seemingly endless. You will have access to additional opportunities in the field of education in which you are able to impact student learning in leadership roles, including working as an administrator, coach, college professor or consultant, explains Christan Wilson, M.Ed, owner of Art of WordPlay.
As mapped out above, if another degree isn't in the cards for you, adding a certificate to your existing degree is a great option. "Education is so broad that additional certification enables you to narrow your focus in order to become more of an expert in your area of interest," Wilson adds.
There are many post-graduate options that are still manageable for busy professionals like you. Whether you want to advance onward in your career or simply add to your current role, you now know what your options are.
Learn more about how an M.Ed from The College of St. Scholastica (CSS) can help you enhance your teaching repertoire by visiting our article, "5 things you didn't know about St. Scholastica's online master of education program."
If earning a post-graduate teaching certificate is more in line with what you're looking for check out your options in this article, "5 Online teaching certifications that can catapult your education career."
Receive Program Info and Financial Aid Options
Detailed program overview
Personalized financial aid
Individual admissions support