May 8, 2017
4 ways St. Scholastica helps first-generation college students succeed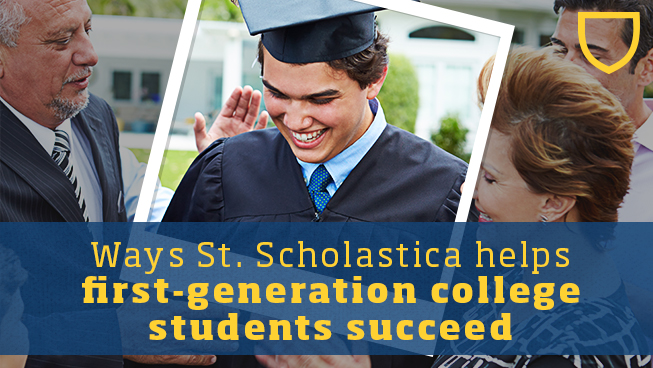 It has been reported that nearly one-third of students entering two- or four-year colleges in the U.S. are first-generation — or students whose parents haven't earned a college degree. Statistically, these students are more likely than their non-first-gen peers to belong to minority populations. But that's not the only thing unique to first-gen students.
It's also true that these students are significantly less likely to graduate than their counterparts. In discussing the possible reasons for this discrepancy, many highlight the fact that first-gen students are also more likely to come from low-income families, pinpointing finances as the major contributor.
However, the truth is the lower graduation rates have to do with more than just money — first-gen college students face several unique challenges. They may feel generally underprepared, having less confidence in their academic abilities, less exposure to classes that arm them for the rigor of college-level academics and little familiarity with the general culture of college life. Add to that the fact that they can't rely on the guidance of their parents to navigate things like applications, financial aid and choosing a major, and it becomes less and less surprising that first-gen students may not initially see the same success in college as their peers.
With information like this in mind, many institutions have begun to implement various programs and resources that can help fill the gaps that exist for first-gen students starting college. The College of St. Scholastica (CSS), for example, has specific resources in place to help its first-gen students succeed. With nearly 40 percent of the student body identifying as first-gen, these services are of the utmost importance. Many of these are TRIO programs, federal outreach and student services initiatives sanctioned by the United States Department of Education to serve individuals from disadvantaged backgrounds.
Take a look at the ways CSS is committed to assisting its growing pool of first-gen students.
4 helpful CSS resources for first-gen students
1. Upward Bound & Upward Bound Math/Science
The TRIO Upward Bound (UB) programs at CSS have been providing motivation and preparatory support to area high school students since 1993. Every year, these programs work with 128 low-income students who have the desire to successfully complete high school and go on to be the first in their family to earn a four-year degree.
UB is designed to provide young students with the motivation and skills to earn their high school diplomas and enter a post-secondary program feeling capable and prepared to successfully reach graduation. Students can participate in UB throughout the academic school year, as well as during a six-week summer program.
To date, 99 percent of UB students have graduated from high school and gone on to attend a wide variety of post-secondary institutions.
2. McNair Scholars Program
CSS is proud to host the TRIO McNair Scholars Program, which is designed to inspire and empower students who are traditionally underrepresented in graduate education. This includes students with great financial need, minority students and first-gen students. The program aims to help these individuals find success in doctoral study and advanced careers through an equitable and inclusive community engaged in research, scholarship and comprehensive personal development as undergraduates.
McNair is comprised of challenging seminars and intensive research. For that reason, suitable candidates include undergraduate students who are eligible for and motivated to complete doctoral study later in their education. Those accepted into the program can expect to learn how to secure a paid summer research position, learn about scholarships and fellowships for graduate study, secure letters of recommendation and prepare application or scholarship materials.
With academic seminars offered in the fall and spring, "Lunch and Learns" in the summer, various "Field Experiences" scheduled throughout the year and much more, students have year-round access to helpful resources and support.
3. Student Support Services
This federally funded TRIO program allows CSS to serve 175 students each year. Student Support Services (SSS) contributes to the College's mission to provide intellectual and moral preparation for responsible living and meaningful work by providing a collaborative and supportive environment that is inclusive of diverse backgrounds and learning styles.
Open to eligible first-gen students, students with documented financial need, students with a documented disability and students with demonstrated academic need, SSS advocates for the needs of its participants as they embark upon earning their undergraduate degrees. A series of assessments are completed by students at the beginning of their time in SSS. This helps identify specific student needs, assists the student in selecting a major and career focus, helps determine effective study strategies for each student and guides the goals to be set and monitored throughout the students' undergraduate experience.
With mandatory meetings and mid-term grade checks, SSS is committed to helping underserved students succeed throughout the entirety of their college careers.
4. Benedictine values
While CSS' Benedictine Values are not geared specifically toward first-gen or other underserved students, they act as pillars of the institution's heritage and help foster a supportive and respectful community for all students. As the institution prides itself on upholding the following values, it's clear how these can greatly impact first-gen students' on-campus experiences:
Community: CSS believes in sharing the responsibility to create and support community. The College works to promote a sense of community while valuing the uniqueness of each individual.
Hospitality: In line with the value of community, CSS aims to foster a welcoming atmosphere both personally and institutionally. This includes a responsibility to actively listen and respond sensitively to all, extending warmth and acceptance to the entirety of the student body and beyond.
Respect: The College cherishes and promotes the worth of all human life, committing to treat people with dignity and reverence without regard to age, gender, race, minority, sexual orientation or economic status.
Stewardship: CSS is committed to utilizing human resources responsibly, providing wise and respectful use of all material and monetary assets. The College promotes prudent use of resources and energy, which translates to finding time for work, play and personal spirituality in daily life. This in turn promotes physical, mental and spiritual growth.
Love of Learning: The College believes in the undeniable value of preserving the intellectual and material heritage entrusted to us by past generations. With this in mind, CSS aims to create scholarly, artistic and scientific works that enrich and enlarge human life, integrating thought and action as complementary aspects of living.
Could you find success at The College of St. Scholastica?
CSS stands by its deeply-rooted commitment to help all students succeed in college. This is why we proudly offer these helpful resources to guide first-gen students toward success in their undergraduate experiences and beyond.
Are you ready to take the next step toward earning your degree? Be sure to bookmark these 9 tips to help first-generation students thrive in the first semester and don't hesitate to contact college representatives to get your questions answered! 
Receive Program Info and Financial Aid Options
Detailed program overview
Personalized financial aid
Individual admissions support