March 30, 2016
4 signs you'd make an all-star athletic training major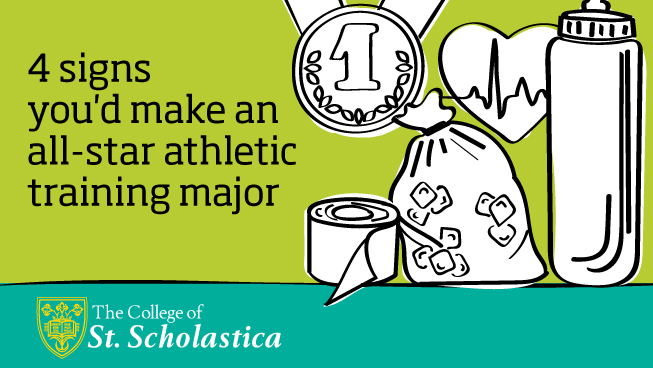 Athletic training is a thriving career path that combines healthcare, physical activity and direct patient care. Many students are drawn to athletic training careers, but few truly know what to expect. If you're considering becoming an athletic trainer, you may be wondering if you have what it takes to succeed in this specialized field.
You'll be pleased to learn that national studies have been conducted to help you answer that very question. It has been found that employers value athletic trainers who are personable, adaptable, committed to learning more about the field and invested in helping others succeed. We've compiled all that information for you below in hopes of making the path to your dream career a bit clearer.
Here's a good place to start.
What can I expect as an athletic trainer?
Often confused with fitness instructors and personal trainers, athletic trainers work with a wide variety of physically active people — from young children to professional athletes to soldiers. They work under the direction of a physician to prevent, diagnose and treat muscle and bone injuries incurred during physical activity, exertional heat illnesses, concussions, eating disorders and more.
Some typical job duties include the following:
Applying protective or preventative devices, such as tape, bandages and braces

Providing first aid or emergency care

Developing rehabilitation programs for injured athletes

Implementing comprehensive programs to prevent injury and illness among their clients
Performing a number of administrative tasks that come with the job, such as keeping records and writing reports
The most common work environment for athletic trainers is in a state or private college. But athletic trainers also work in ambulatory healthcare services, hospitals, fitness centers and at spectator sporting events.
Regardless of your work environment, job prospects for athletic trainers are extremely promising! Openings in this field are expected to see a 21 percent lift through 2024, according to the Bureau of Labor Statistics. And the average annual salary for athletic trainers hovers around $48,714, while the upper quartile average is closer to $83,500, according to the 2014 NATA salary survey results.*
It is also important to note that while the current entry-level educational requirement for athletic trainers is a bachelor's degree from an accredited program, the requirements for the position are changing to include a master's degree by 2022. Currently, more than 70 percent of athletic trainers possess advanced degrees, and those with a master's in the field earn, on average, $5,000 more per year.
4 questions to ask yourself if you're considering an athletic training major
1. Am I driven & committed?
It's obvious athletic trainers must be competent in their field to be effective clinicians, but the drive and commitment required of athletic trainers goes beyond that. Learning is a lifelong process, and an athletic trainer who continually seeks to achieve a wider base of knowledge will provide better care to clients, according to a 2011 study from the Journal of Athletic Training.
Not only are the most successful athletic trainers continually learning more about their field, but they have mastered the art of passing their knowledge along to others, both clients and colleagues alike.
2. Am I personable & a good communicator?
Athletic trainers are often the liaison between athletes, coaches, team physicians and other healthcare professionals. As such, they serve as educators, psychologists, counselors and administrators, according to a 2009 national study from the The College at Brockport: State University of New York (SUNY).
Considering the amount of interpersonal interaction athletic trainers enjoy on a daily basis, it's no wonder oral and written communication skills rank highly on the list of qualifications.
3. Am I adaptable & dependable?
Part of being an athletic trainer is remaining available. This isn't a profession with a typical 9-to-5 work schedule. In many cases, athletic trainers are at the mercy of coaches and administrators — practices and games can often be spontaneously canceled or modified due to weather, available facilities and travel schedules.
Because athletic trainers are crucial because of the unique skills they provide, they must be able to shuffle their schedules around to be present and provide high-quality care. This, according to the SUNY study, is why adaptability and dependability are must-haves for successful athletic trainers.
4. Am I invested in helping others & seeing them succeed?
In most fields, affective traits are just as important as effective ones. Athletic training is no exception. One of the most important qualities of successful athletic trainers is compassion, according to the Journal of Athletic Training study.
The study suggests patients recognize when an athletic trainer is simply going through the motions. In these cases, merely treating the injury appeared to be insufficient. Caring about the long-term effects of treatment and investing in patients on a personal level makes all the difference in athletic training.
Do you have what it takes to work in athletic training?
Athletic training is an exciting career that can put you at the forefront of healthcare and physical activity. This draws many to the field, but research shows commitment, strong communication skills, dependability and compassion are the qualities that make up the most successful athletic trainers.
Do you see these traits in yourself? If so, an athletic training major may be a great fit for you. Now is the time to get ahead of the curve and pursue a master's degree in athletic training. For more information on how far a graduate degree in the field can take you, visit The College of St. Scholastica's athletic training program page.
*Salary data does not represent starting salaries, and employment conditions in your area may vary  
Receive Program Info and Financial Aid Options
Detailed program overview
Personalized financial aid
Individual admissions support