Accreditation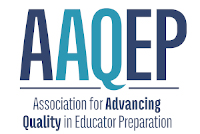 Click to see Performance Data
of Candidates in the College
of St. Scholastica
Teacher Education Program
The Teacher Education program at the College of St. Scholastica is accredited by the Association for Advancing Quality in Educator Preparation (AAQEP) for a period of 7 years, from July 2019 to July 2026. The accreditation does not include individual education courses that the Educator Preparation Program offers to P-12 educators for professional development, re-licensure, or other purposes.
Minnesota Professional Educator Licensing and Standards Board (PELSB)
The fully accredited Teacher Education Program is assessed according to the requirements and standards of the Minnesota Professional Educator Licensing and Standards Board (PELSB). The teacher education program has full continuing unit and program approval through June 30, 2024.

Gain valuable experience in elementary classrooms beginning your first semester
Blended format of online/on-campus classes offered two evenings a week and every other Saturday
Utilize best practices in meeting the needs of all learners
Finish in two years if all prerequisites are met (63-68 total credits)
Tuition: $425/credit*
---
*Tuition rates are for the 2021-22 academic year. Additional fees and costs for course materials may apply. Total program cost and completion time varies depending on transfer credits and individual program plans. Tuition rates are subject to change.
Our Elementary Education Degree Completion Program provides students with the knowledge, skills and disposition required to be successful in a variety of elementary education settings. All of our courses are taught by highly qualified instructors with current classroom experience.
Through fieldwork and student teaching opportunities, students gain valuable experience working with culturally diverse groups of elementary students and have the ability to connect with school leaders and other stakeholders in the education field.
Finish your degree. Start your career.
The Elementary Education Degree Completion Program is intended for individuals who have an associate's degree and would like to complete their bachelor's degree. The program allows students to earn their B.S. in Elementary Education and the Minnesota K-6 teaching license.

Program completion time will vary based on type of associate's degree earned and applicable transfer credits. See the curriculum page for specific details.
If you have your bachelor's degree and are interested in earning your teaching license, our Graduate Teaching Licensure program would be a perfect fit for you.
Schedule and location
Offered at Inver Grove Community College, Itasca Community College and on our Duluth Campus. The program features a hybrid format of online and on-campus classes, allowing students to continue working while completing their degree. Classes take place on Tuesday and Thursday evenings and every other Saturday. Twenty to 50 hours of field experience required per semester. The final semester requires a 14-week student teaching experience
Learn together
A program coordinator is available to help guide students through the program. The cohort model provides students the chance to learn with, and from, a group of peers as they progress through the program.