St. Scholastica's growing partnership with Riverland Community College gives students in southern Minnesota the option to earn a St. Scholastica degree in only two years, while staying in their own community. Conveniently located 40 miles west of Rochester, in Austin, MN, is a public two-year college with three campuses located in southeastern Minnesota: Albert Lea, Austin and Owatonna.
St. Scholastica students at the Riverland Community College benefit from accelerated learning, flexible course scheduling and a variety of support services, including tutoring, career services and advising.
2 Plus 2 Degree
The "2 Plus 2" degree will offer Riverland students a seamless pathway from a two-year associate's degree to a four-year bachelor's degree. The College of St. Scholastica is an independent Catholic Benedictine college based in Duluth and has several other extended-site degree programs around the state.
The social work program accepts students from all three Riverland campuses — in Austin, Albert Lea and Owatonna — who hold the two-year associate of arts degree.
At St. Scholastica, we're committed to ensuring our campuses are accessible for all students. Please reference the Center for Equal Access for assistance and more information.
Programs Offered
Undergraduate Degree Programs
Contact Austin
1900 8th Ave NW
Austin, MN 55912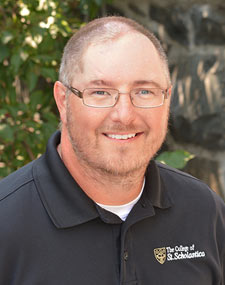 Jay Parsons
Admissions Counselor
651-403-8625
jparsons@css.edu
Schedule a Meeting
Receive Program Info and Financial Aid Options
Detailed program overview
Personalized financial aid
Individual admissions support