Accreditation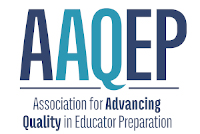 Click to see Performance Data
of Candidates in the College
of St. Scholastica
Teacher Education Program
The Teacher Education program at the College of St. Scholastica is accredited by the Association for Advancing Quality in Educator Preparation (AAQEP) for a period of 7 years, from July 2019 to July 2026. The accreditation does not include individual education courses that the Educator Preparation Program offers to P-12 educators for professional development, re-licensure, or other purposes.
Minnesota Professional Educator Licensing and Standards Board (PELSB)
The fully accredited Teacher Education Program is assessed according to the requirements and standards of the Minnesota Professional Educator Licensing and Standards Board (PELSB). The teacher education program has full continuing unit and program approval through June 30, 2024.
This 100 percent online program is aligned to the K-12 Teacher of Reading Standards for the state of Minnesota. The courses provide relevant research, learning experiences and hands-on opportunities to gain a greater understanding of how to teach reading skills, strategies, and comprehension to kindergarten through grade 12 students. The courses also prepare individuals to serve in literacy leadership roles.
The Certificate and individual courses are also open to anyone interested in improving their reading instruction.
Who is this program for?
This certificate program is designed for:
those seeking a K12 Minnesota Reading Teacher Endorsement* or
for anyone interested in becoming a more successful and confident teacher of reading at any level
*The K12 Minnesota Reading Teacher Endorsement is for educators who have an existing Minnesota teaching license and wish to expand and deepen their knowledge of teaching reading. Graduates will be required to pass the MTLE Reading Teacher test in order to obtain their K12 Minnesota Reading Teacher Endorsement license.
How long will it take to complete the program?
Following a part-time schedule of one class per term this 15-credit program can be completed in five terms, or a year and a half.
Start Term
The Master in Education has a rolling enrollment process that allows an applicant to start the Certificate in Literacy Instruction at the beginning of any eight-week term. Please talk with your admissions counselor to obtain more specific dates.
Course Descriptions
This program consists of five courses focusing on the key components of high-quality literacy instruction and assessment. Courses provide practical, research-based approaches to teaching reading.
All courses may be applied toward the Master of Education degree program to meet elective strand requirements.