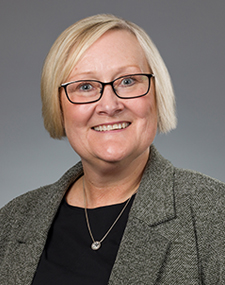 The School of Nursing (SON) at The College of St. Scholastica continues to be a leader in the state and region through its innovative programming and curriculum at both the undergraduate and graduate levels.
At the undergraduate level, The College of St. Scholastica has three programs leading to a baccalaureate degree with a major in nursing:
A traditional 4-year program for recent high school graduates
An accelerated program for students who have a non-nursing baccalaureate degree
An online RN to BS program for RNs with associate degrees
At the graduate level, the College has two programs leading to a Doctor of Nursing Practice degree:
A Bachelor's to DNP program for baccalaureate prepared nurses
A Post-Graduate DNP program for master's prepared nurses
Why should you consider a career in nursing at The College of St. Scholastica?
Our innovation and forward-thinking has been recognized on a national level. The SON has three exciting active grants from the U.S. Department of Health and Human Services Health Resources and Services Administration (HRSA).
The Rural Academic Practice Partnership for Northeastern Minnesota grant project supports the development of an innovative academic practice partnership that prepares primary care advanced practice nursing students (nurse practitioner students) to practice in — and facilitates their employment after graduation at — clinical sites in rural and underserved communities in northeastern Minnesota.

At the undergraduate level, the SON received a fourth year of support for the Implementation of a Nursing Veterans' Initiative to Transform Education (INVITE) grant project. This project supports a cohort of veteran nursing students with consistent interaction with veteran nursing faculty members, non-veteran nursing faculty who have received relevant training in military culture, veteran peers majoring in nursing, and practicing veteran RNs.

The newest grant project is the Rural Registered Nurses in Primary Care (RRNPC) for northeastern Minnesota. This project supports the development of a multidimensional partnership with Essentia Health to address growing RN primary care workforce shortages in rural and underserved communities in Minnesota. Grant funds will provide financial support for undergraduate nursing students participating in clinical placements in rural locales, professional development for primary care preceptors to enhance their practice and mentoring skills, and faculty innovation in developing exciting new curriculum to meet the evolving healthcare needs of our state and region.
A new skills lab was completed in 2018 and new simulation suites were completed in 2019. More new spaces are going to be constructed soon!
It is an exciting time to begin a career in nursing. There are more opportunities than ever before for nurses. Nurses of the future will play a key role in shaping healthcare for tomorrow. We invite you to consider The College of St. Scholastica to begin, or continue, your career in nursing today.
Sincerely,
Sheryl Sandahl, DNP, APRN, CPNP, FNP-BC, MPH, MSN
Associate Professor and Dean, School of Nursing