December 19, 2014
The Write Stuff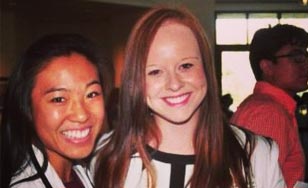 Kelsi Manley blends science with liberal arts for award-winning success in medical school.
"It has been a constant for me my whole life," Kelsi Manley said. "It's always been something I do to help me make sense of the things that have happened to me."
Though Manley is a second-year medical student, the "it" she is referring to isn't science. It's writing.
And it shows. Her essay, "Five Lessons I Learned In My First Year of Medical School," recently won the first Student Growth and Self-Reflection Writing Award as part of the Narrative Medicine Program at the University of Arizona College of Medicine-Phoenix, where she attends.
This ability to so effectively blend science with liberal arts is uncommon. But for Manley, a 2013 graduate of The College of St. Scholastica, it's critical.
After all, it was a liberal arts class that guided her toward medicine in the first place.
Finding her way
Like all other freshman at CSS, Manley took a Dignitas class — a course specifically for freshman that teaches the importance of the Benedictine values of community, hospitality, respect, stewardship and love of learning through the lenses of social issues and cultural trends.
Dignitas: Dignity and Diversity, focused on racial disparities and injustices. One of the topics they touched on was healthcare inequality — a topic that awoke something in her.
"As I learned about health disparities in impoverished, homeless communities, I realized that's exactly where my heart lies," she said. "It combines that science aspect with my desire to reach out to underserved communities. That's when I really started getting serious about medicine."
And with small class sizes, meaningful relationships with professors and a strong biochemistry program, CSS had everything she needed to get there.
"Going to a smaller liberal arts school like CSS gave me such a well-rounded education," Manley said. "I learned so much about myself and discovered a desire to reach out to the community. The Benedictine values still shape what I do."
In the future, Manley hopes to continue along the path she started here – serving underserved communities, possibly in Minnesota, as a primary care physician or obstetrician/gynecologist.
But one thing is for sure.
"I think the sole reason for my success in medical school and, hopefully, in my profession, will be attributed to going to St. Scholastica."