August 21, 2017
Why a rural healthcare MBA is exactly what you need to enhance your career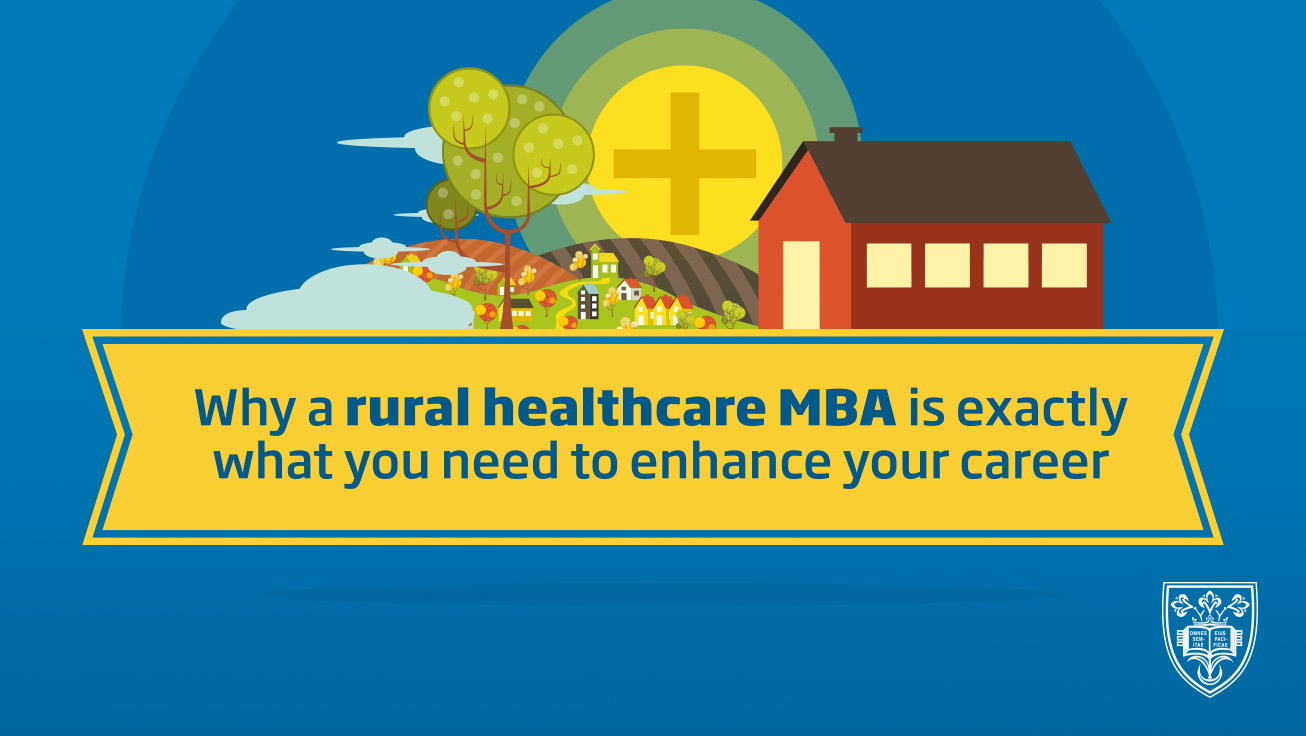 Rural America: It may bring to mind rolling, scenic hills and farmland as far as the eye can see. Perhaps you are familiar with this peaceful existence in the less-populated areas throughout the United States. After all, 97 percent of American land is considered rural, with 20 percent of the population residing in it. That's 60 million Americans at home on the range.
But where does healthcare fit into the equation? Between the silos and sweeping forests, where do the residents of rural areas seek medical attention?
The answers to these questions lie in the field of rural healthcare — the branch of the industry dedicated to meeting the unique needs of this population. But what exactly is rural healthcare and what makes it different from the rest of the healthcare community? And why should your ears perk up at big career potential in rural healthcare — even if you're not in the medical field already?
We spoke with Dave Swenson, director of the online MBA in Rural Healthcare program at The College of St. Scholastica (CSS). He shed some light on the emerging field and the exciting need for professionals leading the way. Read on to learn more about this important niche of the healthcare industry.
The dynamics that differentiate rural healthcare
There's no one-size-fits-all for healthcare across the United States. This sentiment rings true for the sparsely populated stretches of the country. To understand the unique needs of rural healthcare, one must first recognize the unique needs of the people calling rural America home.
On the one hand, many people are drawn to rural life because of the closer sense of community, less congestion and pollution, quieter pace of life, and lower cost of living. On the other hand, rural populations face different economic barriers than urban ones. They tend to be poorer, and are more likely to live below the poverty line; income for rural Americans is $9,242 less than the average per capita income in the country. They also rely on the Supplemental Nutrition Assistance Program (SNAP) at a higher rate than urban populations. Because rural populations tend to be older, many live on fixed incomes as well.
The health concerns of rural populations also tend to differ from urban ones. Rural areas see a disproportionate number of vehicle fatalities. Youth in rural areas experience higher use of alcohol and tobacco, experience more depression, and are twice as likely to commit suicide. Rural areas also have a higher risk of injury-related death and rates of diabetes and coronary heart disease. It's also true that with many older and retired populations in rural areas come chronic illnesses that need to be treated.
The unique population dynamics of rural areas require specific healthcare services that can meet these diversified needs — but for many in rural areas, there just aren't viable options within reach.
Why is there such a great need in rural healthcare?
Just as anyone in a metro area would need healthcare access and medical attention, residents of rural areas need providers to meet their basic healthcare needs as well. But rural residents face far more barriers in accessing proper healthcare.
Twenty percent of US residents live in rural areas, but only eleven percent of practicing physicians work in rural areas. Rural residents have fewer options and less access — driving 60 miles to receive care can be a hardship for some, Swenson points out.
"People in rural areas don't have access to healthcare in the ways the metro does," he explains. "It's a lot easier to get appointments in the metro. People in rural areas don't have that range of providers and specialists. It's a lot more challenging."
The lack of access combined with the unique healthcare needs of rural populations creates a big need for leadership in rural healthcare facilities. That's where the rural health MBA comes in to play.
How a rural healthcare MBA trains leaders to meet demand
Rural healthcare facilities need business-minded professionals to support the needs of rural populations and help run their facilities. They need insightful leadership to help them make an impact in the communities they serve and to make facilities both financially feasible and successful.
"In rural areas, many folks at the tops of their healthcare career get promoted to managerial, supervisory, and leadership positions, but they have no background in business, business strategy, marketing or HR law and policy," Swenson says. "Rural areas are desperate to get someone who knows about the business of healthcare."
What these facilities need to operate smoothly and better help underserved communities are professionals trained in the business of healthcare — specifically in rural healthcare and its unique needs, which is exactly what a rural health MBA can help you do.
How a rural healthcare MBA can help you step up your career
With a high need for professionals across the board, a rural healthcare MBA could be what you need to take your career to the next level. The healthcare industry needs leaders to run healthcare facilities, improve patient outcomes, manage the day-to-day operations and serve the public.
A healthcare MBA can train you in the business of healthcare. And while many professionals who pursue this degree have backgrounds in healthcare, it is not required. You don't need a healthcare background to get in on the big growth in the field.
Professionals flocking to rural healthcare MBAs tend to share some common desires: They want to develop themselves, grow, learn more, increase mobility in their careers and increase their responsibilities in their professional lives. They are goal-oriented and high achievers, they seek leadership roles and they want to innovate and instill positive change. They're also eager to make a difference in people's lives and are excited to take what they learn back to their communities, Swenson explains.
CSS' rural healthcare MBA teaches students applicable leadership and business skills to take with them into the heart of healthcare facilities. "Our rural healthcare MBA is a practitioner program — we are scholars with our sleeves rolled up. We want students to come out of every class knowing something new, something that they can apply immediately," Swenson iterates.
Graduates go on to become supervisors, department managers, work at the executive level as administrators and take on more responsibility and initiatives in new and revised healthcare programs, he adds. "Many graduates have been given greater responsibilities, continued for further advanced degrees and attained higher level positions as managers and leaders in healthcare."
Could you help bridge the gap between business & healthcare?
Rural populations need passionate and strategic leaders like you to pave the way in leading healthcare facilities for communities in need. Not only can an MBA in rural healthcare give you the chance to meet the unique health needs of rural populations, it can also serve as an opportunity to take your career to the next level as a leader and innovator.
Now that you know all that a rural healthcare MBA can offer you and your career, visit our article, "Are there business jobs in healthcare? How a rural healthcare MBA can bridge the gap" to learn more about how you can help underserved communities and meet the healthcare demand in rural areas.
Receive Program Info and Financial Aid Options
Detailed program overview
Personalized financial aid
Individual admissions support