February 26, 2018
What is the PMI Talent Triangle®? The making of a successful project manager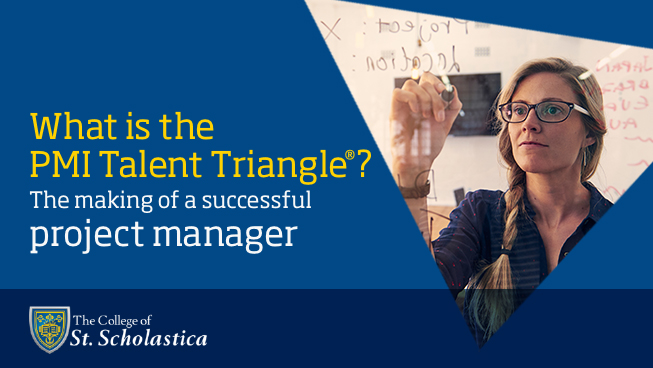 As anyone who has worked on a large project knows, a skilled project manager can be indispensable to the team, ensuring deadlines are followed, proper resources are allocated and larger goals are met.
But if you were to ask a handful of individuals what makes for an excellent project manager, you'd be sure to get answers across the board. Considering the numerous skills, talents and competencies required of the position, it's clear there's a lot that goes into project management. That's why the Project Management Institute (PMI) outlines the ideal set of skills for these professionals in something they call a Talent Triangle®.
As the top non-profit association for the project management profession, the PMI leads the way in elevating the field and the professionals they support. To help you better understand the Talent Triangle and what makes a good project manager, we spoke with Brandon Olson, associate professor of project management at The College of St. Scholastica (CSS), in addition to a handful of other seasoned project managers to learn exactly what it takes to succeed in this profession.
Join us as we explore the PMI Talent Triangle to reveal what separates successful project managers from the rest.
Breaking down the PMI Talent Triangle
The PMI Talent Triangle is an ideal skill set for project managers. Its three legs include the following competencies:
Technical project management
Leadership
Strategic and business management
The beauty of the PMI Talent Triangle is its combination of skills, mixing elements of business management with technical project management expertise and the ability to lead into the ideal skillset. The most successful project managers rely on these three areas to help them thrive in their work.
As someone with more than 20 years of project management experience, W. Jody Schrandt — strategy consultant and executive coach with VeriQuest Partners — has spent a lot of time viewing and practicing what works and what doesn't in the realm of project management. "The methodology skills, such as what is taught by PMI, are foundational," he says. "Being able to work the tools in the PM toolkit is ante to get in the game."
1. Technical project management
A successful project manager would be remiss without the technical know-how to do their job. This includes project management-specific abilities, as well as knowledge of their industry and field at large.
"This leg of the PMI Talent Triangle speaks to the processes and tools used in project management and the foundational knowledge of how to use it," Olson explains. "Some examples include project planning, how to monitor and control projects and other operational techniques used in project management."
The PMI outlines a few of the specific technical skills a project manager may need, including the following:
| | |
| --- | --- |
| • Agile practice | • Data gathering and modeling |
| • Earned value management | • Governance |
| • Lifecycle management | • Performance management |
| • Requirements management and traceability | • Risk management |
| • Schedule management | • Scope management |
| • Time, budget, cost estimation | |
It has also been suggested that a successful project manager needs a strong grasp on the industry in which they practice.
"A project manager needs to have industry-specific knowledge and understand how it works," Olson says, adding that a specific project manager's day-to-day work may differ depending on the industry in which they work. For example, the duties and daily practices of a project manager working in the construction field will differ greatly from one in IT, he explains.
2. Leadership
The second core competency of the PMI Talent Triangle is leadership. A successful project manager needs to lead teams through all stages and processes of the project.
"While project managers apply their technical project management methods to a project, they also need to possess leadership skills that will allow them to maintain communication through a project and guide their team to success," says Danielle Cuccaro, project manager at Solodev.
The leadership competency includes coaching and mentoring, influencing, team building and brainstorming, interpersonal skills and negotiation, according to the PMI. Problem solving and conflict management also fall under the umbrella of leadership abilities. Project managers must lead teams to successfully complete projects, inspiring and motivating individuals to stay the course.
"Project managers practice a different type of leadership, both within the project team and within the organization," Olson iterates. "As a project manager, you don't have authority over the team. They don't report to you. A project manager needs to use motivation rather than authority to lead their project team."
Schrandt believes the key to successful project management is the embodiment of servant leadership. "Successful project managers do not isolate their tasks and position from the rest of the team," he says. "Instead, they become integrated with the rest of the team, and help everyone to understand their roles and how to be successful. They take the time to mentor, teach and frequently to demonstrate by example."
3. Strategic and business management
The third leg of the PMI Talent Triangle is an important one. Combined with their technical expertise of project management is this greater emphasis on broad business structures and operational functions.
"As project managers apply their knowledge and provide leadership, they also need to align projects with company goals," Cuccaro explains. That's where the strategic and business management comes into play. Not only do project managers need to work to meet company goals, but they also need to apply business analysis in their daily work.
This third branch of the PMI Talent Triangle includes the following skills and competencies:
| | |
| --- | --- |
| • Benefits management and realization | • Business acumen |
| • Competitive analysis | • Customer relationship and satisfaction |
| • Legal and regulatory compliance | • Market awareness and conditions |
| • Operational functions, such as finance, marketing | |
An understanding of the project's purpose and how it supports the organization's greater goals allows project managers to thrive and succeed in leading their teams. "They need to comprehend what the organization is trying to accomplish and how the specific project is fulfilling that," Olson says. "They really need to fully understand the value of the project."
Why is the PMI Talent Triangle so important?
As any successful project manager will tell you, the blend and balance of skills, qualities and expertise make for a well-rounded and powerful professional. That's why the Talent Triangle works.
"The Talent Triangle is critical because as project managers learn and develop their skills, they need to maintain a balance to maximize success," Cuccaro offers.
The balance of the Talent Triangle's three legs isn't just about having complementary skillsets. These are all critical areas a project manager needs to master in order to succeed in their career. "Project managers need to have all three of these traits. They need to be able to do everything, starting with the technical skills. They need to be able to engage project teams to motivate them. And everything they do needs to be guided by their business management understanding. When combined, all three traits drive each other," Olson explains.
Become a master of project management
If you want to set yourself up to become a successful project manager, align your skills with the PMI Talent Triangle. It will provide you with the ideal blend of technical skills, business expertise and motivational leadership.
If you're looking to conquer this trifecta of skills and expertise, you may need the education to bolster your project management mastery. Look no further than the project management program at The College of St. Scholastica (CSS), which recently received global accreditation from the PMI, becoming one of only 93 programs with this elite title in the world.
Learn more about what sets this program apart from the pack by checking out our article, 7 things you should know about the Master of Science in Project Management program at St. Scholastica.
Receive Program Info and Financial Aid Options
Detailed program overview
Personalized financial aid
Individual admissions support