May 14, 2018
What is global project management? The framework shaping multicultural teams of the future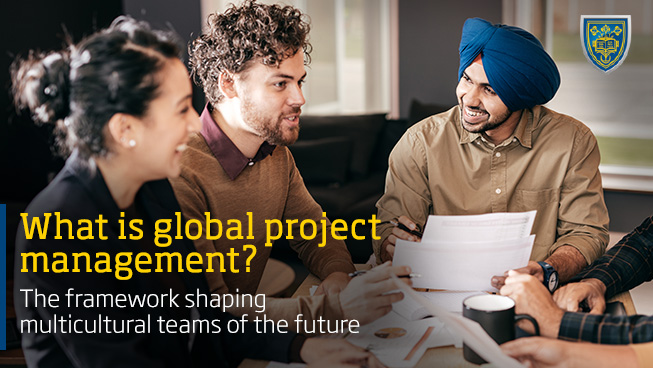 In today's interconnected era, we no longer remain within the confines of our individual corners of the world. We can jet-set across the globe on vacations and business trips. We can video chat with international comrades in mere seconds. And with the click of a button, we can purchase virtually anything we desire from the other side of the globe, and it will be 'Amazon Primed' to our doorsteps.
Suddenly the expanse shrinks with the realization that so much of the world can be accessed from the palm of your hand.
With collaborative technologies making it easier than ever to connect with people worldwide, it should come as no surprise that businesses do the same. Within that global stage, companies need savvy professionals to navigate new opportunities and rise to the challenges of international expansion.
More and more industries are going global, and project management is no exception. Whether you end up working for an international organization or one that partners with companies far and wide, global project management may be something you'll need to master if you want to take your career to the next level.
Read on to learn more about what global project management entails and how you can master this practice in your career.
What is global project management?
"Global project management is the application of project management practices in a distributed setting where the project stakeholders or the project work takes place in multiple geographical regions or across different cultures," explains Brandon Olson, professor of project management at The College of St. Scholastica (CSS).
Project managers encompass the trifecta skillset of leadership, strategic business management and technical project management. These become even more important within a global context.
"The global scale creates an environment of very rapid change. You will most likely have work completed as you are sleeping. The project manager needs to be aware of time zone differences, different holidays around the globe, vacations in different cultures and many other rapid changes on the project," offers Michael O'Connor, strategy and project management director at Medtronic and instructor of the Global and Cultural Competency course at CSS. "Being on a global level is like having all of the different parts of the project moving around you 24/7."
Any project can get messy and convoluted with many moving parts and phases of progression. But add to that different time zones, cultures, potential language barriers and locations around the world, and a global project manager becomes all the more important to the viability of a project.
"Rather than asking what role a global project manager plays, the question should be what can't they do," suggests Aleksandar Slavov, project manager at Asian Absolute. He goes on to explain that project managers have a huge impact on global projects, providing leadership, motivation, communication, decision making, negotiating, trust building, coaching, conflict management and much more.
But perhaps, he offers, their role can be summed up as follows: "Project managers are the people who are responsible for a smooth process and perfect result."
Critical skills for global project management
A successful project manager needs to have a handle on their foundational project management skills before expanding on a global scale. In addition to the core competencies as defined by the Project Management Institute (PMI), career hopefuls would be well-served to master a few skills specific to global project management if they hope to thrive in expansive international projects. Consider the following two.
Cultural competency
A key skill of global project management is cultural competency, which refers to  honoring and understanding differences in global cultures and how they play into the framework of a project.
"In order to work across various cultures, a project management professional needs to be able to understand the cultures and diversity of the project team while being experienced and trained in the soft skills of project management," O'Connor says.
For example, it's been observed that some Asian cultures may hesitate to question authority. Australian and New Zealand cultures tend to jump into tasks with little detail and explanation. Some cultures' workplaces are task-based, while some are relationship-based. Each culture may present differing attitudes or approaches to communication, collaboration or work habits. A global project manager must understand these differences and identify the best practices within the group.
"Each project expanding across geographical regions and cultures is different. The project manager must be able to understand the nuances of the culture and how these nuances affect how work gets done and how teams best respond to leadership," Olson explains.
"The project manager must be cognizant of differences across cultures and understand how these differences affect the project team. The project manager must be able to adapt to these differences by changing communication and leadership styles, adjusting to working across time zones and following the cultural norms of the different project stakeholders," he continues.
A good global project manager needs the competency to overcome multicultural differences and leverage each team's strengths. When it's done right, collaboration among multicultural teams can enrich brainstorming and innovation within the project.
Managing and communicating with global teams
Communication is central to the role of a project manager. As a hallmark of the profession, project managers must convey information among the team members and to stakeholders, updating statuses and providing individuals with the resources needed to complete the project. Within global project management, communication becomes all the more important.
Clear communication must rise above technology barriers and cultural misunderstandings to align teams on a global scale. Successful project managers must utilize collaborative tools and strong communication to manage teams from afar.
"After nine years of hard work with employees across seven different countries, I can assure you as a project manager that the ability to lead an international team is growing increasingly important," urges Cristian Rennella, senior project manager and cofounder of oMelhorTrato. "Global project managers need to provide coordinated direction to achieve a common goal, where each member pulls to the same side, aligned perfectly."
Rennella recommends that project managers utilize digital tools – such as Skype and Slack – to maintain open communication. He found that regular meetings with collaborative tools increased his team's project productivity by 31 percent.
"The solution to any problem is communication. Your results depend on the manner in which you present and spread your knowledge," Slavov adds.
Gain a global perspective for your career
The world around us is changing and, in many ways, it's becoming more accessible. Market yourself as a citizen of the world and prepare yourself for a career in global project management.
An intrinsic step to pursuing a career in project management is your education, so you'll want to be sure you're headed down an educational path that prepares you for the exact type of career you want. Consider, for instance, the Project Management program at CSS. It features a focus on strategic global project management where students learn to lead projects in a global setting across different cultures and distributed geographic regions.
You can learn more about that and other facets of the program by heading to our article, "7 things you should know about the Master of Science in Project Management program at St. Scholastica." Discover more about your potential path toward the global career you've always wanted.
Receive Program Info and Financial Aid Options
Detailed program overview
Personalized financial aid
Individual admissions support