October 30, 2017
Healthcare reform: The state of rural health & why we need leaders like you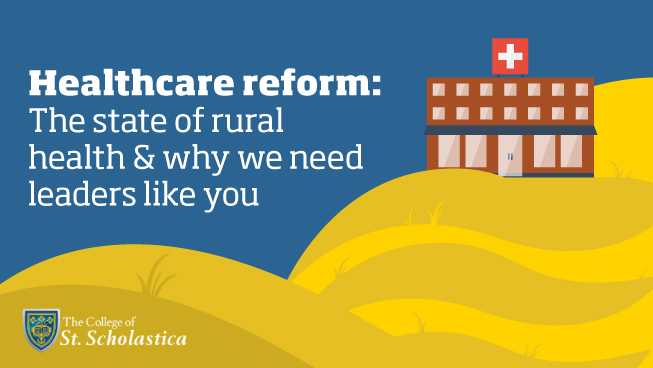 It's near impossible to exist in America in 2017 and not be aware of some major discussions taking place within our government regarding healthcare. One healthcare bill gets rejected before another is quickly proposed, and we all wait in the balance eager to see what will come of it all. Whether a healthcare professional or just an average American citizen, almost all of us have something at stake. As such, opinions within our government have been heated.
It is argued by some that the only possible solution for the issues in American healthcare today is to repeal the Affordable Care Act (ACA). Meanwhile, others believe that despite flaws that may exist in the ACA, if major provisions are repealed, "longstanding disparities in healthcare and insurance coverage will deepen" for lower-income individuals and many in our underserved communities. This includes the approximately 20 percent of Americans who live in rural areas, according to the Scholars Strategy Network.
With differing standpoints circulating among many of the nation's most recognizable political figures, we're left with a litany of questions regarding what has happened in American healthcare, what will happen with American healthcare moving forward, and how all of this could impact our communities at large. Join us as we dig a little deeper.
Rural healthcare since the Affordable Care Act
One-fifth of America's population lives in rural communities — that's nearly 51 million people. Of that population, one-fourth of nonelderly rural citizens fall below the poverty line, according to a 2014 report from the Kaiser Family Foundation. Rural citizens are also less likely to have access to healthcare coverage through a job. Rural populations tend to have a high percentage of low-to-moderate-income individuals who fit into the target population for the coverage reforms included in the ACA.
With that in mind, it is unsurprising that the ACA has impacted our rural communities in a number of ways. The health insurance marketplace has allowed many to shop for coverage with the assistance of federal tax credits that reduce their premiums, and the expansion of Medicaid in tandem with other initiatives to strengthen the infrastructure of rural healthcare has provided a much needed ease of access to care for rural citizens.
Consider the following facts from the Center on Budget and Policy Priorities:
• Since the ACA's major coverage expansions took effect in 2014, the uninsured rate among rural nonelderly individuals dropped significantly, from 17% in 2013 to 12% in 2015.
• 45% of children in rural communities have Medicaid coverage.
• Since 2013, hospitals' uncompensated care costs have fallen more significantly in states that have enacted Medicaid expansion than in non-expansion states.
• A majority of the 78 rural hospitals that have closed since 2010 are in non-expansion states.
Affordable Care Act repeal: How could it impact rural communities?
From what we've seen proposed thus far, a repeal of the ACA would impact newly-insured patients, healthcare facilities, and small-town economies alike, likely forcing layoffs of rural health providers. This loss of jobs will then impact the economies of these rural communities in addition to the quality of care provided. It's likely the impact would hit harder for poorer states, such as Kentucky and New Mexico, in which a large portion of the population lives outside of major cities.
Impact on public health
The proposed healthcare bills we've seen put forth as potential replacements for the ACA have threatened the access of coverage for as many as 14 million people by seeking to reduce federal spending on Medicaid. The potential impact this could have on the nation's rural population has been one of the multiple roadblocks faced by these proposals.
It's important to also consider specific sectors of rural healthcare that could be even more directly impacted, such as behavioral health services. This is an aspect of healthcare the ACA has defined as an essential health benefit with no annual or lifetime monetary limits. Behavioral health includes treatment for things like mental illness and addiction.
A concern has also been raised that a reversal of Medicaid expansions may impact the progress made battling opioid abuse in rural communities. With hundreds of thousands relying on Medicaid and the marketplaces to fund their treatment and recovery, we're left to speculate how a potential decline in coverage may affect local efforts to address the opioid crisis.  
Impact on healthcare facilities & rural economies
From the standpoint of healthcare facilities that serve rural communities, loss of healthcare coverage for many rural citizens poses more threats than potential layoffs alone. It has been found that with expanded access to insurance coverage, rural communities remain far healthier and facilities face less pressure to provide uncompensated care.
When examined, it's been found that the economic state of our small towns improves when healthcare facilities are thriving and more citizens have coverage. New jobs have been ushered in and enhanced infrastructural investments have been made to improve facilities. The country's historically underserved areas are at risk of losing progress that's been made both economically and in terms of public health if certain provisions are repealed and not adequately replaced.
Efforts to determine a suitable next step for American healthcare are ongoing, but most recently, bipartisan efforts have been made for a compromise of sorts. This proposal would authorize the continuation of key payments to health insurers — that allow millions of lower-income Americans to afford coverage — for two additional years. In exchange, states will be afforded "greater flexibility to regulate health coverage under the ACA," according to a Washington Post report.
This would be considered a short-term deal while efforts continue to be made in crafting an adequate replacement for the ACA. Opinions remain largely divided within the House of Representatives and the presidential administration.
What does this mean for rural healthcare jobs?
With much still up in the air, many have begun to rightfully wonder about the state of their jobs in rural healthcare. While we still can't predict that with any certainty, there are a few things we know to be statistically true:
• When the country's economy takes a hit, our rural communities are hit even harder, according to the United States Department of Agriculture (USDA).
• Nearly 82% of rural counties are classified as medically underserved areas, according to the Center for Rural Affairs (CFRA).
• The CFRA has also reported that Medicaid and Medicare account for about 60% of rural hospital revenues.
• Only 9% of the country's physicians practice in rural areas, and just 3% of recent medical students are planning to practice in small towns and rural communities. It's also true that the medical professionals who do practice in these areas are aging.
Considering the wavering state of healthcare reform and the facts we know about the state of healthcare in rural communities, we can't know exactly what will happen with rural healthcare jobs. But we do know that qualified medical professionals are always sought-after in our underserved communities.
Ensure your place in the industry
High-quality medical professionals have always been needed to fill some ever-present gaps in our rural healthcare infrastructures. While healthcare facilities brace themselves as they await any final decisions regarding healthcare reform, you can be sure that one of their main and continual goals is to employ and retain the highest quality, most multifaceted staff they can.
If you're looking to set yourself apart so you can have an opportunity to serve our rural population, it may be time to consider pursuing some advanced education. Hiring managers are looking for potential employees who not only have the skills they're after, but also have innovative and sustainable leadership potential.
With that in mind, you might be interested in a specialized program, such as the MBA in Rural Healthcare Leadership at The College of St. Scholastica. It's the only program in the country that has a complete focus on rural healthcare leadership, and it positions its graduates to enter into administrative and leadership positions. The healthcare administration field is projected to grow by 17 percent through 2024, most notably within underserved communities.
If you're interested in learning more about the types of opportunities an MBA in rural healthcare could lead you to and the logistics of a master's program like this one, check out our article, "Are there business jobs in healthcare? How a rural healthcare MBA can bridge the gap."
Receive Program Info and Financial Aid Options
Detailed program overview
Personalized financial aid
Individual admissions support