Home » About Us » Sentinel Blog »

7 things you should know about the Master of Science in Project Management program at St. Scholastica
August 28, 2017
7 things you should know about the Master of Science in Project Management program at St. Scholastica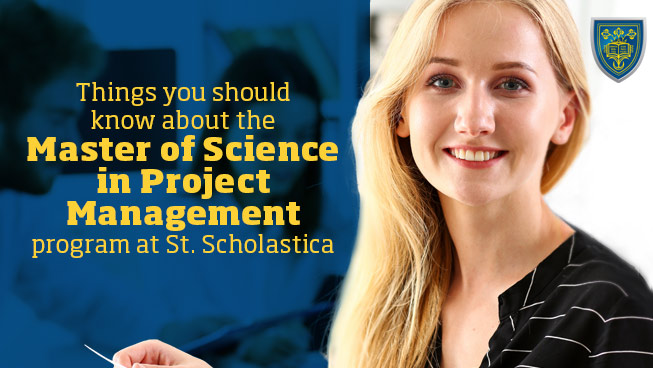 Maybe you've been in the working world for a few years now; maybe you've been in it for a few decades. No matter your background, you've set your sights on something new: stepping up your career with a Master's of Science in Project Management. Project management is an occupation that is seeing rapid growth. In fact, jobs in the field are projected to grow by 33 percent through 2027 — a much faster rate than average in the U.S. This means great career opportunities await for those willing to step up to the challenge. Savvy project managers are needed in all industries and are well compensated for their talents.
We spoke with Brandon Olson, an associate professor of project management at The College of St. Scholastica (CSS), to get the scoop on what you need to know about the College's Master of Science in Project Management program. Keep reading to learn more about all that CSS has to offer.
7 things you should know about CSS' project management program
1. The program is newly accredited
When looking to take this next step in your education, you want a program that will offer you the potential to grow professionally and master your craft. But you also need to vet any project management programs you come across to ensure the program you select is accredited.
If you're interested in the project management program at CSS, rest easy knowing this: it recently received national accreditation from the Project Management Institute Global Accreditation Center for Project Management Education Programs. Why does this matter?
Accreditation verifies that a program's academics are of the highest quality and that its students are prepared to adequately meet the needs of the rapidly growing field upon graduation. "Accreditation ensures that a governing body has inspected the program and determined it is relevant, that it has quality faculty teaching the courses, that the courses are effective and that the program aligns with professional organizations," Olson explains.
And with only 56 project management graduate programs with this accreditation in North America, CSS joins the elite ranks of select options for prospective students.
2. Almost all students work full time through the program
Yes, you read that correctly. Almost all students work full-time throughout their time in the program. That's the beauty of online education — students don't need to press pause on their careers while going back to school. They can balance both their professional lives and their continued education and make it all work together.
It's also true that the classes in the project management master's program are small — capped at 20 students per course — so you can get the interactivity with classmates and professors that you need to develop as a professional.
3. Students in the program come from all walks of life
The students who enroll in CSS' project management program come from all types of backgrounds. Students in the program range in age from 25 to 50, Olson says, and they come from all different fields and industries. Because the project management discipline is needed and applied to every industry, the program sees an interesting mix of students in its classes.
"The types of jobs that students come from really varies," Olson iterates. "We've had students working in everything from an activities director on a cruise line to people working in banks."
Olson also notes that students in the program all have at least two years of experience in the workplace, to ensure that they have seen, observed or participated in a few projects of their own before studying at the graduate level.
4. All program faculty have expertise and experience in the field
To become the best project manager you can be, you'll want to learn from seasoned professionals who don't just talk the talk, but walk the walk. That's what you're getting at CSS.
All faculty in the project management program have at least five years of experience in project management, possess at least a master's degree and are certified Project Management Professionals (PMP). Professors apply their hands-on, real world experience in project management for a heightened learning experience.
5. The program focuses on strategic global project management
A highlight of CSS' project management program is its specialized courses on strategy and global project management. The program infuses ethical decision making, social responsibility, global awareness and professional excellence into its mission.
Classes on strategic project management support the intrinsic truth that projects are done for a reason. Good project managers hold this truth throughout every stage of the process, while trying to drive business value to align with an organization's goals, says Olson.
Global project management courses reflect the expansive need for managing projects across a greater reach — whether they're distributed across different campuses or around the world. Project managers need to be well-versed in different cultures in order to effectively and ethically manage projects spanning the globe.
6. Classes are entirely online & you can finish the program in under two years
By starting in the fall and enrolling in two courses a semester, students have the ability to finish this streamlined program in under two years.
Courses are entirely online — comprised of eight units in an eight-week course — and each unit is infused with industry-specific skills that are in demand. The courses that make up the project management program are structured into four sections:
• Foundational courses covering the basics of project management
• Advanced project management courses
• Global and strategic specialization courses
• Capstone project courses
7. Students get to select an exciting capstone project to demonstrate their learning
In the capstone project — the fourth and final section of courses in the project management program — students select an area of focus to apply what they've mastered in the program.
"During the second year, students do a capstone project investigating current problems or opportunities in project management and develop a model for best practices in that area," Olson explains. "Capstone projects can be a launching pad for their careers."
Past capstone projects that students have completed at CSS include the following:
• Conflict management for project managers
• Improving clinical documentation performance in healthcare
• Best practices for project sponsors
• Leading multigenerational project teams
• Promoting transparency of megaprojects on social media sites
Take the next step in your career
You're driven to be the best possible project manager you can be, and you've decided that furthering your project management education is the most effective way to achieve that. Now that you know all about what to expect from CSS' project management program, what are you waiting for?
Take the next step towards achieving your goals and visit CSS' MS in Project Management program page. The next step in your career awaits!
Receive Program Info and Financial Aid Options
Detailed program overview
Personalized financial aid
Individual admissions support