Faculty and Staff | Post-Baccalaureate Nursing
Email information is followed by @css.edu unless otherwise noted.
Position:
Professor/Dean, SON
Department:
SON Admin
Phone:
(218) 723-6021
E-Mail:
janderson16@css.edu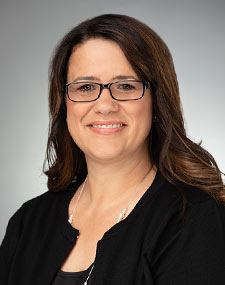 Position:
Asst Professor, NSG
Department:
Postbaccalaureate Nursing
Phone:
E-Mail:
calajoki@css.edu
Education:

DNP, The College of St. Scholastica, Duluth, MN, Graduation expected Spring 2018
MSN, Walden University, Minneapolis, MN, 2012
ADN, Lake Superior College, Duluth, MN, 1998
Diploma, Lake Superor College, Duluth, MN, 1997
Biography:

Carrie Alajoki has focused much of her nursing career focusing on high quality care in the rural setting. Her MSN specialized in nursing education and her teaching interests include the adult learning and creative teaching strategies such as the online learning environment. Carrie Alajoki's nursing experience includes medical/surgical, emergency nursing, obstetrics - including labor and delivery, newborn care, and postpartum care - and occupational health and wellness nursing.
Recent Achievements:

Carrie Alajoki prepared a poster presentation for the Scholarship of Teaching and Learning conference in Savanah Georgia that focused on "Adding a Faculty-Led Online Interactive Meeting in an Hybrid Nursing Course."