Student Health Service provides professional nursing assessments for illness and injury. A family nurse practitioner is available for illness, injury, preventive, and wellness care by appointment. Call (218) 723-6282 to set up an appointment.
Services offered by Student Health Service include:
Urgent Care Services:
Evaluation and treatment for colds, fevers, sore throats, ear aches, coughs, rashes, urinary symptoms, etc.
Lab Services:
Lab tests for strep, mono, blood glucose monitoring, hemoglobin, cholesterol (lipid panel), urine pregnancy test, confidential STI testing, phlebotomies for antibody screening, etc. Some of these services are billed to the student's primary health insurance. Any unpaid balances are the student's responsibility and are applied to their student account along with unmet deductibles.
Mental Health Assessments:
Including those for eating disorders and depression, provided by the nurse practitioner and billed to insurance.
Gynecological Examinations:
Provided by the nurse practitioner and billed to insurance.
Medical Supply Usage:
Free use of crutches, wheelchair, splints, ice packs/hot packs, arm slings.
Professional Physical Therapy:
Consultation and evaluation for sprains, strains, back or shoulder pain, intramural injuries, muscle aches, and headaches. Physical therapy services consists of consultation services only. Therapists, at their discretion, may schedule ongoing follow up appointments. Lengthy consultations for ongoing treatment will be referred to a local health care facility. Make an appointment with Student Health Service for evaluation to obtain a referral.
Screenings:
Visual acuity, tuberculosis, hypertension, and anemia.
Miscellaneous:
Dressing changes, suture removal, wound care, and ear irrigations.
Immunizations:
Tetanus Diphtheria Pertussis (Tdap), Tetanus Diphtheria (Td), Hepatitis A and Hepatitis B, Measles, Mumps, Rubella (MMR), Varicella, Influenza, Gardasil (HPV), and Menactra (Meningitis). Charges will be billed to your health insurance. If not a covered benefit, the charge will be billed to your student account.
Immunization requirements monitoring:
Student Health Service monitors the immunization dates of all enrolled students in compliance with the Minnesota Immunization Law. Student Health Service also monitors health requirements for Health Science majors in compliance with the program requirements and provides student health screening appointments to ensure students meet their program's immunization requirements.
Education:
Student Health Service enhances the educational process of students by helping them recognize and evaluate their health concerns and make intelligent decisions regarding illness and disease prevention.
Tobacco Cessation Services:
By appointment with the nurse practitioner.
Transportation to Urgent Care may be obtained upon request from Student Health Service staff or from Residential Life.
·Friday, 9/28: Health Science Center (9am-4pm)
· Monday, 10/01: Burns (1pm-4pm)
· Thursday, 10/25: Science (1pm-4pm)
· Wednesday, 10/31: Tower (9am-12pm)
Monday 8:30 a.m.-4:30 p.m.
Tuesdays 9:30 a.m.-4:30 p.m.
Wednesday 8:30 a.m.-4:30 p.m.
Thursday 8:30 a.m.-4:30 p.m
Friday 8:30 a.m.-4:30 p.m.
Closed 12:30 a.m. - 1:00 p.m (Lunch)
Emergency and After Hour Contact
Essentia Health
407 East Third Street, Duluth, MN
Emergency Room: (218) 786-8364
Nurse On Line: (218)725-3110
Urgent Care: (218) 786-6000
St. Lukes Hospital
915 East First Street, Duluth, MN
Emergency Room: (218) 249-5555
Urgent Care: (218) 249-6095
Miller Dwan Crisis Line
(218) 723-0099
---
Vicki Andrews,

MA, RN, FNP-BC
Nurse Practitioner
vandrews@css.edu
---

Melissa Ratai
Administrative Assistant
---
Lindsay Izzard, RN
Registered Nurse
---
Christine Sandal,
BA, RN

Clinic Manager Registered Nurse
csandal@css.edu
---
Inga Thompson, MA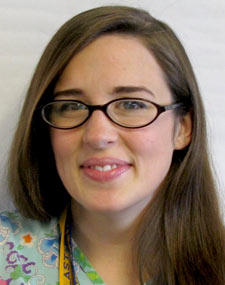 Certified Medical Assistant
ithompson@css.edu
---
Julie Zaruba Fountaine

Wellness Coordinator
jzarubafounta@css.edu
---