Position:
Assoc Professor/Dean, SOE
Department:
SOE Admin
Phone:
(218) 723-7040
E-Mail:
JOlsen@css.edu
Website:
View
Dr. Olsen is the dean of the School of Education and has served as president of the State Chapter of the Minnesota Association of Colleges for Teacher Education (MACTE). She is an active member of the CAEP Accreditation Council and the TEAC Inquiry Brief Commission. She is nationally certified as a school psychologist, and worked for over 20 years in Wisconsin and Minnesota public schools. Jo is also a Minnesota licensed psychologist and worked as a mental health therapist in private practice for several years, specializing in child/adolescent issues and family systems. Prior to coming to CSS, she was an assistant professor in the Department of Education; School Counseling; and School Psychology at the University of Wisconsin-Stout. At UW-Stout she taught graduate courses, supervised school placements and developed a distance learning supervision model for interns. She has an Ed.D. in educational leadership, M.S. in school psychology, and B.S. in psychology and sociology.. Her professional interests include educational leadership, organizational change, online teaching and learning, behavioral interventions, positive school climate, family systems and play therapy. Position:
Asst Professor, Grad Education
Department:
Masters of Ed-ONLINE
Phone:
(651) 403-8621
E-Mail:
sdunigan@css.edu
Name: Doug Long
Position: Adjunct Professor
Department: Elementary Education Degree Completion Program
Academic Degrees: B.S. Secondary Biology Education, College of St. Scholastica & MA Teacher Leadership, University of Minnesota
Interest Areas: Coaching High School Hockey, Human Anatomy and Physiology, Technology and Blending Learning Opportunities.
Teaching Philosophy: My approach to teaching is to empower all students with the skills and resources to discover learning in a manner that best fits their style. I believe that students should be actively engaged in the learning process and work cooperatively to create their own learning for life.
Personal information: I have been teaching in the Stillwater School system since 1991 in the middle and high school setting as a life science teacher. I have taught Biology, Wildlife Biology, Chemistry, and Human Anatomy & Physiology. I have also been a high school hockey coach for over 25 years. I have worked as an adjunct instructor at St. Catherine University and the College of St. Scholastic, as well as in the College in the School program through the University of Minnesota in the Essentials of Human Anatomy and Physiology class. I am married and have 2 children, one of which is also a CSS graduate (2014)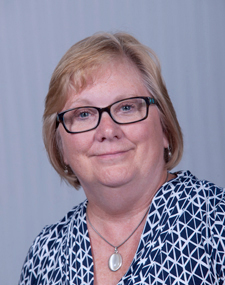 Position:
Asst Professor, EDU
Department:
GTL
Phone:
(218) 723-6724
E-Mail:
GGaetz@css.edu
Gail has 15 years of elementary education teaching experience, 5 years as an elementary classroom teacher and 10 years as an elementary media generalist. She received a B.A. in elementary education from Central College in Pella, Iowa, and an M.L.S. from the University of Iowa. Gail is the graduate teaching licensure coordinator for the Duluth campus and also teaching courses in that program as well as the online teaching and educational technology certificate programs. Her educational interests include teaching the adult learner, as well as 21st century teaching and technology practices.