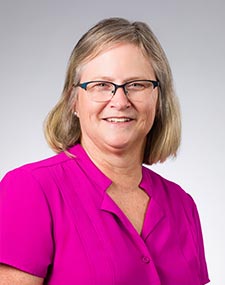 Position:
Asst Professor, NSG
Department:
Traditional Undergraduate Nursing
Phone:
(218) 723-6103
E-Mail:
CBrown2@css.edu
Cynthia Brown's clinical focus is in public health, nutrition, evidence based practice, and chemical dependency. Her professional Interests include Community/Public Health, working with underserved & vulnerable populations, nutrition, evidence-based practice & chemical dependency/addiction, and the harm reduction model. Some of her personal interests include walking, reading, scrapbooking and cooking.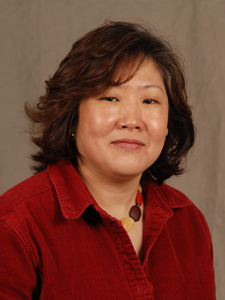 Position:
Asst Professor, NSG
Department:
Traditional Undergraduate Nursing
Phone:
(218) 723-6771
E-Mail:
TBushey@css.edu
Education

Undergraduate: 2005 BA Nursing, College of St Scholastica
Graduate: 2004 ANP, College of St. Scholastica
Presentations
2011 2011 Minnesota Rural Health Conference, Duluth, MN
2009 2009 Academic Electronic Health Record (AEHR) Summer Institute, Duluth, MN
2008-10 Nursing Summer Internship Orientation St. Mary's/Duluth Clinic Health System, Duluth, MN
2006 CHIP-D Case Study Panel Discussion, panel participant
Publications

Bushey, T.B. & Johnson, D. (2009). Integrating the academic electronic health record (AEHR) into nursing curriculum: Preparing student nurses for practice. CIN: Computers, Informatics, Nursing.
Jatoi, A., Rowland, K., Loprinzi, C., Sloan, J., Dahkil, S., MacDonald, N., Gagnon, B., Novotny, P., Mailliard, J., Bushey, T., Nair, S., & Christensen, B. (2004). An eicosapentaenoic acid supplement versus megestrol acetate versus both for patients with cancer-associated wasting: A North Central Cancer Treatment Group and National Cancer Institute of Canada collaborative effort. Journal of Clinical Oncology, Vol 22, No 12, 2469-2476.
Bushey, T (2013, pending). Pharmacology for Nursing Practice. Chapter 49 Inhibition of folic acid syntheses: Sulfonamides and Trimethoprim. Mcgraw-Hill.
Peer Review/Poster Presntations

Johnson, D., Bushey, T., Donahue, B., Fauchald, S. K., & McMahon, S. (2009). Electronic Health Record Integration into Nursing Curriculum: Preparing Student Nurses for Practice. Poster presented at the 27th Annual International Nursing Computer and Technology Conference
Fauchald, S. K., Bushey, T., Donahue, B., Johnson, D., & McMahon, S. (2009). The purposeful integration of an academic electronic health record across nursing curricula. Poster presented at the 2009 Nursing Informatics Congress, Helsinki, Finland.
Current Research
Rural Health Information Technology Project: Collaboration for Meaningful Use: Quality through EHR Standardization and Technology (QUEST)
Bushey, T.B. & Sandahl, S.S. Investigating the role of professional socialization behaviors in predicting academic success in nursing education: A longitudinal study
Fauchald, S., Bushey, T., Donahue, B., Johnson, D. & McMahon, S. Assessing student outcomes of academic electronic health record (AEHR) use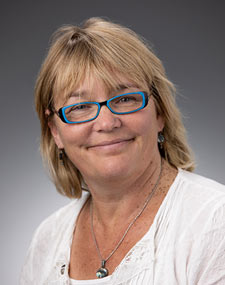 Position:
Asst Professor, NSG, Chair
Department:
Traditional Undergraduate Nursing
Phone:
(218) 723-6020
E-Mail:
PByrne@css.edu
My area of specialty lies in the practice of nursing in rural areas. I have worked in arctic Alaska, critical access hospitals, and home health/hospice in remote areas. As healthcare delivery changes, and the role of nursing shifts away from acute care and into chronic disease management and health promotion, rural nurses will be invaluable links to provide quality care.
My teaching experiences begin in rural Alaska with some of the first distance delivery methods in place. It was quite interesting to teach American Heart Association CPR to Inupiat Eskimo first responders who truly understood how far away you might be from an acute care hospital setting. More recently I developed and taught on-line and traditional LPN classes at Itasca Community College. Working with LPN's made me value the relationships between the levels of nursing and illuminated the emerging importance of the baccalaureuate prepared nurse in the workfoce today. Currently I teach Leadership courses for the undergraduate nursing program helping students see the complex relationships between healthcare policy, cost of care delivery, and the unique role of each staff nurse as a leader. All nurses are leaders.
As the Chair of the Traditional Track in the Undergraduate Nursing Program I seek to inspire our faculty team to find the best way to educate the nurses of the future, teaching students to blend skills in technology with compassionate, holistic, quality care. We seek to create nurses who are strong patient advocates, nurses who use the Benedictine values as part of their anchor for moral decision making, and finally nurses who are able to seek answers rooted in Evidence Based Practice. As healthcare becomes increasingly complex, the nurses of the future are called to imagine new delivery care models. Imagination and problem solving can be stimulated by accessing a liberal arts foundation.
My outside interests include experimentation in a broad range of textile arts, extensive travel abroad, and the production and cooking of local foods.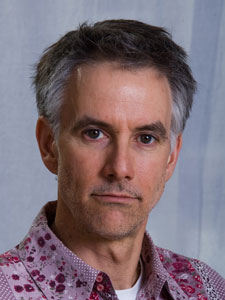 Position:
Director, NSG Edu Experience
Department:
Traditional Undergraduate Nursing
Phone:
(218) 723-6596
E-Mail:
MClabaug@css.edu
I manage the clinicals for nursing students in the undergraduate and post-baccauluareate programs. I place students in clinical sites and troubleshoot issues; I interface with the clinical facilities; and I hire and provide basic orientation of adjunct faculty. I also oversee the program-wide testing that is done. As a trained philosopher I teach occasionally in the philosophy department.
Position:
Assoc Prof/Fac Lead, Vet Grant
Department:
Traditional Undergraduate Nursing
Phone:
(218) 723-6154
E-Mail:
sconnor1@css.edu
Susan B. Connor is a Registered Nurse (RN) with a passion for patient care and research. She retired as a Lieutenant Colonel from the United States Air Force in 2004. Her current position is as an Associate Professor at The College of St. Scholastica in Duluth Minnesota. She earned a Bachelor of Science in Nursing in 1974 from the University of Colorado, a Master of Science in Nursing from the University of California in 1982, and a Doctorate of Philosophy from the University of Minnesota in 2013. Dr. Connor's research interests include vulnerable populations such as mothers and children, disaster response and recovery, and mixed-method designs. She is an active member of the American Nurses Association, and Sigma Theta Tau. She authored numerous journal articles and presented several papers at national and international meetings. Her goals are to continue to develop her skills as a nurse scientist and help grow the next generation of nurse innovators.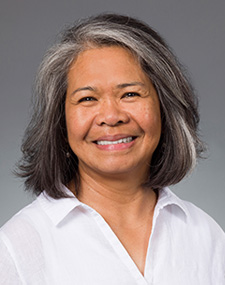 Position:
Asst Professor, NSG
Department:
Traditional Undergraduate Nursing
Phone:
(218) 723-6008
E-Mail:
GDiaz@css.edu
Gina Diaz earned her BSN degree from Philippine Christian University-Mary Johnston College of Nursing in 1982. She came to the United States to work as an RN in 1985. She has 20 years of clinical experience in variety of settings in critical care such as Neuro ICU, Medical-Surgical ICU, Vascular ICU and Open Heart Unit before transitioning into teaching. Gina earned her Master's degree in 2007 (Adult Nurse Practitioner Track) and Post-Master's Certificate in 2011 (Gerontological Nurse Practitioner Track) from The College of St.Scholastica. She taught in the traditional undergraduate (TUG) program from 2003-2007 as an adjunct faculty and became a full time faculty from 2007 to the present. Gina completed her Doctor of Nursing Practice degree in 2015 from The College of St Scholastica.
Gina's focus of practice is gerontological nursing with a goal to motivate nursing students get interested in the care of older adults.
She also developed the Transcultural Nursing-Philippines Experience. This course provides senior nursing students the opportunity to travel to the Philippines for cultural immersion and clinical experience with Filipino nursing students at Mary Johnston College of Nursing in Manila.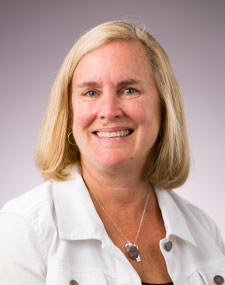 Position:
Asst Professor, NSG
Department:
Traditional Undergraduate Nursing
Phone:
(218) 723-6534
E-Mail:
BDonahue@css.edu
Upon graduating from St. Scholastica with a baccalaureate degree I found myself launched into a variety of wonderful practice experiences. My early nursing career was focused primarily in the care of the obstetrical and newborn client, as well as with the acutely ill hospitalized adult client, particularly those with cancer. But the pull back to St. Scholastica and to education in particular became very strong in time, and I decided to pursue a graduate degree as a Clinical Nurse Specialist in Adult Nursing. This preparation afforded me the incredible opportunity to begin a career that focused on the education of nursing students. As a faculty-member in the Traditional Undergraduate Program, School of Nursing, I am privileged to work with students in a variety of venues; classroom, skills lab, simulation lab and the clinical environment.

My philosophy of teaching is to serve as an "experience facilitator" for the students I work with. Learning experiences occur in the most unexpected and unpredictable ways if one is receptive and curious. I have quickly come to realize that health care changes much too fast to prepare students for all that they are likely to encounter. If, however, I can teach students to be an effective lifelong learner, I have succeeded in teaching. Position:
Asst Professor, NSG
Department:
Traditional Undergraduate Nursing
Phone:
(218) 723-6134
E-Mail:
pebel@css.edu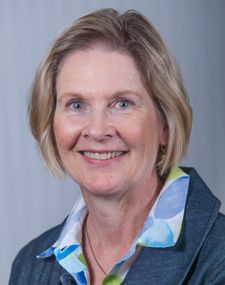 Position:
Asst Professor, NSG
Department:
Traditional Undergraduate Nursing
Phone:
(218) 723-5945
E-Mail:
JKnuths@css.edu
Professor Knuths' clinical background includes critical care nursing, healthcare administration and healthcare research. She teaches the medical- surgical clinical rotation and in the Skills and Simulation Laboratory for the Traditional Undergraduate Nursing program. Her teaching philosophy includes the understanding that people must be actively engaged in their learning in order to effectively grow in knowledge and skill. Students also need to be supported with respect and compassion while challenged to reach higher and go farther. Nurses need scientific knowledge, technical skill, and ethical values in addition to the desire to help others in order to be effecive, safe practitioners. Professor Knuths is pursuing doctoral studies at St. Catherine University in St. Paul, with a research focus in simulation education. Position:
Admin Spec, Trad UG NSG
Department:
Traditional Undergraduate Nursing
Phone:
(218) 723-6025
E-Mail:
clawler@css.edu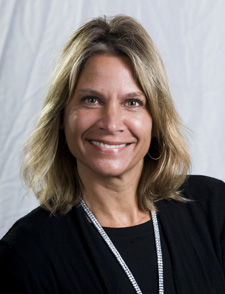 Position:
Asst Professor, NSG
Department:
Traditional Undergraduate Nursing
Phone:
(218) 723-6231
E-Mail:
SMattson@css.edu
When I started college, I was a business major. During my sophomore year, I switched to nursing and it was the best decision that I have ever made! As a graduate of the CSS nursing program, I can appreciate the history and reputation of the College. Nursing has proven to be a fulfilling career that has taken me in many professional directions. As a staff nurse on a post-coronary care unit for 10 years, I had the opportunity to care for patients, be a mentor/ preceptor and charge nurse. I went back to school and received my Master's degree and worked as an acute care nurse practitioner in cardiology and primary care. Now, I have the opportunity to share my knowledge and experience with students to help educate a workforce of future professional nurses.
My philosophy of teaching is that, as nurses, we get to care for individuals, with our hands and our hearts, at the most vulnerable times in their lives. It is a responsibility and privilege that should not be taken lightly. In order for students to feel confident and competent in caring for patients, we need to prepare them for real-life clinical situations. My primary responsibility is to coordinate and teach in the skills and simulation labs for the School of Nursing. Students participate in classes that allow them to practice not only the hands-on skills that they will use in the hospital setting but also to practice professional behaviors and therapeutic communication. We are able to combine technology, through use of high fidelity, interactive manikins, with the fundamentals of holistic, baccalaureate nursing practice as well as the Benedictine values to engage students in realistic, simulated patient-care experiences. Students progress through increasingly complex skills from sophomore year when they learn basic health assessment until the senior year when they learn to respond to life-threatening situations. Helping students to integrate nursing theory, critical thinking and technical skills has been my most rewarding career yet.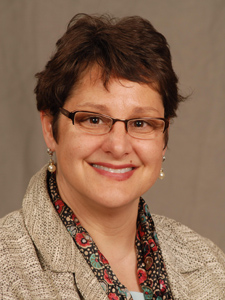 Position:
Asst. Professor, NSG
Department:
Traditional Undergraduate Nursing
Phone:
(218) 723-6004
E-Mail:
JNielsen@css.edu
Josey teaches med/surg nursing theory and clinical skills and simulation at the traditional undergraduate level. Josey has had many years of clinical practice in various adult intensive care settings.
She has been a Critical Care Educator at Rochester Methodist Hospital, Rochester, MN
and taught Critical Care Certification (CCRN) courses at Rochester Community College. She received a Masters of Science degree from the University of Minnesota with a focus in nursing education.

Josey has also worked with vunerable populations incarcerated in the St Louis County Jail.
She currently serves on the Advisory Board for the Clean Proram that works with students committed to maintaining sobriety while attending the College of St. Scholastica.
Academic interests include increasing student's awareness of and competence caring for at risk individuals and groups. She is also committed to incorporating best practice stratagies to teach and measure clinical reasoning skills and essential nursing competencies using simulation.

Josey believes that learning is most successful in a respectful, honest and challenging environment. Position:
Recruit/Retention Spec, NSG
Department:
Traditional Undergraduate Nursing
Phone:
(218) 723-6944
E-Mail:
jpearson3@css.edu
Website:
View
In my position as the recruitment/retention specialist for the military veteran nursing program, I work to raise external awareness and provide prospective students with the information they need to determine if the program is a good fit. I also work with current students to make sure they are resourced.
I graduated from the University of Minnesota- Twin Cities with a degree in Professional Strategic Communication, and in my prior position worked as an Account Manager at a digital design agency. Outside of work my hobbies include softball, attending concerts and going to my cabin. Position:
Instructor, Trad Nursing
Department:
Traditional Undergraduate Nursing
Phone:
(218) 723-6005
E-Mail:
ARestad@css.edu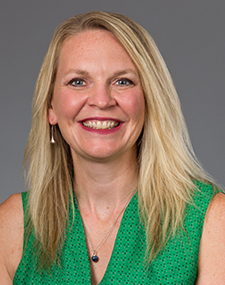 Position:
Asst Professor, NSG
Department:
Traditional Undergraduate Nursing
Phone:
(218) 723-6780
E-Mail:
eschmitz1@css.edu
I am a Certified Nurse Practitioner in Pediatrics with over 15 years of experience working with children, primarily in Pediatric Hematology/Oncology. As faculty at CSS I hope to bring my enthusiasm in working with children to the nursing students, teaching them how rewarding, challenging, and exciting the world of pediatrics is! I teach in the traditional undergraduate nursing in a variety of settings including classroom, clinicals, and lab. Outside of work I love spending time with my family, camping, biking, running, and swimming. Graduate: University of Minnesota – Masters of Science in Nursing: Pediatric Nurse Practitioner and Disability Policy and Services Undergraduate: Bethel College – Bachelor of Science in Nursing Position:
NSG Assistant Professor
Department:
Traditional Undergraduate Nursing
Phone:
(218) 723-6623
E-Mail:
dsemmelroth@css.edu
Position:
NSG Assistant Professor
Department:
Traditional Undergraduate Nursing
Phone:
(218) 723-6003
E-Mail:
ASimek@css.edu