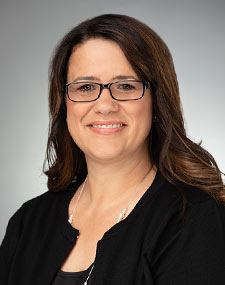 Position:
Asst Professor, NSG
Department:
Postbaccalaureate Nursing
Phone:
E-Mail:
calajoki@css.edu
Education:

DNP, The College of St. Scholastica, Duluth, MN, Graduation expected Spring 2018
MSN, Walden University, Minneapolis, MN, 2012
ADN, Lake Superior College, Duluth, MN, 1998
Diploma, Lake Superor College, Duluth, MN, 1997
Biography:

Carrie Alajoki has focused much of her nursing career focusing on high quality care in the rural setting. Her MSN specialized in nursing education and her teaching interests include the adult learning and creative teaching strategies such as the online learning environment. Carrie Alajoki's nursing experience includes medical/surgical, emergency nursing, obstetrics - including labor and delivery, newborn care, and postpartum care - and occupational health and wellness nursing.
Recent Achievements:

Carrie Alajoki prepared a poster presentation for the Scholarship of Teaching and Learning conference in Savanah Georgia that focused on "Adding a Faculty-Led Online Interactive Meeting in an Hybrid Nursing Course."
Presentations
2011 2011 Minnesota Rural Health Conference, Duluth, MN
2009 2009 Academic Electronic Health Record (AEHR) Summer Institute, Duluth, MN
2008-10 Nursing Summer Internship Orientation St. Mary's/Duluth Clinic Health System, Duluth, MN
2006 CHIP-D Case Study Panel Discussion, panel participant
Publications

Bushey, T.B. & Johnson, D. (2009). Integrating the academic electronic health record (AEHR) into nursing curriculum: Preparing student nurses for practice. CIN: Computers, Informatics, Nursing.
Jatoi, A., Rowland, K., Loprinzi, C., Sloan, J., Dahkil, S., MacDonald, N., Gagnon, B., Novotny, P., Mailliard, J., Bushey, T., Nair, S., & Christensen, B. (2004). An eicosapentaenoic acid supplement versus megestrol acetate versus both for patients with cancer-associated wasting: A North Central Cancer Treatment Group and National Cancer Institute of Canada collaborative effort. Journal of Clinical Oncology, Vol 22, No 12, 2469-2476.
Bushey, T (2013, pending). Pharmacology for Nursing Practice. Chapter 49 Inhibition of folic acid syntheses: Sulfonamides and Trimethoprim. Mcgraw-Hill.