Build on your experience as an educator
The Master of Education (M.Ed.) degree program at St. Scholastica seeks to challenge graduate candidates to evaluate their current practices, expand their views on student learning and assessment, and develop their capacity to apply research-based best practices in their educational settings.
Faculty prepare graduate students to identify and analyze educational issues and provide leadership for innovative solutions within their work settings. Finally, candidates develop best practices in the courses they take and become proficient in using action research to address questions from their own practice.
Meeting the needs of 21st century learners
The online Masters of Education Degree engages learners to reflect deeply upon their teaching practice to improve student learning and address critical issues in today's schools. This program prepares educators to meet the needs of 21st century learners. Program participants will acquire new strategies on how to use data and research to impact and inform their practice.
Format and program length
The program is offered 100% online, which allows education professionals to maintain their current employment status while enhancing their knowledge and skills. The program can be completed in two years, including summers.
The program uses the cohort model where program participants move through the core program courses together. A host of technologies have been implemented to help bridge the gap between the computer and the classroom. In addition, students are encouraged to work together. Some assignments will require collaboration with colleagues.
Program outcomes
Program outcomes are aligned with the School of Education's Conceptual Framework. Upon completion of the Master of Education (M.Ed.) Degree at The College of St. Scholastica, the graduate will be proficient in:
Student Learning: Candidates will apply best practices and effective instructional strategies grounded in current education theory to promote student learning.
Inclusion: Candidates will develop cultural self-awareness and cultural fluency to work effectively with students and communities of diverse backgrounds.
Critical Thinking and Inquiry: Candidates will engage in the process of inquiry and critical thinking regarding current educational issues and practices.
Assessment: Using data to make informed decisions: Candidates will be able to examine and analyze data to make informed instructional student centered decisions.
Technology: Candidates will identify and apply 21st Century technologies and strategies to enhance student learning.
Leadership/Change agent: Candidates will gain skills to become advocates and change agents for 21st century learners.
More information for. . .
Program Director
Chery Lucarelli, Ph.D.
Professor
Tower Hall, Room 3113
Accreditation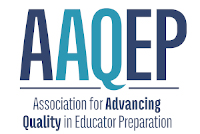 Click to see Performance Data
of Candidates in the College
of St. Scholastica
Teacher Education Program
The Teacher Education program at the College of St. Scholastica is accredited by the Association for Advancing Quality in Educator Preparation (AAQEP) for a period of 7 years, from July 2019 to July 2026. This accreditation includes the following sites: Duluth, St. Paul, and St. Cloud Minnesota. The accreditation does not include individual education courses that the Educator Preparation Program offers to P-12 educators for professional development, re-licensure, or other purposes.
Minnesota Professional Educator Licensing and Standards Board (PELSB)
The fully accredited Teacher Education Program is assessed according to the requirements and standards of the Minnesota Professional Educator Licensing and Standards Board (PELSB). The teacher education program has full continuing unit and program approval through June 30, 2024.