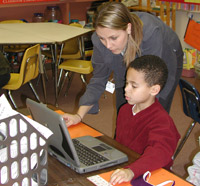 The School of Education implemented a Background Study Policy fall semester 2008 for all students enrolled in School of Education programs.
---
About the Process
First time: The initial background check cost is $50, and must be paid via credit card.
Enter code for the program you will be attending at "Get Started Here!"
Undergraduate - Duluth: BBPCG-27247
GTL - Online: WXHVM-94863
Elem. Education Completion Program (2+2) - St. Paul: RTJBJ-74242
If you have any questions, the Client Services Team at Verified Credentials is ready to assist you. Please call them at (800) 938.6090 or email at ClientServices@verifiedcredentials.com.
Annual followup checks
These are through the State of Minnesota and are free.
---
Criminal Background Study
Our goal in this criminal background study is to protect vulnerable populations. Students in a K-12 system are considered by The College of St. Scholastica's School of Education (SOE) a vulnerable population. Any costs incurred to complete the background study are the student's responsibility and must be paid in-full at the time the student is made aware of them.
The SOE requires a criminal background study prior to students entering field experiences or courses that require field experiences. MN law also requires that applicants for licensure complete a similar criminal background study. This study will be made at the initiation of field course work utilizing:
Conduct Review Statement (provided by the SOE)
Verified Credentials (a private firm that does nation-wide background checks) and each following year utilizing:

Conduct Review Statement (provided by the SOE)
Criminal history review through the Minnesota Bureau of Criminal Apprehension, or appropriate local, county, state, providence, or country agency where student resided
The SOE will make the sole and final risk determination of a student. The Red Flag Review (see Red Flag Review procedure below) will be implemented if any discrepancies occur during the Criminal Background Study. An individual who is deemed a security or safety risk to vulnerable populations will be disqualified from having direct student contact as a result of the background study and will not be permitted to participate in field experiences, or courses that require field experiences. Students who receive notice that they are disqualified must arrange for an immediate appointment with the appropriate SOE Chair, or Chair's designee. Student deemed a risk will not be allowed to complete the Education program. Materials gathered for the background study will be held by the Educational Experience Coordinator in the School of Education offices.
Red Flag Review
The Red Flag Review is a process used when a discrepancy appears on the background check, or Conduct Review Statement, of a School of Education student that may be cause for concern for the safety or security of vulnerable individuals.
Identified discrepancies which may result in a Red Flag Review being initiated:
Any Felony
Any Abuse Incident
Drug/Alcohol Incident
Harm to children
Crimes of violence
Plea bargains
Patterns of behavior
Other
When a discrepancy appears on a background check, or Conduct Review Statement, the following procedures will be followed:
Contact student involved and schedule a meeting regarding the discrepancy with the "Background Account Administrator" and appropriate "SOE Chair" or designee.
Review the circumstances of the discrepancy.
The Background Account Administrator and SOE chair will determine if notification of the discrepancy to the field experience site personnel is needed. If needed:
Obtain a "Release of Information" from the student.
Notify field experience site personnel of discrepancy.
As needed, meet with field experience site personnel to review discrepancy and background check report. The final determination on placement is determined by the "Superintendent" or designee of the field experience site. Upon acceptance of the student, documentation on the discrepancy will be provided to the field experience site personnel.
Inform student in writing of placement meeting outcome.
We hope you will appreciate our efforts in keeping kids safe. Questions regarding this policy can be addressed to:
Brenda Fischer, Chair, Tower Hall 3103, 218-723-5971, bfischer1@css.edu, or
Karen Mehle, Tower Hall 3409, 218-723-6180, kmehle@css.edu