Mission
To prepare and support teachers who are firmly grounded in the knowledge, skills, and dispositions needed to promote student learning.
Vision
To be nationally recognized for developing skilled and caring professionals prepared to educate students in a diverse and changing world.
The School of Education prepares teachers at both the undergraduate and graduate levels and provide advanced professional development through a fully online Master of Education program. Initial undergraduate licensure programs are offered on the main campus. Graduate licensure programs are offered on the main campus as well at two extended sites in Minnesota. The SOE faculty have multiple years of experience in K-12 settings and remain active in the schools and community.
Accredited by the Association for Advancing Quality in Educator Preparation (AAQEP)
The Teacher Education program at the College of St. Scholastica is accredited by the Association for Advancing Quality in Educator Preparation (AAQEP) for a period of 7 years, from July 2019 to July 2026. This accreditation includes the following sites: Duluth, St. Paul and St. Cloud, Minnesota. The accreditation does not include individual education courses that the Educator Preparation Program offers to P-12 educators for professional development, re-licensure or other purposes.
Requirements for Initial Teacher Licensure
The Master of Education Online Program
Additional Consumer Information
Professional Educator Licensing and Standards Board (PELSB)
The fully accredited Teacher Education Program is assessed according to the requirements and standards of Minnesota's Professional Educator Licensing and Standards Board (PELSB). The teacher education program has full continuing approval through June 30, 2024.
---
School of Education Conceptual Framework
The School of Education's conceptual framework consists of the following major components: equity, content knowledge, educational technology, pedagogy, dispositions, and collaborative partnerships. Our conceptual framework is grounded in the Benedictine Values; community, hospitality, respect, stewardship and "love of learning".
We employ evidence-based practices, national and state frameworks and educational research to frame our work. Our conceptual framework centers on preparing teacher candidates who are leaders focused on K12 learners, our most important stakeholder. Each of our programs embraces the critical components of the conceptual framework but do so in ways that may differ in order to meet the needs of the individual program's student demographics. We aim to create leaders who are change agents in communities and workplace settings.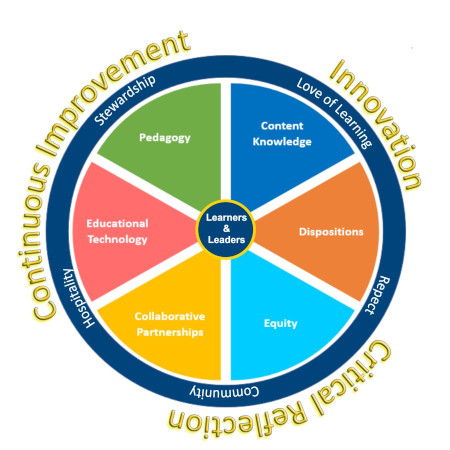 Continuous Improvement
The School of Education has embraced a culture of continuous improvement. The conceptual framework components and process are grounded in critical reflection, research-based practices, and continuous improvement. We employ a continuous improvement model in order to create effective and excellent innovative educational experiences and programs that meet our students' and regional and national workforce needs.
Critical Reflection
Critical reflective practice is a complex process that involves continual analysis of one's teaching effectiveness and the impact of one's instructional decisions on students' learning. We model reflective practice and provide pre-service and in-service teachers opportunities to reflect and dialogue on their own experiences in the classroom.
Innovation
We understand that the idea of "innovation" can mean different things depending on the sector (social and/or business). Innovation can include products, process, and service. In the School of Education, we most strongly align with the area of "service innovation".
Equity
Equity in the School of Education is informed by the idea that academic excellence is best realized in a community that is diverse and inclusive. As a Benedictine institution, The College of St. Scholastica demonstrates hospitality to all and creates a community that values the uniqueness of the individual and honors diverse opinions and experiences.
Content Knowledge
Effective educators must have strong content knowledge. Our students come to us from a variety of different backgrounds and educational experiences. Strong content knowledge forms the foundation for effective teaching and is necessary to guide and assess student learning.
Educational Technology
National and state policymakers (ISTE, INTASC, National Technology Plan, 21st Century Frameworks, CSTA) have identified the need for tech-savvy teachers who are skilled and knowledgeable about using technology in ways that support student achievement. We believe it is critical to prepare and develop technologically competent teachers who are able to effectively integrate technology to support student learning and who understand the changing society and shifting technology landscape in school settings. Therefore, we have also adopted "computational thinking" as a new literacy that all citizens should have the opportunity to learn.
Collaborative Partnerships
Our collaborative partnerships are multi-faceted and manifest themselves in a variety of ways. These partnerships are critical to the success of our programs and include K12 partners, community colleges, alumni, current students, school leaders, college partners and content experts and faculty from other College schools. We understand the importance of working with stakeholders so that we hear from multiple voices in order to create relevant and excellent programs.
Pedagogy
According to Shulman (2004), pedagogical content knowledge refers to "subject matter for teaching...aspects of content most germane to its teachability" (p. 203). Based on this definition, research on teaching and learning are closely integrated throughout our program experience. Pre-service teachers learn about ways of conveying and representing subject matter informed by research and inservice teachers reflect on their practice for improvement. Grounded in research-based practices, our completers will be able to effectively create instructional conditions necessary for all students to be successful. We believe that teachers grounded in pedagogical content knowledge are most likely to improve the quality of teaching and learning. Master of Education and additional licensure students learn new teaching strategies and pedagogies and plan and apply these strategies to their professional practice.
Dispositions
Dispositions are the individual's personal qualities or characteristics, including attitudes, beliefs, interests, values, and modes of adjustment. We integrate development and self-assessment of dispositions into coursework and field experiences.