Mission
To prepare and support teachers who are firmly grounded in the knowledge, skills, and dispositions needed to promote student learning.
Vision
To be nationally recognized for developing skilled and caring professionals prepared to educate students in a diverse and changing world.
The School of Education prepares teachers at both the undergraduate and graduate levels and provide advanced professional development through a fully online Master of Education program. Initial undergraduate licensure programs are offered on the main campus. Graduate licensure programs are offered on the main campus as well at two extended sites in Minnesota. The SOE faculty have multiple years of experience in K-12 settings and remain active in the schools and community.
Accredited by the Council for the Accreditation of Educator Preparation (CAEP) and Teacher Education Accreditation Council (TEAC)
The Teacher Education program at the College of St. Scholastica is accredited by both the Council for the Accreditation of Educator Preparation (CAEP) and the Teacher Education Accreditation Council (TEAC) for a period of 7 years, from October 2013 to October 2020. This accreditation includes the following sites: Duluth, Brainerd, St. Paul and St. Cloud, Minnesota. The accreditation does not include individual education courses that the Educator Preparation Program offers to P-12 educators for professional development, re-licensure, or other purposes.
Requirements for Initial Teacher Licensure
The Master of Education Online Program
Additional Consumer Information
Minnesota Board of Teaching Approval (BOT)
The fully accredited Teacher Education Program is assessed according to the requirements and standards of the Minnesota Board of Teaching (BOT). The teacher education program has full continuing approval through June 30, 2019.
---
School of Education Conceptual Framework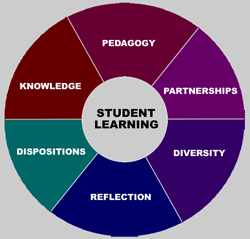 Reflection
Critical reflective practice is a complex process that involves continual analysis of one's teaching effectiveness and the impact of one's instructional decisions on students' learning. We model reflective practice and provide pre-service and in-service teachers opportunities to reflect and dialogue on their own experiences in the classroom.
Knowledge
Content knowledge refers to the specific subject matter that teachers teach. We collaborate with arts/sciences faculty to ensure a firm foundation in the content areas and build on that knowledge base in methods courses specific to the content areas.
Pedagogy
Pedagogy refers to methods of teaching. We emphasize Best Practices, which are those strategies, activities, and approaches which have been shown through scientifically-based research and assessment to lead to greater student learning and achievement.
Dispositions
Dispositions are the individual's personal qualities or characteristics, including attitudes, beliefs, interests, values, and modes of adjustment. We integrate development and self-assessment of dispositions into coursework and field experiences.
Diversity
Diversity refers to the wide range of human difference found in our schools, including gender, race, ethnicity, disability, learning style, socioeconomic status, and sexual orientation.. We help teachers identify implicit cultural assumptions within their disciplines; adjust their teaching styles to meet students' diverse learning needs; and contribute to creation of a school culture that empowers all students.
Partnerships
Partnerships refer to our relationships with K-12 schools. We foster collaborative partnerships, with opportunities for professional development, shared experiences for students, mentoring relationships, exposure to Best Practices, and shared research projects.