Faculty and Staff | Bachelor's to DNP
In most cases, please use the last 4 digits of the listed phone numbers when calling from any campus.
Email information is followed by @css.edu unless otherwise noted.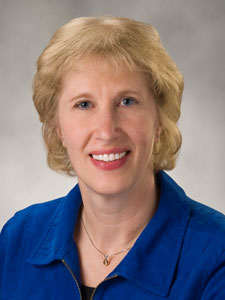 Position:
Assoc Professor, GNSG - Department Chair
Department:
Graduate Nursing
Phone:
(218) 723-6590
E-Mail:
SFauchal@css.edu
Website:
View
Sally Fauchald is currently an Associate Professor and Chair of the Department of Graduate Nursing in the School of Nursing at the College of St. Scholastica (CSS). She received a BA degree in Nursing and an MA degree in Nursing (Adult CNS focus) from The College of St. Scholastica. Sally completed her PhD in Nursing in 2004 from Barry University in Miami Shores, FL. Sally also holds a certificate in Nursing Informatics from CSS. She has been a faculty member at the college since 2003. Her teaching and research interests include rural health and technology/informatics in nursing education at the advanced practice and doctoral levels.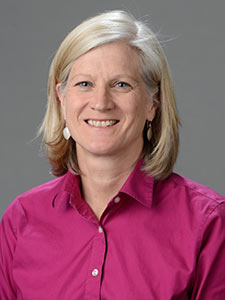 Position:
Assoc Professor, NSG
Department:
Graduate Nursing
Phone:
733-2279
E-Mail:
Lash@css.edu
I am a clinically based nurse: my goals primarily revolve around improving care for patients and populations. Whether my work is through teaching, direct patient care, or clinical systems innovations, my goal is to help improve the lives of patients.
I have been teaching in the masters program at CSS for almost ten years; primarily in clinical courses, including health assessment, adult management, prenatal, and the preceptorship. I also teach in the doctoral courses: leadership and clinical project courses. I currently practice in the Student Health Services at CSS, where I provide care as a primary care nurse practitioner in this nurse-run clinic. Prior to coming to CSS, I worked at Allina Medical Clinic in Northfield for 13 years where I provided primary care to patients of all ages as an NP. Through my experiences with Allina, I also developed models of care, primarily interprofessional models, for patients with diabetes, dyslipidemia, and patients who were pregnant. I have recently done work with a local primary care clinic related to developing nurse based care coordinators for patients. I have a passion to help bring BSN nurses to primary care in a care coordinator role. My current research area at CSS is the Cardiovascular Disease Prevention Program which includes screening and follow up for faculty and staff. This profject evolved from my doctoral project entitled Developing a Population Based Student Health Services which morphed into WellU at CSS.

My teaching philosophy is to set high standards, infuse my passion to ignite student passions, and to promote reflective and life long learning!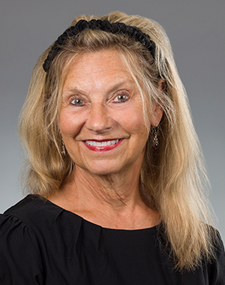 Position:
Assoc Professor, NSG
Department:
Graduate Nursing
Phone:
(218) 723-6624
E-Mail:
PBjorklu@css.edu
Name: Pamela Bjorklund
Credentials: PhD, RN, CNS-BC, PMHNP-BC

Positions Held at CSS
2000 – Present
Associate Professor, TENURED
Department of Graduate Nursing, School of Nursing
College of St. Scholastica, Duluth MN
Psychiatric-Mental Health Nurse Practitioner Track (PMHNP)/ Master's and DNP programs, including ethics in health care, DNP clinical project courses, leadership seminar, theorizing nursing practice, psychopharmacology, assessment and management of psychiatric disorders in adult clients, PMHNP preceptorship, theories of human development, and theoretical foundations of advanced practice psychiatric-mental health nursing.
2001 – Present
Psychiatric-Mental Health Nurse Practitioner/Clinical Nurse Specialist
Student Health Service / 8 hours per week
College of St. Scholastica, Duluth MN
Psychiatric services, including diagnostic evaluations, medication management, and supportive psychotherapy with college students.
Current Responsibilities
I teach the bulk of courses in the PMHNP track, along with the healthcare ethics, theorizing nursing ethics, theories of human development, and clinical project courses in the DNP program. I provide psychiatric services 8 hours per week to CSS students in the Student Health Service. I currently serve as Chair of the Faculty Assembly, Chair of the Steering Committee, Co-Chair of the Shared Governance Task Force, member of the Academic Leadership Group, member of the President's Leadership Group, member of the Faculty Welfare Committee, member of the SON Executive Committee, member of the Department of Graduate Nursing Curriculum Subcommittee, and member of both the SON and Department of Graduate Nursing Committees. I am engaged in ongoing scholarship and research. Most recently my scholarly efforts have focused on assisting graduate students in getting their Master's and DNP Clinical Projects published.
Teaching Award
Recipient of the Max H. Lavine Award for Teaching Excellence, 2009.
Publications and Research
Research
2002 – 2006
PhD Dissertation
Taking Responsibility: Toward an Understanding of Morality in Practice

An Ethnographic Investigation of the Social Construction of Responsibility in the Residential Dialectical Behavior Therapy of Women Diagnosed with Borderline Personality Disorder
Description:Over the course of a full year, data from participant observation and from formal and informal, group and individual interviewing were gathered from the all-female residents and staff of a unique, intensive, psychiatric residential treatment facility that applied dialectical behavior therapy (DBT) in a residential context to women diagnosed with borderline personality disorder (BPD). This naturalistic (ethnographic) inquiry into the social construction of responsibility in one very particular geography of care aimed to identify, describe, explore and understand the social processes involved in taking responsibility for "a life worth living," which was the expressed mission of this social group. Ultimately, the study aimed to examine the kind of moral life sustained and reproduced in this mode of psychiatric treatment in order to answer the question: What kind of moral life is this? An important assumption of this project was that morality is not socially modular; that is, it is embedded in social practices, particularly practices of responsibility that assign, allot, define, or deflect responsibilities related to who must do what for whom, at what cost and with what benefit, and who is privileged to deflect or be exempt from such responsibility.
Status: Dissemination of results in progress. Chapters two and three published in Issues in Mental Health Nursing and Advances in Nursing Science, respectively. Further dissemination of results in book and/or manuscript form is pending.
Winner, 'Best' Dissertation Award
Category: Social and Behavioral Sciences and Education
University of Minnesota, 2006 – 2007

Nominated by the University of Minnesota in 2008 for the National Council of Graduate Schools' 'Best' Disseration Award.
General Interests: Nursing Philosophy, Nursing Ethics, Nursing Humanities, Psychiatry and Women
Publications
Quaas, B., & Bjorklund, P. (in press). Simulation start-up in an acute care hospital. Journal of Continuing Education in Nursing.

Maki, M., & Bjorklund, P. (accepted with revisions). Improving cardiovascular disease screening in community mental health centers. Perspectives in Psychiatric Care.

Lawrence, D., Alleckson, D., & Bjorklund, P. (2010). Beyond the roadblocks: Transitioning to adulthood with Asperger's disorder. Archives of Psychiatric Nursing, 24(4), 227-238.
Anderson, K., & Bjorklund, P. (2010). Demystifying federal nursing home regulations to improve geropsychiatric care. Perspectives in Psychiatric Nursing, 46(2), 152-162.

Rausch, D., & Bjorklund, P. (2010). Cutting the costs of constant observation. Journal of Nursing Administration, 40(2), 75-81.

Feczer, D. & Bjorklund, P. (2009). Forever changed: Post-traumatic stress disorder in female military veterans, a case report. Perspectives in Psychiatric Care, 45(4), 278-291.

Bjorklund, P. (2008). Volume two: Personal and emotional counseling: Ego strength.In F. T. L. Leong (Ed.), Encyclopedia of Counseling. Thousand Oaks, CA: Sage Publications.

Bjorklund, P. (2008). Assessment and diagnosis (chapter 4). In K. Wheeler (Ed.), Basic psychotherapy for the advanced practice psychiatric nurse. St. Louis: Mosby, Inc.

Bjorklund, P. (2006). We need to talk: Response (Letter to the editor). Perspectives in Psychiatric Care, 42(2), 158-159.

Bjorklund, P. (2006). Taking responsibility: Towards an understanding of morality in practice. Advances in Nursing Science, 29(2), E56-E73.

Bjorklund, P. (2006). No-man's-land: Gender bias and social constructivism in the diagnosis of borderline personality disorder. Issues in Mental Health Nursing, 27(1), 3-23.

Bjorklund, P. (2005). Can there be a "cosmetic" psychopharmacology? Prozac unplugged: The search for an ontologically distinct cosmetic psychopharmacology. Nursing Philosophy, 6, 131-143.

Bjorklund, P. (2004). 'There but for the grace of God': Moral responsibility and mental illness. Nursing Philosophy, 5, 188-200.

Bjorklund, P. (2004). Invisibility, moral knowledge and nursing work in the writings of Joan Liaschenko and Patricia Rodney. Nursing Ethics, 11(2), 110-121.

Bjorklund, P. (2003). The certified psychiatric nurse practitioner: Advanced practice psychiatric nursing reclaimed. Archives of Psychiatric Nursing, 17(2), 77-87.

Bjorklund, P. (2003). Psychiatric-mental health nurse practitioner: Frequently asked questions. Available on The College of St. Scholastica Graduate Nursing Program Website

Bjorklund, P. (July-Sept, 2000). The Medusa appears: A case study of a narcissistic disturbance. Perspectives in Psychiatric Care, 36(3), 86-94.

Bjorklund, P. (Jan-Mar, 2000). The assessment of ego strength: Spinning straw into gold. Perspectives in Psychiatric Care, 36(1), 14-23.

Bjorklund, P. (May 1999). Adopting Asian children: The journey of a lifetime. Chosen Child: International Adoption Magazine, 5, 27-31.

Comments on Teaching
Almost everything I know about teaching I learned from an especially wise and gifted 5th Grade teacher. He, in turn, had been deeply influenced by Henry Trueba, once the Dean of the School of Education at the University of Wisconsin, Madison. Here is what he taught me about good teaching at any level:
First, good teachers have a compassionate disposition. They have an instinct and inclination to care deeply about the welfare and development of other human beings. Their genuine caring for their students inevitably and unmistakably shows itself over time. Content is nothing without compassion.
Second, good teachers have a commitment to equity and are sensitive to institutional structures that work against nontraditional students. These teachers consider the impact on learning of age, class, race, religion (or the lack of it), gender, disability, and other differences; and they challenge any exclusion from opportunity and recognition of those who are different. My own students are old and young and middle-aged. They are urban and rural, religious and non-religious, well-to-do and not. They are single and married and divorced. They are already professionals. They are almost all women. They have children and grandchildren and no children. They are going back to school after 5 years or 25 years. They are quite unlike the traditional undergraduate student. They are different.
Third, good teachers have theoretical flexibility and can shift gears to meet students' various needs. They don't adhere to educational ideology. They can recognize a sparrow trying to fly when they see one;* and they achieve their objectives without pushing square pegs into round holes. I resonate with this, because I am a square peg.
Finally, he said, good teachers know that the best way to teach is to model. Their lives are their arguments. "Example is not the main thing in influencing others," said Albert Schweitzer. "It is the only thing."
Awhile ago, I heard a lecture given by the renowned educator, Parker Palmer, who had been asked to talk about the teachers who had most influenced him. He could not remember their names any longer, nor could he remember anything specific that they had taught, nor anything about their courses. What he remembered, and what he says most students remember about their very best teachers, is simply that he "wanted to be like them." In a nutshell, this statement encapsulates my teaching philosophy.
I think the teachers whom students remember that way are the teachers who not only genuinely care about students but also inspire them. They are the teachers who are both knowledgeable and passionate about their subjects. They are the teachers who can empathize with their students' struggles while adhering to high standards and insisting their students can think more deeply. Ultimately, it is not enough to be compassionate and flexible, to be equitable and a good role model, to have mastered a body of content, or to be a scholar in one's field. What is critically important to excellence in teaching is also that one loves one's subject and loves sharing it with others. That love is the medium that grows enthusiasm, excitement, and inspiration in these Petri dishes we call classrooms. The seeds of that inspiration feed life-long, self-motivated learning.
*The Sparrow
(for a child with Noonan's syndrome†)
Five times child
We picked you up off the ground
Out of the long grass
Out of the smell of damp leaves
Placed you in a matchbox
full of tissue paper
Fed you milk with an eye-dropper
Took you with us to school
Showed you to our mothers
Bought you a new set of clothes
Found you a nice job in a good office
Gave you the keys to the car
Chose a sensible woman to fall in love
with those brown eyes
Until we realized you were a bird and must have been trying to fly.
Glenn Colquhoun
Playing God
†Noonan's syndrome is a congenital disorder associated with heart disease,
short stature and learning difficulties.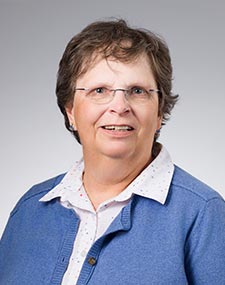 Position:
Asst Professor, NSG
Department:
Graduate Nursing
Phone:
625-4483
E-Mail:
SMcCumbe@css.edu
Experienced Advanced Practice Nurse-Nurse Practitioner and Clinical Nurse Specialist. Extensive clinical experience in public/community health, care of adults and older adults in long term and community settings and care management and care coordination.
Pursuing Doctor of Nursing Practice degree at the University of Minnesota. My DNP project focuses on medication adherence assessment and communication with patients.
My teaching philosophy focuses on creating an open classroom rich with feedback and opportunities for interaction and active learning. My goal as a teacher is to instill a commitment to life learning and openness to reflective practice. Position:
Asst Professor, Grad NSG
Department:
DNP
Phone:
(320) 529-6663
E-Mail:
amcdonald@css.edu
Position:
Operational Prog Coord,Grd NSG
Department:
Graduate Nursing
Phone:
(218) 723-6272
E-Mail:
PMcGrew@css.edu
Position:
Assoc Professor, NSG
Department:
Graduate Nursing
Phone:
(218) 723-6153
E-Mail:
CMiller2@css.edu
Associate professor in the graduate nursing program of the School of Nursing and lead faculty for the Doctor of Nursing Practice (DNP) post-Master's DNP program. Responsible for variety of courses in the DNP and Family Nurse Practitioner foci including advanced health assessment, pediatric primary care management, and DNP Clinical Project I and II. Courses all delivered as a hybrid blend of face-to face and web-based formats. Serve as academic and scholarly project advisor for DNP students. Co-developer and co-leader for graduate nursing service learning experiences to Belize 2010, 2012 and Project Homeless Connect..

Over 23 years of experience as an Advance Practice Registered Nurse (APRN) in pediatric primary care at a variety of practice settings and continue to maintain an active clinical practice and provide community service with various organizations/committees relating to children's health care.

Scholarship of practice focus areas include interprofessional collaboration and chronic disease management of pediatric asthma care. Scholarly leadership project: An Electronic Health Record Redesign as a Strategy for Optimal Pediatric Asthma Care Delivery. This project involves inter-professional collaborative efforts to implement evidence-based practice, resources, and tools, including an asthma action plan (AAP), into a regional health system's electronic health record (EHR) in an effort to improve pediatric asthma outcomes.

Philosophy of teaching is based upon the concepts of adult learning theory, value of life long learning, facilitator of knowledge, establishing a climate of learning, effective distance learning practices and of course the art and science of nursing. My role as faculty is to share my passion for nursing, guide advanced practice nursing students' intellectual preparation, critical thinking, leadership skills and ethical and moral decision making for the complex health decisions for which they must be prepared to act.
Position:
Assoc Professor, NSG
Department:
Graduate Nursing
Phone:
(218) 723-5943
E-Mail:
KNiska@css.edu
Academic interests extend from teaching about middle range theories that describe advanced nursing practice to teaching about research approaches that measure outcomes of advanced nursing practice. Research interests center on understanding which kinds of nursing interventions facilitate family transitions of Mexican American families in South Texas. While in South Texas and Arizona each year I enjoy seeing friends and acquaintances once again as well as hiking, birding, and eating regional food.
Contact Us
Duluth
Chad Oppelt
Admissions Counselor
(877) 287-8719
coppelt@css.edu
St. Cloud
Katie Wayne
Admissions Counselor
(877) 287-8740
kwayne@css.edu